Why I Made A Chemical Sunscreen
4 minutes / August 22, 2022
Our new Go-To sunscreen, Nifty Fifty, has just launched… And not a moment too bloody soon! This hydrating daily SPF 50 offers broad spectrum protection, comes with CoQ10 and Kakadu plum for free radical defence, and is non-greasy, lightweight, and magnificent under makeup. 
We know it's been a long wait, but we had to get it right, because we want sunscreen to be a daily habit for you.
The most innovative part (to sunscreen dorks at least) concerns the UV filters. We used a combination of filters, Tinosorb® S, Uvinul® A Plus and Uvinul® T150,  together with an Australian first-to-market (!!) sunscreen filter called Tinosorb® A2B, which is one of the most efficient UVB and UVA II filters known today*.
Or in actual real life words: We used the latest UVA and UVB protection available.
What we didn't use is Zinc Oxide or Titanium Dioxide because this is not a mineral (inorganic) sunscreen. Our previous sunscreen product, Zincredible, was mineral, but we changed tack completely with Nifty Fifty and created a sunscreen  that uses wholly chemical (organic) filters in a natural, hydrating formula.
You may be asking why, as a long-time shouty advocate for mineral sunscreen, I completely switched camps to chemical filters. Here's why:
Technological progress. Since we began working on sunscreen back in 2013, there have been advances in UV filters like Tinosorb® A2B. To ignore these would be not only ignorant, but unfair to our customers and every other face-owner out there.
Growth. If you stay stuck in one mindset and never grow as a founder, you're doing it wrong. Staying on top of trends and tech is critical to provide Go-To customers the best possible skincare. Not some ideas I had about zinc oxide from 10 years back. To be blunt, the reasons I championed mineral filters for so many years have evolved in lieu of new TGA approved chemical filters becoming available for use in sunscreens.
Cosmetic elegance. Our goal is to get as many people as possible wearing sunscreen every single day. To do that, we had to make sure our sunscreen felt nice, looked good, and behaved well. We found that when formulating, a zinc-based sunscreen can leave a white cast and feel thick on the skin (at the very high levels we need to use as a company that doesn't formulate with synthetics or silicones). We tried for years to make a cosmetically elegant SPF 50 mineral sunscreen that adhered to our strict formulation protocol, and we couldn't get there. The chemical filters in Nifty Fifty on the other hand, not only offer very photostable (the ability not to break down in sunlight) UVA and UVB protection, but they feel nice to apply. And most critically: no white cast. 
Myth busting. Mineral sunscreens are a fantastic option - wear whatever you like, just wear sunscreen! - but we wanted to make a daily sunscreen with no white cast that felt great and also had high SPF protection, and chemical filters were the best way for us to achieve this. I'm not ashamed to say I've grown out of ('researched out of') my old ideas about sunscreen. (Eg: Mineral sunscreen does not absorb UV – it reflects 95% of UV rays just unlike chemical filters… ergo, my old belief that mineral sunscreen was superior because it scattered rather than absorbed UV is invalid.)** I know more and can do better, and new ingredients can change the game. The chemical filters in Nifty Fifty are suitable for sensitive skin, (note that we do not use classic chemical UV filters such as oxybenzone, avobenzone, octisalate, octocrylene, homosalate, and octinoxate, which I can't speak to, or defend), and they offer high-strength UV protection. Plus they feel great and apply well on the skin… which means people will actually wear the recommended amount to get the full SPF 50 protection.
Safety first. It's sun protection. It's Australia. It's skin. This is serious shit! So we made a daily sunscreen that feels nice on the skin with serious ingredients you can trust. It's as simple (and extremely complicated) as that.
Evolving is something we are proud of at Go-To. Making a sunscreen that didn't combine high protection and a lightweight texture was not an option. It was a fantastic challenge for us, but our formulators are world-class, and this is proof. 
I hope your face (and neck and chest) loves it!
With love and SPF,
Zo x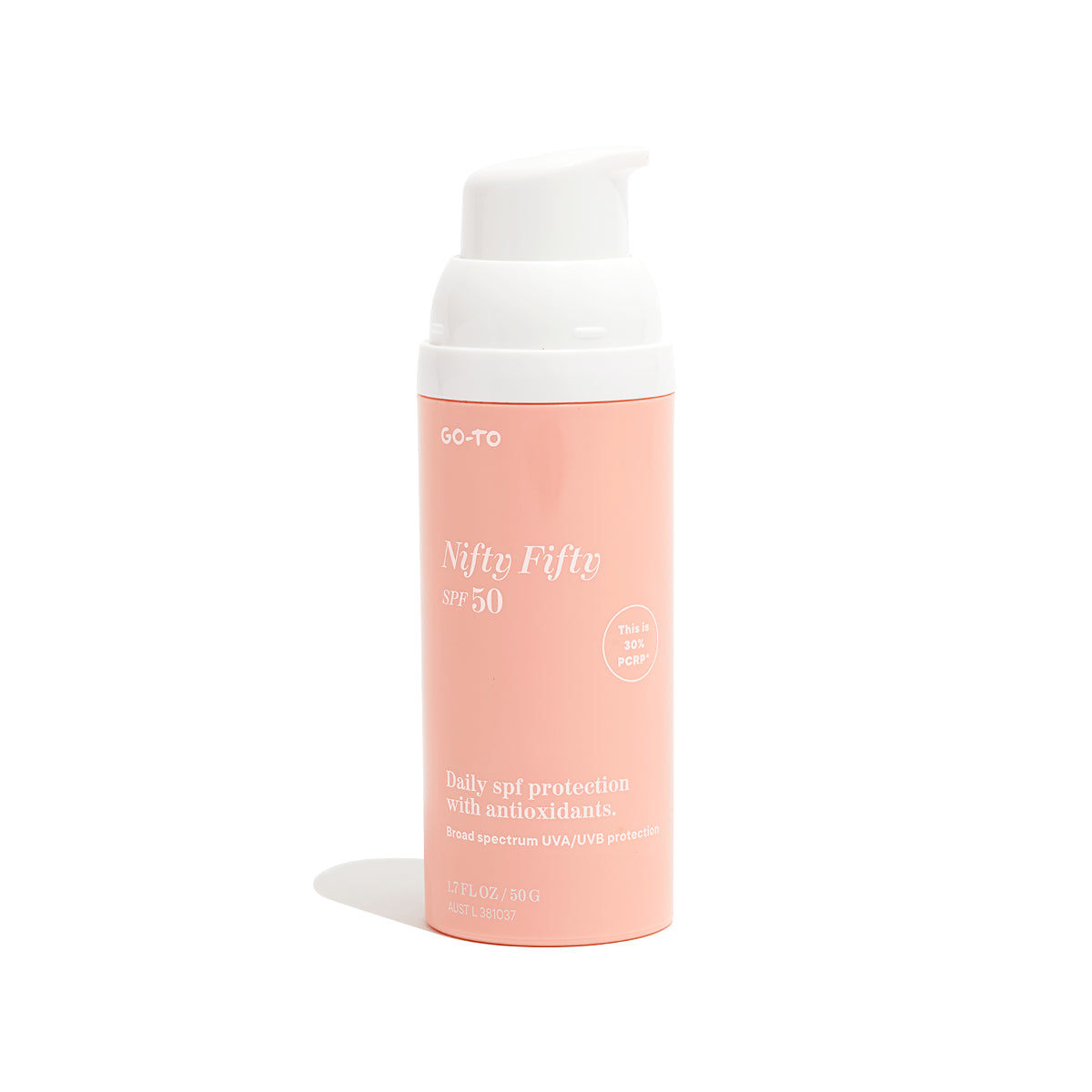 50ML / 1.7 FL OZ
A hydrating daily SPF 50 broad spectrum sunscreen for UVA/UVB protection. Loaded with antioxidants and latest generation SPF filters for new generation protection, Nifty Fifty will protect your skin from damaging UVA and UVB rays, while keeping it hydrated and supple.
Go-To Nifty Fifty SPF 50 Broad Spectrum High Protection Sunscreen. 
ALWAYS READ THE LABEL AND FOLLOW THE DIRECTIONS FOR USE.
Avoid prolonged sun exposure, and make sure you re-apply frequently in accordance with directions. Remember, sunscreen is only one component of sun protection so always wear a hat, protective clothing and eyewear when you're in the sun.
*Source material: BASF, December 2014

**Cole C, Shyr T, Ou-Yang H. Metal oxide sunscreens protect skin by absorption, not by reflection or scattering. Photodermatol Photoimmunol Photomed. 2015