Need Holiday Gifting Help? Here's What To Get Everyone On Your List
Less than 3 minutes / October 27, 2021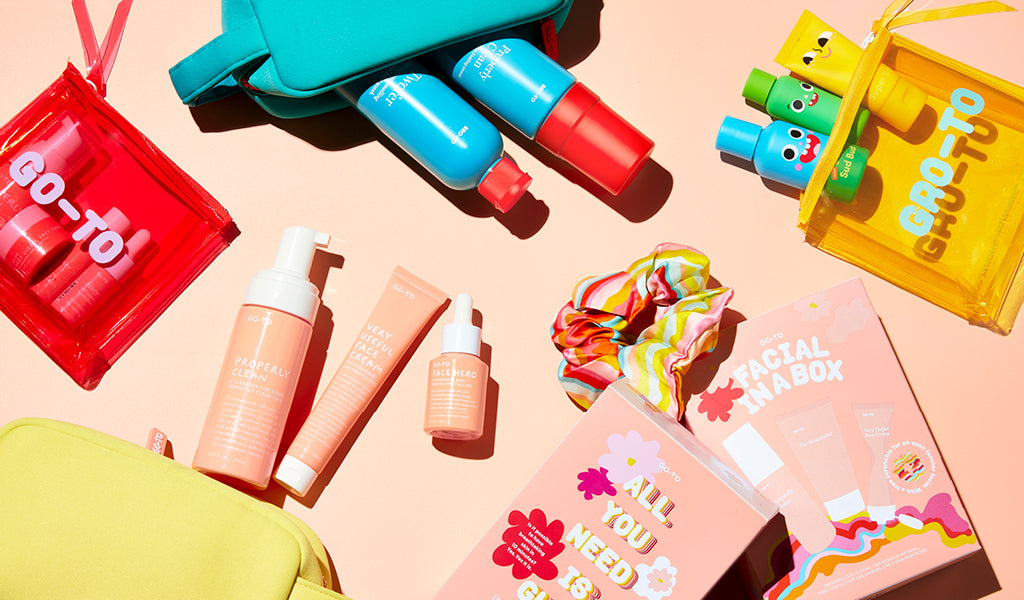 The end of the year is coming fast and that can only mean one thing: Our limited edition holiday collection is about to drop. (As is our interest in watching anything that's not Love Actually.)
To help intro you to the festive friends joining our Go-To gang, we've pulled together a helpful/biased gift guide to help you tick off even the trickiest people on your list.
Let's gift!
For The Mum Who Never Treats Herself
If there's one thing mums deserve it's everything. But if there's one thing they want it's some goddamn time alone. For that we recommend Facial In A Box; a salon-like experience from the comfort of her own slippers.
It comes with everything she needs for serious skin results (a gentle cleanser, a clarifying clay mask, a restorative face cream) plus a luxe silk scrunchie for fun.
For The Friend You've Only Got To FaceTime With This Year
The festive season is the time to make up for all the missed margs we didn't get to sip this year (...or last year) (let's not talk about it). And Every Party is the perfect present for party pigs.
With everything you need for supercharged pre-event glow, and radiant post-event recovery, plus a fluffy peach bag for extra generosity points.
For The Brother Who Is Definitely Going To Be Late
Eliminate last-minute gifting stress and grab him The Shower. Featuring Properly Clean (a gentle face wash), Twofer (a hydrating two-in-one hair and body wash), and a free Neoprene Travel Bag (a practical and useful place to store it all). Wash more could he want? (Daniel Ricciardo's car, aside.)
For The Little Sister With Big Travel Plans For 2022
The furthest trip anyone's been on in the last few years is probably the local supermarket which means she's going to need help prepping for an Actual, Real-Life holiday.
Nab her Go-To, To Go, our much beloved set of travel-sized minis loaded into a fun hot pink zippy bag, and she'll be grateful enough to spare you from helping her pack. Probably.

For All Of The Kris Kringles You've Been Roped In To
Tick a few tricky people off your list in one hit with Transformazing Extra! Featuring with 12 of our bestselling, glow-boosting sheet masks (in fancy, festive, limited edition packaging) it's ideal for playing Santa. All you need to do is split them up and toss them to some of your favourite friends. And if you happen to have a couple left over? Well, it'd be rude not to use them yourself, don't you think?
For The Cousin Who You Haven't Seen Since 2019
You need something universal. Something fun. Something cheap and cheerful that they'll actually want to use. Put simply: You need Glowy Face. With a hydrating sheet mask and a replenishing lip balm, it was designed to help you maintain your five-star gifting record. (You're welcome.)
For You
Yes! You! You didn't think we were going to let you get out of here without a treat for yourself, did you? As if.

For you, we suggest Morning Glow. Loaded with our three most radiant products (Face Hero, Much Brighter Skin, Transformazing) to start everyday right bright. Glow on. You deserve it.