The A-Z Of Skin Care Vitamins
4 minutes / September 14, 2021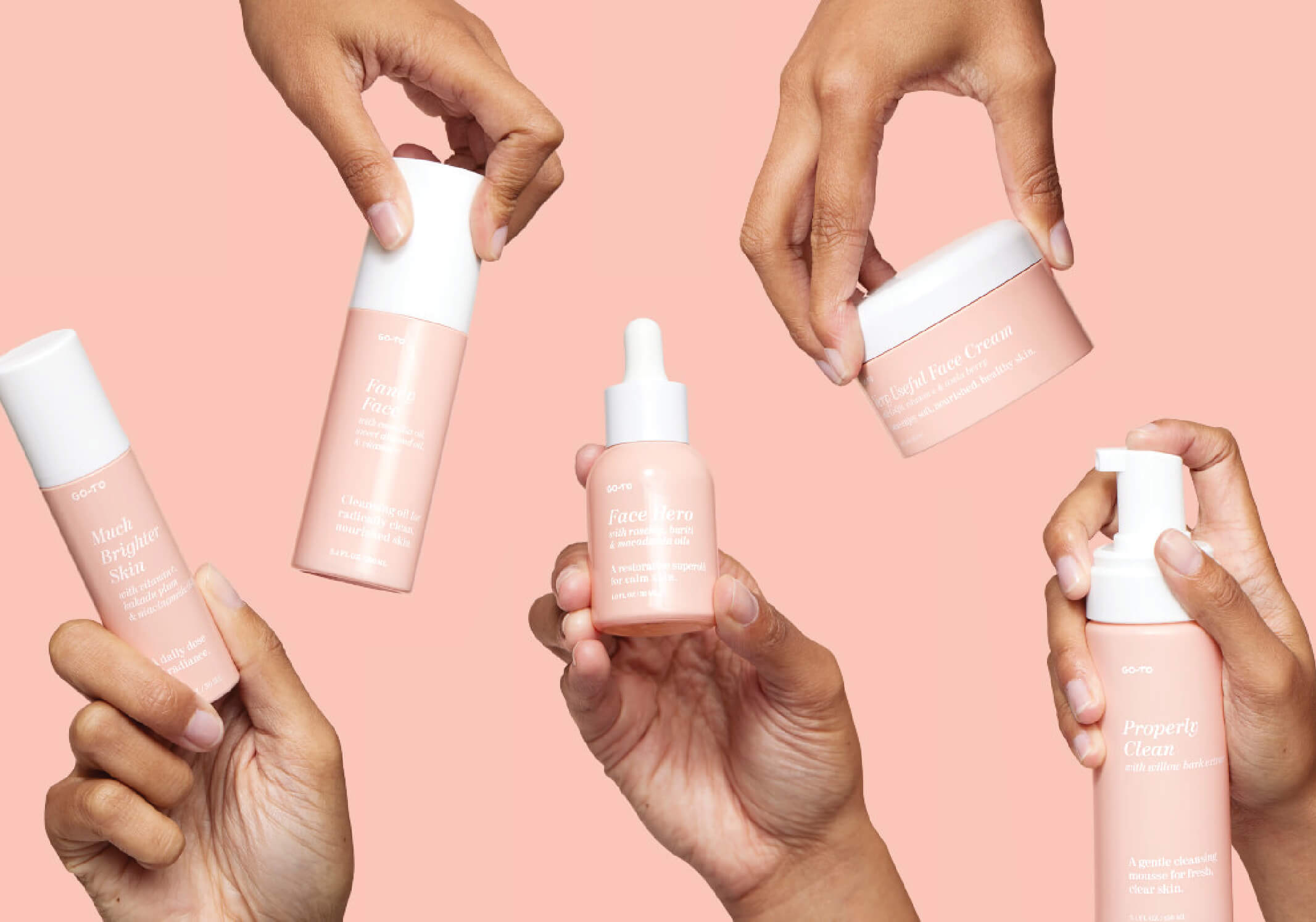 Heard Brian from accounting talking about the merits of Vitamin A versus Vitamin C? Left confused? Bereft? Thirsty?
Let us help.
We're here to simplify the sometimes complex world of topical vitamins and how they affect your skin with the assistance of the very knowledgeable, always glowy Dermatologist, Dr. Shyamalar Gunatheesan of ODE Dermatology. Consider this your Go-To guide and the final word on why She's All That is 457% better than He's All That. Also, definitive answers about vitamins.
What Are Topical Vitamins?
Vitamins are essential micronutrients that ensure our bodies, from hair to skin and probably toes, are healthy. While we mostly ingest (fruit! vegetables!) them to help with all the aforementioned important body-related stuff, topical vitamins do wonders for your skin too.
Or as this important study on the topic aptly put it, "Vitamins are a natural constituent of human skin and are part of a system of antioxidants that protect the skin from oxidative stress." In other words, they do good things like protect skin, keeping it strong, calm and happy.
Why can't I just take vitamins we hear you ask? Good question! But it's not as simple as all that. When you take vitamins they're dispersed throughout your whole body, going off to where they're needed and leaving once the job is done (so your skin isn't necessarily reaping all the rewards.)
On the other hand, topicals are formulated to penetrate the skin and go to work doing all that defending and protecting. Here's what you need to know about each and every one of them.
The Best Skin Care Vitamins
Vitamin A
Dr. Gunatheesan refers to Vitamin A as a "key molecule in the anti-ageing arsenal", as this multitasker and its many derivatives (retinoids! Retinoic acid!) boast tonnes of benefits, including but never limited to: Inducing collagen production, minimising acne, fading hyperpigmentation, decreasing sebum production, and regulating skin renewal and turnover.
Of course, some Vitamin A derivatives are medicines like Isotretinoin (a.k.a Accutane) and are taken orally, often prescribed to severe acne sufferers and usage is monitored by doctors. These may come from the same family but they're different from their topical retinoid cousins.
Suitable for: Acne-prone, ageing or photodamaged skin.
Vitamin B3
An absurdly popular ingredient, Vitamin B3 (known to its close friends and admirers as nacinamide) is brightening agent and antioxidant whiz that soothes and calms redness and breakouts, helps even skin tone and induce glow while keeping your skin barrier healthy.
Suitable for: All skin types, especially the dry, dull, dehydrated and inflamed.
Vitamin B5
Also known as panthenol or pantothenic acid this vitamin "works as a humectant to attract and hold moisture" in the skin Dr. Gunatheesan explains. "It reduces trans-epidermal water loss and supports barrier function" while also boasting anti-inflammatory cred and skin-soothing and smoothing properties.
Suitable for: All skin types but particularly the dry and dehydrated.
Vitamin C
With countless forms and aliases (including our favourite, Sodium Ascorbyl Phosphate), Vitamin C can be confusing territory, but this skin-loving, over-achieving antioxidant protects against free radical nuisances, promotes collagen production, improves radiance and helps fade hyperpigmentation. Vitamin C also pairs well with other actives, including Vitamin E, hyaluronic acid and niacinamide (Vitamin B3), and you'll find all of the above in our very own, supercharged brightening serum, Much Brighter Skin.
Suitable for: All skin types but higher percentages may cause irritation. Always patch test first.
Vitamin E
One of the most common and popular active ingredients in skin care products, Vitamin E is a potent antioxidant. "It optimises barrier function and soothes irritation from pollution and photodamage," says Dr. Gunatheesan. It's a true all-rounder that helps heal, smooth, protect and moisturise. However, those with acne-prone, oily or very sensitive skin (it can adversely affect some) should remain wary of topical Vitamin E as it can clog pores or cause irritation to some. Though the vast majority of people can tolerate and enjoy the benefits.
Suitable for: Most skin types, including dry and ageing.
Vitamin F
"Vitamin F is not actually a vitamin but refers to two essential fatty acids alpha-linolenic acid (ALA) and linoleic acid (LA)," says Dr. Gunatheesan. It helps reduce inflammation and calm cranky skin (often prescribed for conditions like psoriasis and rosacea), hydrate, combat acne and even protects skin from damage caused by UV rays.
Suitable for: Sensitive, acne-prone, and compromised skin.
Vitamin K
Often referred to as 'the healer' Vitamin K has been studied less than its more popular counterparts, so little is still known about the potential benefits. However, Vitamin K is believed to be anti-inflammatory and "aids wound healing with important antioxidant properties", says Dr. Gunatheesan. Safe for sensitive skin, Vitamin K is also believed to promote cellular metabolism but its the brightening effect that makes it a popular ingredient for eye creams.
Suitable for: Those fighting dark circles or bruising.