Everything An Esthetician Wants You To Know About Vitamin C
Less than 3 minutes / September 09, 2021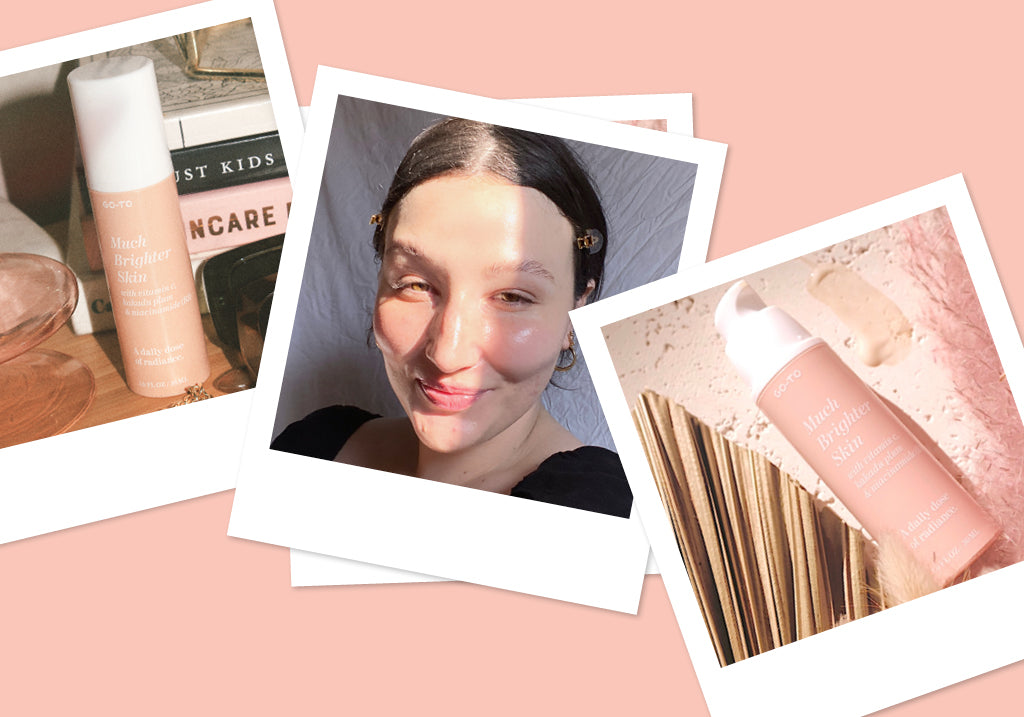 This article was created as part of a paid partnership between Go-To (Hey! That's us!) and Starr Kutchins. All answers and opinions shared are her own. (Even the one about caramel being better than chocolate*.)
This week we welcomed Much Brighter Skin, an antioxidant-loaded, glow-boosting serum, to the Go-To Family. Although Much Brighter Skin has only been out in the world for a few days, she's not brand new to everyone.
Before launch, we gave some top secret samples out to some very lucky peanuts and asked them to give it a go. One of those testers was Esthetician and Content Extraordinaire, Starr Kutchins. After a few weeks, we couldn't help ourselves and asked Starr to tell us her Real Opinion and spill some of her Esthetician Expertise about Vitamin C with us while she's at it.
Introduce yourself!
Hi there! My name is Starr and I am a licensed esthetician and content creator in Los Angeles, CA. I review and test out skin care and beauty products on Instagram and bring you reviews of the best of the best.
What is your skin type and main skin concerns?
I have dry/dehydrated skin with hormonal breakouts. My main skin concern is PIE, also known as post-inflammatory erythema (those pesky red spots left behind from trauma to the skin).
What does your everyday skin care routine look like? How has Much Brighter Skin worked into this?
I feel like it changes day to day or week to week depending on what skin concern I want to tackle. So for example, I ALWAYS want to add deep hydration to my skin, so my routines will always include a hydrating serum and oil. SPF in the mornings and double cleansing at night is also always a must.
In the mornings my routine is super simple. A splash of water, a hydrating toner, and as of late Much Brighter Skin! This is the perfect all-in-one to add a boost of hydration to the skin while also targeting my main skin concern of unevenness. It also provides protection from free radicals and also works great with sunscreen. Top it off with my favourite SPF and I'm ready for the day.
How long have you been using Much Brighter Skin?
I've been using Much Brighter Skin for three weeks!
How does your skin look and feel after using Much Brighter Skin?
Overall my skin is brighter and more even. It has faded some spots significantly in just three weeks. I feel like my overall skin texture is better as well! My skin has been really smooth!
What's your favourite thing about Much Brighter Skin?
How gentle it is. Usually I have issues with some Vitamin C serums irritating my skin, but this has gentle ingredients for all skin types.
As an esthetician, what do you look for in a Vitamin C serum?
Vitamin C can be super tricky sometimes. I look for a formula that has a nice balance of ingredients. Something that can work for all skin types is super important to me when making recommendations to clients.
How does Much Brighter Skin compare to other Vitamin Cs you've used?
The ingredients are phenomenal. I feel like it's safe to use everyday. It also combines Niacinamide [with Vitamin C] which is a fantastic ingredient to heal any uneven skin tone and redness.
How would you describe Much Brighter Skin's scent?
Fresh squeezed orange juice. I am obsessed.
What skin types would you recommend use Vitamin C in their routines?
I recommend Vitamin C to anyone struggling with sunspots or uneven skin tone. Also people who are just starting to get a routine going! I feel like vitamin c is a great place to start if you want to see quick improvement in your skin.
What do you like best about Vitamin C as a skin care ingredient?
I think my favourite thing about Vitamin C as a skincare ingredient is that it doesn't serve just one function. As stated before Vitamin C can help with overall brightness/evenness of skin tone, but it also helps fight off free radicals caused by UV exposure. It can also encourage new collagen to grow. Meaning your skin will stay firmer as you age.
Do you have any advice for beginners on how to incorporate a Vitamin C serum into their routine?
Start slow. I always recommend a patch test for anything new. I know it's super exciting to get a new skincare product, but not patch testing can do more harm than good sometimes, if your skin ends up not reacting well to certain ingredients. I usually recommend either "buffering" new ingredients, meaning mixing it into your moisturiser at the end of your routine, or using the product 1-2 times a week until your skin builds up tolerance.
*This is a joke.