How To Enjoy Hosting These Holidays With Genevieve Rosen-Biller
Less than 3 minutes / December 03, 2021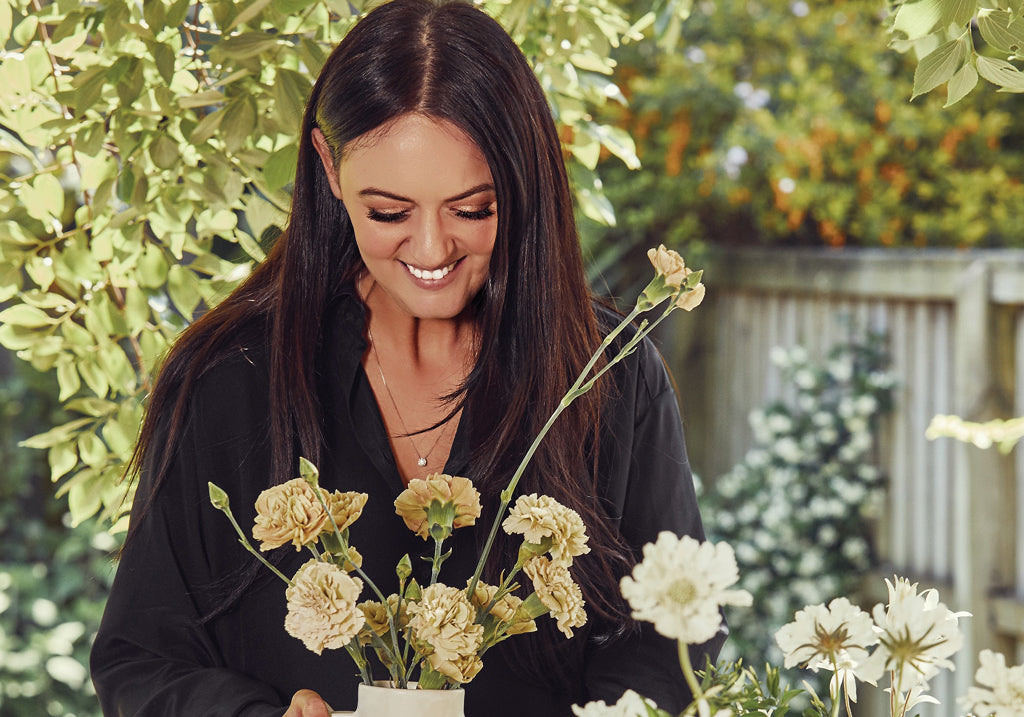 After another long, unpredictable year filled with lots of ups and (lock-)downs, the end of 2021 is finally here. And while a good month or so of celebrations is what we all deserve, it's no secret that the silly season can also often be a source of stress.
The hosting! The gifting! The figuring out what to watch-ing! It's a lot! So, I reached out to Genevieve Rosen-Biller, master of tablescaping and co-founder of Bed Threads - who are the #1 pure linen bedding brand in Australia and responsible for 76% of my Instagram Saved folder - to share her very best giftmas advice with me.
"My best tip for entertaining/hosting in the festive season, or anytime really, is to take the pressure off and keep the menu simple," Genevieve shares. "Everyone will have a more enjoyable time if the host is relaxed, and you want to be able to sit and enjoy the occasion with your guests."
When it comes to planning the menu? Avoid the unnecessary stress of figuring out a complex new recipe and stick to what you know. "Serve something you have made before and doesn't require you to spend the duration of the event in your kitchen," says Genevieve.
To delight your guests and nail holiday hosting, Genevieve recommends paying attention to the details of your decor. "Make your tablescape the showstopper with a unified palette (opt for either cool or warm tones as a starting point) and layer textures (think coloured glassware, ceramic vases and pitches that double as decor) for a beautiful but easy to execute look."
Genevieve's Giftmas Guide
Bed Threads Build Your Own Table Bundle
"Everyone needs some good quality linen in their collection, it provides the perfect foundation to your tablescape and elevates any dining experience. Our Sage tablecloth with Olive & Sage Scalloped Placemats and Napkins are my pick as it's a colour combination that can be styled in a festive way but will also carry through the rest of the year."
Shop it here.
Cottage Garden Candle by Bed Threads
"For the friend or family member that loves a weekend away in the country. The beautiful floral scent is so tranquil and is an instant mood booster."
Shop it here.
Bed Threads Sheet Set in White
"Our 100% French Flax Linen sheets are always a welcome gift and Classic White is a safe bet for any bedroom… however fussy the recipient might be!"
Shop it here.
Go-To Transformazing Face Masks
"These are the perfect gift for anyone in your life that deserves some pampering. A sheet mask feels like the ultimate treat, and a welcome drink of water for your skin after a big year and busy festive season."
Shop it here.
Rachel Saunders Woman Vase in Terracotta
"This beautiful one-of-a-kind vase reflects the power and uniqueness of the feminine form (no two are the same!) and is the perfect gift for a special woman in your life. (Even if that special woman is you!)"
Shop it here.

Go-To Face Hero
"For obvious reasons! I start and finish every day with mine and don't know anyone who has tried this product and managed to live a day without it since. It's nourishing and calming for even the most sensitive skins and I can't wait to gift it to a few special people in my life this season."
Shop it here.
And on top of her stellar taste in gifts, Genevieve also has a top-tier rec for your holiday movie night. "It's hard to pick a favourite Christmas movie but Love Actually is a classic."