Gincredible News, We're Back Again With The Four Pillars Collab
Less than 3 minutes / November 22, 2023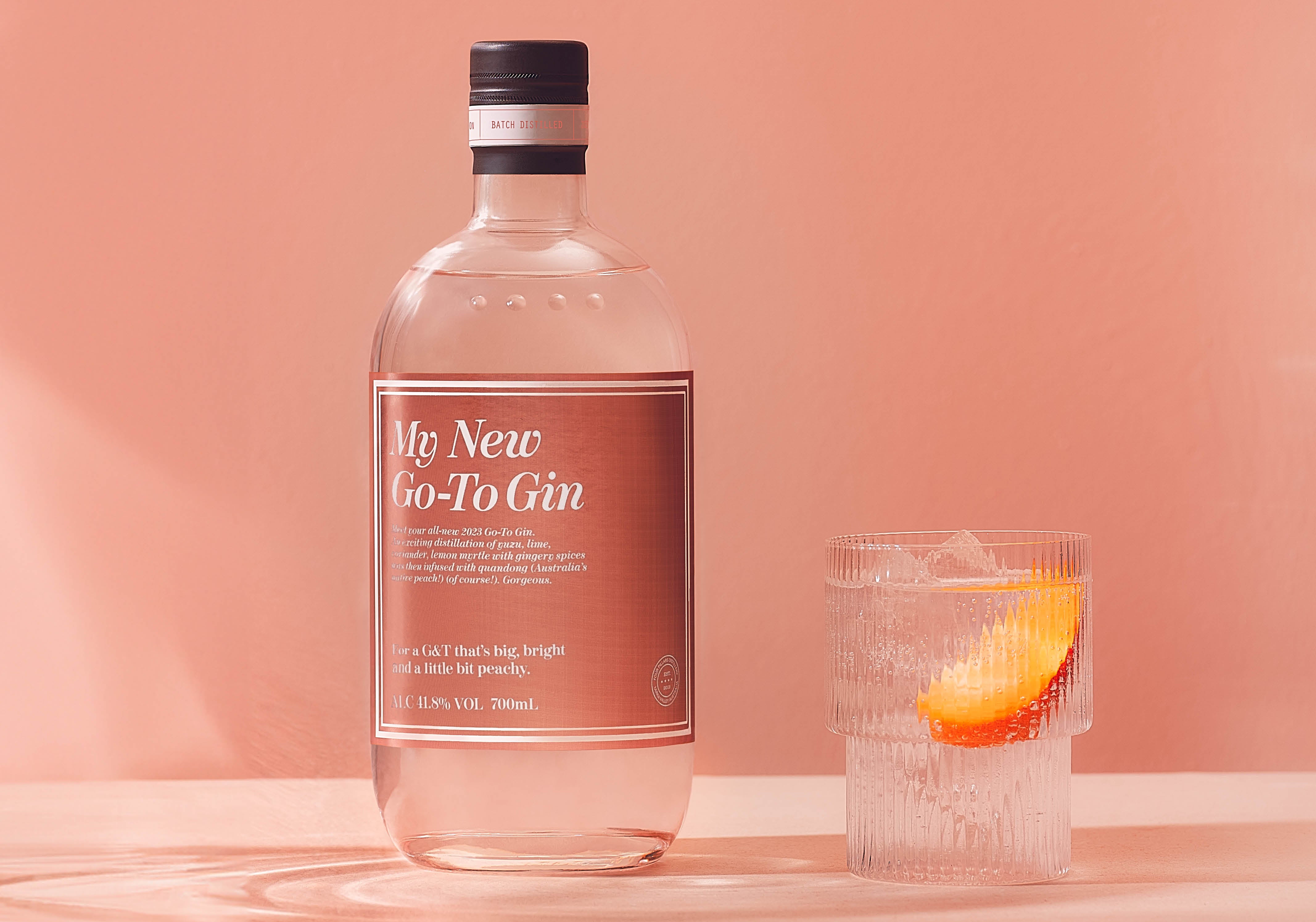 Refill the ice tray! Dust off the cocktail shaker! Put on your favourite hat! Because Australia's most delicious and sought after collaboration is back: Go-To x Four Pillars. 
For the third year running we've collaborated on a limited edition tipple that is just as peachy, just as festive, but arguably fancier than its predecessors. Impossible, right? Nuh uh. 
This exciting iteration of My New Go-To Gin is a delicious distillation of yuzu, lime, coriander, lemon myrtle, ginger-y spices, infused with quandong (Australia's native peach!). We've really upped the citrus so the final flavour is bold and bright and irresistible. 
It's also tradition for us to whip up a few custom cocktail recipes. So keep scrollin' and try your hand at one (or all, definitely all) of these! (That's an order!)
Note! If you aren't lucky enough to get your paws on My New Go-To Gin, Four Pillars just so happen to have a heap of other excellent gin options that you can sub in instead. 
Skin & Tonic
Deliciously fruity and vibrant, and entirely quaffable!
INGREDIENTS
45mL My New Go-To Gin
100mL good quality tonic
White peach or pear
METHOD
Add gin and mixer to a glass over ice
Garnish with a slice of white peach or pear  
Peach Fuzz
A lighter and brighter Spritz than your ole' friend, the Aperol Spritz. Fruity and fresh, with a light bitterness. 'Tis a cracking aperitif.
INGREDIENTS
20mL My New Go-To Gin
10mL peach liqueur
10mL Aperol
90mL sparkling wine
30mL soda water 
Peach
Thyme
METHOD
Build ingredients in a wine glass and fill with ice 
Garnish with a thyme sprig and a peach slice 
Mint To Be
It's the gin version of a Mojito! A party starter that's bound to be a smash (pun definitely intended).
INGREDIENTS
60mL My New Go-To Gin
20mL lemon juice
15mL sugar syrup
Half a peach (cut up into pieces)
6 mint leaves
METHOD
Combine all ingredients in a cocktail shaker, add ice and shake
Pour into a rocks glass, then garnish with a mint sprig