Jenna Holmes Has A Gift Idea For Everyone On Your List
Less than 3 minutes / November 09, 2021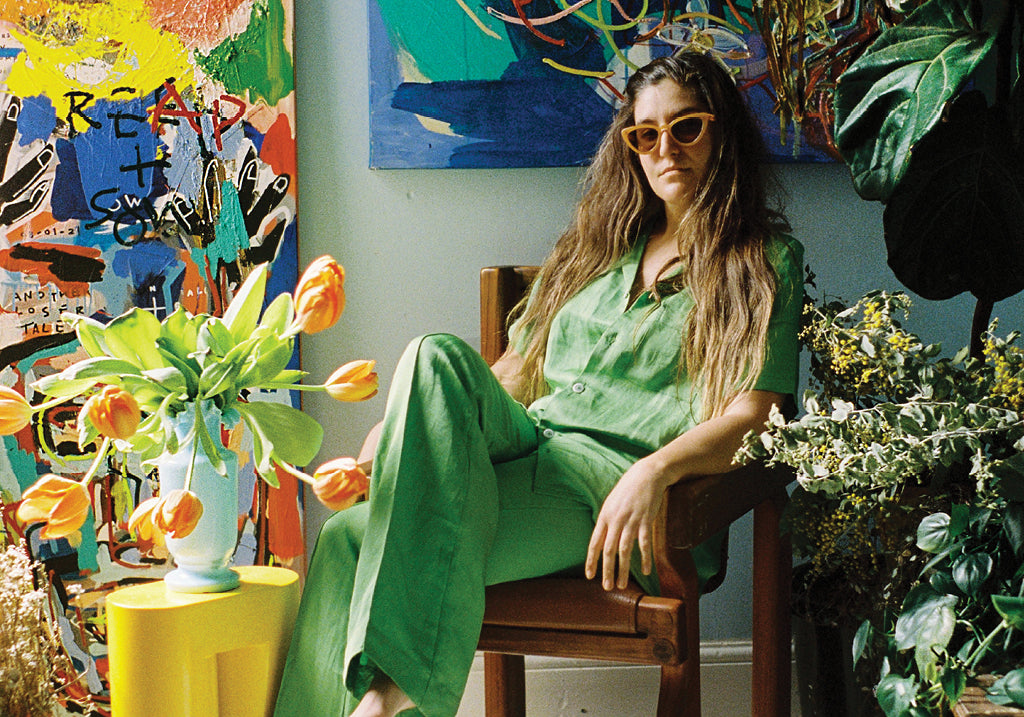 Jenna Holmes (or as her ever-growing community knows her, P Mami) is the owner of fun things. Namely her three businesses, Plant Mama, Pasta Club, and Sheilas Club. All three are extensions of herself, she says. "Nature, sensory experiences, and the force of female creativity energy."
Since those fun things are mostly limited to Melbourne (for now; Sydneysiders should keep an eye out early next year when Jenna's magic touch makes its way here) we reached out to Jenna to share her festive advice with the rest of the world.
"I think there can be a lot of stress and pressure sometimes associated with hosting over the holiday season, especially because many of us have been separated from our loved ones for a while," says Jenna. So if you're feeling the stress, you're far from alone. To avoid feeling overwhelmed by it all, Jenna suggests planning meals or opting for recipes that can be prepped in advance and require as short as possible 'cooking' time. "Salads and sides are a great way to pump up a meal without having to sweat it out too much in the kitchen, so I always plan lots of those that I know I can prep/cut up beforehand! Then you can focus on one centred dish like pasta, meat, or seafood as the main event."
And if you need help ticking people off your shopping list? Jenna can help with that too.
"Gift giving is not my primary love language but it's definitely my second," she says. "How GOOD is giving, huh? In all forms. The giftee feels joy and so does the gift-er, it is a cycle of love-win-win and we all need some of that."
Jenna's Giftmas Guide:
Nonnas Grocer Candle


"This is GENIUS and I am deeply obsessed. We are about to stock these in our shop because I think they should be shared amongst the world. Fellow creative female running her schtick...always a bonus! This is particularly great for anyone who loves dinner parties and candle self care."
Shop it here.

Buy A Goat for Christmas
"This is an ode to my angel Mum, who for decades has purchased Goats for people and for us every Christmas. We have plenty and feel the privilege and gratefulness to have more than our needs met. So sending a Goat or a Chicken or a Cow to a family in need, who can utilise the animal in many ways, seems like an exceptional gift to me. Something to give to the person who 'doesn't want or need anything' <3."
Much Brighter Skin
"Can I swear in a Blog? Because if so HOLY SHIT the name ain't lying that's for sure. I am a long time face-rubber of Go-To and noticed within a week of using the serum that my face actually was fully glowing and bright. Genuinely unbelievable, and making the irony of its name that much sweeter. Perfect for anyone with skin (so, everyone)!"
Shop it here.

Soft Edge Studio - Ceramics
"Excuse me, how do I organise to buy it all? BEYOND. I have an affiliation for beautiful ceramics...regardless of how many I smash on a weekly basis. Again, this studio is female owned and produces pieces that will make any table and its attendees...swoon. The friend you have who enjoys special things will adore this."
Shop it here.
Lifecykel Cordyceps Drops
"Ok just bear with me for a second. YES - those are mushroom drops and NO they are not illegal, I promise. After much research and many recommendations from podcasts and also friends, I decided to drop the many coffees I was having and replaced them with some tea and a few drops of this. The energy I have gotten is unparalleled and I have gifted these bottles already to a few tired friends who also have sworn by its natural energy boosting qualities."
Shop it here.
Spaghetti or Feelin' Saucy Cap
"I mean, it would be rude to not introduce you to our babies wouldn't it? The perfect gift for anyone as it suits... everyone! Join our Pasta Club gang with one of these hats, but please be aware that you must say CIAO when seeing a fellow spag hat wearer. It's part of our spag gang contract."
Shop it here.
And if you've finished your shopping (show-off) and just want a Christmas movie to relax with? "You can't go past Home Alone, but our family favourite is definitely National Lampoon's Christmas Vacation. The Griswold's hold a dear dear place in my heart."