Maeva Heim's Less Is More Routine For Dry Skin
Maeva Heim
Less than 3 minutes / July 22, 2021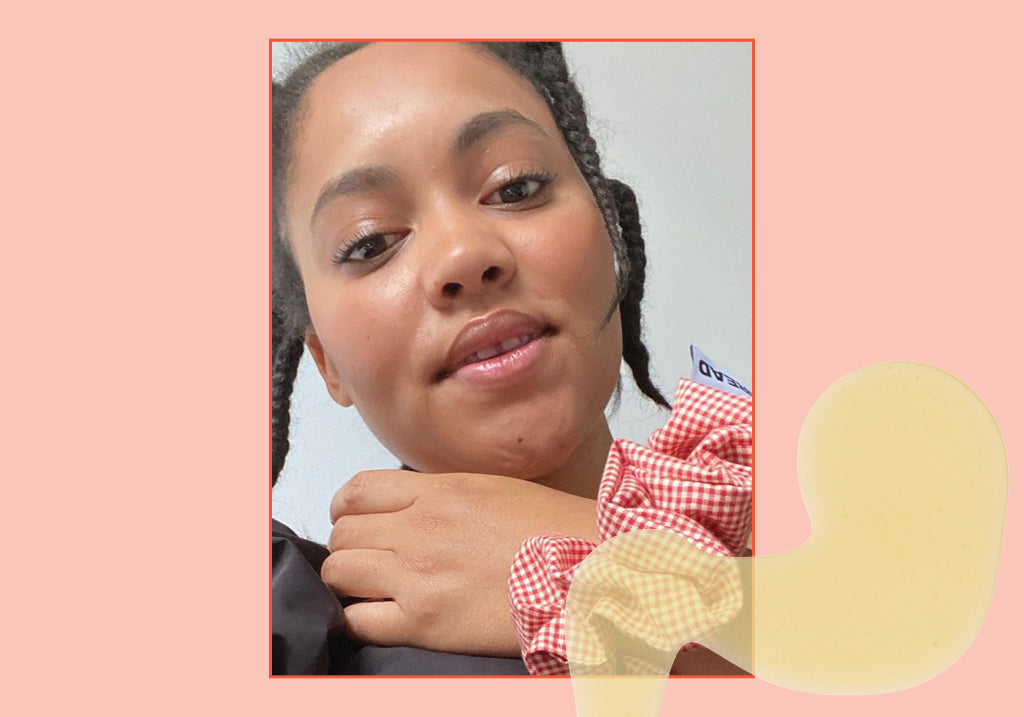 Get Up And Go invites clever, fun, delightful members of our Go-To community to take us with them on their morning routine, sharing their go-to tips, products, and favourite pancake toppings as they go. Today, we're getting up with Maeva Heim, the founder, CEO and Creative Director of BREAD™.
The Life Stuff
"I'm usually up at 7AM to feed our puppy Fudge, he is as persuasive as he is cute, and insists on being fed around this time. By 7:30am, I've started my day! I'll do a quick beauty routine (cleanse face, brush teeth, refresh hair, quick makeup) before getting stuck in video calls. I'm currently stuck in Melbourne, Australia, while the majority of business and brand activity for BREAD™ is happening in the U.S. I have a short window of time in the morning to catch up on Zoom with my team, vendors, brand partners, investors, etc., who are mostly in L.A. and NY.
You're probably wondering where breakfast fits in here. Well, it doesn't. I'm not a breakfast eater, which is terrible but true. After a flurry of calls, at around 9:30AM I'll jump in the shower and slip on some "workwear" (read: work-from-home-appropriate loungewear). Sometimes, I'll slip on a set of sweats or comfortable loungewear.
Once I'm dressed for the day, it's time for arguably my favorite part of the day—dog walking time! Okay, no arguments here, this is definitely my favorite. Sometimes, we'll take a stroll around the neighborhood, but if it's a nice day, we'll head to the dog-friendly beach.
Then it's back onto the computer, because it's werkin' time! I kick off my solid time working on whatever BREAD-related things have been thrown at me for the day. This could be anything from content and product planning to logistics and operations or product ideation and development (the fun stuff!)
I've struggled with [being a morning person] my entire life. My brain usually switches on around midnight, which isn't usually very practical. Now that mornings are the short window of time that I have to be online at the same time as my team, vendor and partners who are in the US; I've definitely adapted to become an early riser.
The only thing that has helped me make the transition to early riser was getting a puppy! Technically not a forever puppy, but my partner and I raise seeing eye dogs in training. Sometimes, we have a few in the house for a couple of days or weeks at a time—from puppies through to adult labradors—but more often than not, we just have one that's with us full-time from 8 weeks old until about 18 months old. Our current full-time boy is called Fudge, who's now 6 months old and insists on breakfast by 7 a.m. at the very latest. He's my only effective alarm clock!
I definitely have to have a coffee every morning so I can face the day thoroughly caffeinated. My partner and I live in Melbourne so we grind our beans fresh, partly because it's delicious but partly because we'd be kicked out of the city otherwise. If it's a rare sunny day in Melbourne, we'll have coffee in the courtyard.
The Beauty Stuff
"Across everything I generally take a 'less is more' approach, and my skin care routine is no different. Clean it up, make it nice. I have very dry and or dehydrated skin, so I like to keep my skin care gentle. I love, love, love an oil cleanser (Go-To Fancy Face, to be precise) and a lovely thick moisturiser.
For a gentle, non drying cleanse, I'll wash my face with Go-To Fancy Face Cleanser, then use a thin layer of Topicals' Like Butter Hydrating Mask as a face cream. To seal it all in, I'll use Fluff's Face Oil #1 or Go-To Face Hero, and of course, no routine is complete without BREAD's award-winning hair-oil to refresh and soften my hair.
If I have Zoom calls (which is usually always, even on Saturdays), then I'll do some light Zoom-Ready makeup. I love the ISLA Beauty Bace Base Priming Moisturiser and KOSAS.
I have 4C hair and since the lockdowns began I have been experimenting with styles that let me go over a week without washing. My scalp doesn't get oily, and my hair is happiest when I just let it be.
I generally suggest erring on the side of 'less is more' - i.e. less washing, and less product. Washing your hair can actually be a pretty disruptive process, so unless you have lots of build up, you really can wash less."
Want more from Maeva? Knew it! Find her (and her adorable pup) on Instagram right
here
and find
BREAD™
available in
Sephora
.