I Paid A Visit To Mecca's New FaceGym Studio, And Where Do I Sign Up?
Less than 3 minutes / February 12, 2023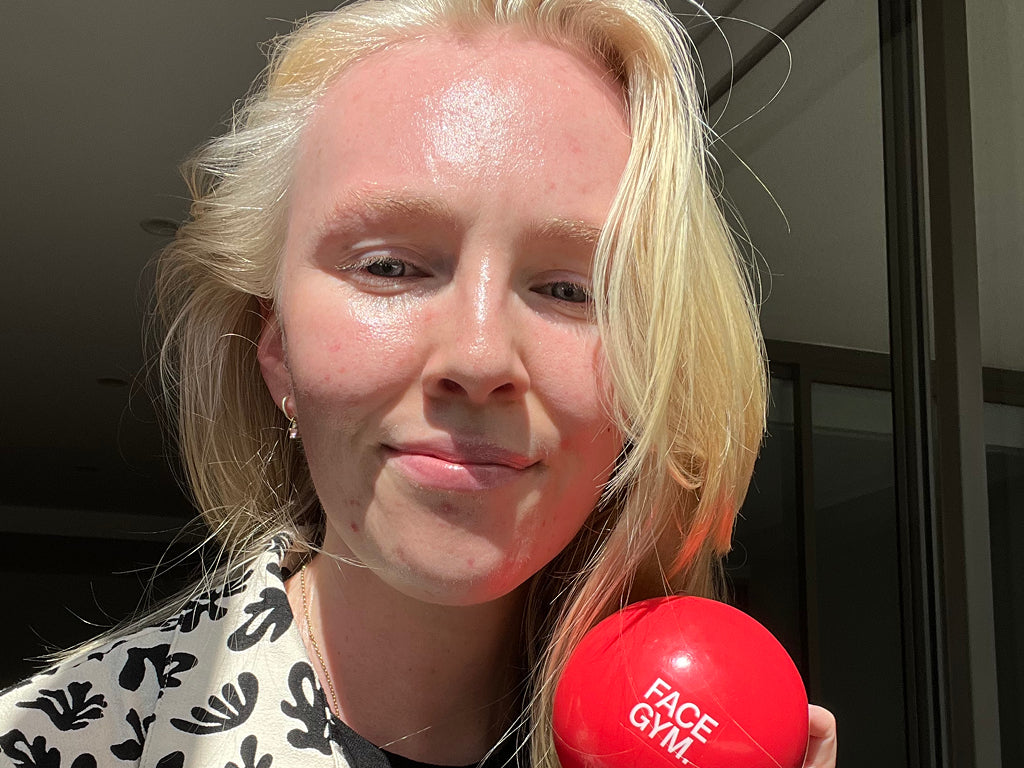 Designed to kickstart the skin's metabolism and train the 40+ (often neglected!) facial muscles for a brighter, tighter and more sculpted look, FaceGym is the internationally renowned new skin service to land at Mecca's George Street store here in Sydney. So naturally, I booked an appointment, albeit weeks after the official launch because everyone with cheekbones was vying for a spot in the chair. 
I opted for the Signature Hands workout, and there's literally no other way to describe the treatment than that, a workout. My trainer, Kim, walked me through the celebrity-approved form of facial fitness which included a warm-up, cardio, strength, and cool-down phase. Here's exactly how my 55 minute treatment unfolded. 
Warm-Up
The very first product to hit my tired face was FaceGym's Electro-lite Energizing and Brightening Gel Cleanser. "Like gatorade for your skin" says Kim, this melted away any buildup and gave me a quick hit of hydration before the first of two unique facial tools was introduced. FaceGym's signature weighted ball slowly made its way around my face in a press-roll-release motion, from the centre of the face outwards, to remove tension and "train those face muscles to remain lifted". Yes please. 
Cardio
This is where you start to heat up the skin. Literally. I wasn't expecting such a buzzing sensation. A fast-paced portion of the workout that really heroes FaceGym's unique exercise methodology, Kim applied a nourishing face oil before knuckling (along the jawline and cheekbones), pinching (the cheeks and along the eyebrow bone), and whipping the lower half of the face to stimulate blood circulation and support collagen production for a plumper, firmer look post-treatment. 
Rest assured your trainer will ask your desired pressure when performing these techniques, and whilst it may look a little intense, I never experienced any discomfort. 
Strength
Using the MultiSculpt Contouring Tool, it was time to work on my facial muscle definition. Similar to a gua sha "but with with no tapered edges so it can really get under each muscle, de-puff, and shape the face", this cooling tool also has a side with teeth to continue with cardio if you need/want. Moving in sweeping motions along the jawline, across the cheekbones, under the eyes (gently!) and above the brows, this was a lesson in how to effectively perform lymphatic drainage from home. Helping to clear away toxins from below the skin's surface (bye bye breakouts) add this to your morning routine for a smoother and more even complexion. 
The second part of strength training involved a buccal massage to release tension from the inside of the mouth, out. Perfect for anyone like me, a serial jaw clencher, who holds a lot of stress in this part of the body. 
Cool-Down
Essentially, this served as a moment for skincare. Rounding out the session with an exfoliating toner, a hyaluronic and niacinamide serum combined with FaceGym's Active Blast, a world first freeze dried vegan collagen booster (a super concentrated dose that can be added to any serum), a rich barrier defence moisturising face cream, and a lick of SPF which we love. 
More often than not I walk away from facial treatments with inflamed skin, being very fair and sensitive, but as hoped, my skin was super glowy and snatched. I felt equal parts relaxed and energised too. 
I now have the knowledge to perform these facial workouts at-home, for more consistent results, but truth be told FaceGym lives up to the global hype and cult following. This is a workout I can regularly get behind. And will!