Go-To Approved Recommendations To Watch, Read, and Listen To This Week.
7 minutes / August 11, 2021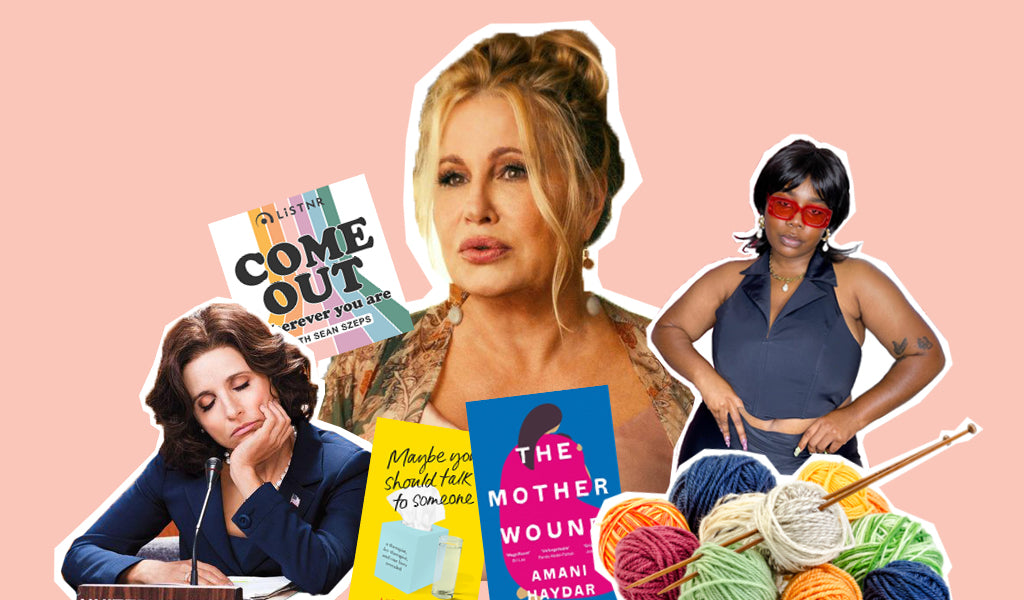 Fun fact: Go-To HQ is based in Sydney.
Less fun fact: That means all of the peanuts who work at Go-To have all been in lockdown for, well, a while.
This increased Home Time has given us a chance to read, watch, listen, and do lots of different things lately, and as a result we now have come across some very excellent finds. Finds we want to share with you too! So if you're also in lockdown (sorry) (we feel you) or if you're not and you're just after a really good rec, you've come to the right place.


Watch These!
The White Lotus
This show is pretty much the only thing I've been talking about for the last few weeks. A satirical character-driven whodunnit that examines privilege and consequence. Featuring Jennifer Coolidge having a breakdown on a yacht. Need I say more? (Oh, and it's on Binge.) (You're welcome.)
Matt, Graphic Designer
Veep
I could very well be the last person in the entire world to watch this but in case there's anyone else left: You need to watch Veep. It's witty and clever and ridiculous in the best way. And since the Olympics has now left a gaping hole in your TV schedule, now is the perfect time to start. So do!
Megs, Brand Content Manager
Father of the Bride 1 & 2
Despite having already watched this movie thousands of times, it never gets old. When can you go wrong with Diane Keaton, Steve Martin AND Nancy Myers, she can do no wrong. A must watch/rewatch for some wholesome 90s viewing. In the words of Franck Eggelhoffer, 'GET OUT OF TOWN!'
Chiara, PR & Partnerships Specialist
Manhunt on iView and It's A Sin on Stan
The former is about a real life serial killer in London in 2017 and the latter is a fantastically, outrageous and ultimately heartbreaking story about a group of gorgeous young things in London during the 80's AIDS epidemic.
Kerry, Group Product Manager
Ted Lasso
It's like a hit of positive affirmation in a hilarious way. Exactly what the world needs right now. Be a goldfish!
Rowena, Art Director and Nathan, Head of Product
Mr Inbetween on Binge
Short, well-written, dark-humoured episodes about an Australian hitman for hire. Directed by Nash Edgerton and has a great cast.
Nathan, Head of Product
Mr. Robot on Stan
A great psychological thriller that takes you into the minds of hackers. (Also great when you just want to watch a tech show without thinking "that is not how it works!" every five minutes.)
Joey, Senior Web Developer
The Secret Life Of Us on Netflix
I was waaay too young to watch TSLOU (the abbreviation everyone is giving the show) when it first aired in 2001. But now, 20 years later I'm addicted. The hair! The clothes! The drama! It's seriously worth a revisit.
Lilith Hardie Lupica, Digital Content Manager
Inside on Netflix
This is Bo Burnham's musical comedy special that he made over the course of the very strange year that was 2020. It's written, directed, edited, and filmed all by himself in just one room. It's impressive, insightful, and relatable all while being seriously funny with seriously catchy songs. Watch at your own risk, the songs will be stuck in your head.
Ailish, Community Coordinator


Read These!
The Success Experiment by Lillian Ahenkan
I found out about this book from the author herself, Flex Mami. A great book that keeps you focused on what you want to succeed and motivates you to push yourself as far as you can, without feeling the world is against you, especially in the climate we're in. It's easy to lose sight of what we are trying to achieve in these trying times!
Falisha, Community Coordinator
My Lovely Wife by Samantha Downing
I can't remember how I came across this book, but I'm so glad I did. I can't say too much about the plot without potentially ruining it but let's just say I was kept on my toes nearly the entire time I was reading this book.
Mercedes, Junior Formulation Chemist
Maybe You Should Talk To Someone by Lori Gottlieb
Funny, revealing, heartbreaking and warming, this book is written by a therapist who after being abruptly dumped, decided to um, see a therapist. There are so many layers to this book (she is smart! Ambitious! Brave!) (her clients! They are famous? Dying. Lonely.) and I am jealous that if you haven't read it, you get to.
(Also: Know My Name; Chanel Miller. And Pretending: A Novel; Holly Bourne. Actually, just DM me. I got heaps more.)
Jess, Group Marketing Manager
The Seven Husbands Of Evelyn Hugo by Taylor Jenkins Reid
I inhaled this book. Following a Hollywood movie icon in a man's world, this story is a heartbreaking reminder that life and love is short. It's lust, glitz, addiction and drama. And is so clever! It's the kind of book that's hard to dislike. Should you read it? Yes! And read it soon.
Georgia, Group Marketing and Content Coordinator
Sorrow And Bliss by Meg Mason
I saw so many people recommending this book and I'm thrilled to report it's as good as everyone says. It's a brilliantly written story about marriage and mental illness that's impossible to put down. (Read: Good for people like me who typically have their phone permanently glued to their hand.)
Megs, Brand Content Manager
Uncanny Valley by Anna Wiener
This is a memoir meets intimate look at the seedy underbelly of Silicon Valley. Expect overt and covert misogyny, billionaire 20-something tech-bros and an outsider's perspective on an insular world full of shortcomings.
Lilith Hardie Lupica, Digital Content Manager
The Mother Wound
I saw this book pop up in an Instagram story (always my most trusted source of recommendations!) and I promptly bought it. Then very promptly finished it. It's a gripping, devastating, beautifully-written novel by Amani Haydar, who lost her mother in a brutal act of domestic violence perpetrated by her father. Such an impressive, important read!
Alice, Gro-To Brand Manager
Listen To These!
Believed Podcast on NPR
After watching the Olympic gymnastics finals and seeing what poor Simone Biles was going through, I listened to the story of the USA Gymnastics scandal around Dr. Larry Nassar. How hundreds of female elite athletes eventually came together to expose him is both fascinating and harrowing. (After reading what my co-workers are doing, I think I need to listen/watch more upbeat stuff!)
Kerry, Group Product Manager
Come Out Wherever You Are
I've loved listening to these many and varied coming out stories – sometimes funny, sometimes heartbreaking, but always wonderfully honest. Pod host Sean Szeps has interviewed a handful of members of the Australian LGBTQIA+ community, and don't ask me to pick a favourite! (Okay, do! It's Deni Todorovic's episode.)
Alice, Gro-To Brand Manager


Do These!
Make something with Clay Sydney
Clay Sydney encourages you to drink all the wine and eat as much cheese as you can while you attempt to make your own cup/mug/bowl/misshapen pot to give your Mum. It's the best hour and at the end you have something to show for it!
Lilith Hardie Lupica, Digital Content Manager
Embroidery!
I have never used a needle and thread to make anything before (reattaching a button was my skill level) but I was needing a crafty activity to get my eyes off a screen. I found some cute sets from Kmart and Stitched Up Kits and have really enjoyed being able to focus on following the patterns. It looks a bit messy at first, but really comes together by the end!
Tara, Community Coordinator
Bake a tea cake
Then eat a tea cake! (The best bit.) This Earl Grey Yoghurt Cake recipe is so simple that even a novice baker, like me, can nail it. With ingredients you've probably already got in your fridge/pantry. And it goes perfectly with a hot cuppa for morning tea, or arvo tea. Or both!
Alice, Gro-To Brand Manager
Host A Zoom Christmas in July (..or August)
My friends and I recently organised a Zoom Christmas in July. We did a Kris Kringle where we each sent one other person a surprise small gift and opened them on camera. Some of the gifts included a drinking Jenga game, paint by numbers, cute self care and bath products, and a fun vase shaped like a Kardashian bum. We all ordered takeaways and chatted the night away. Santa hats encouraged. 10/10 would recommend!
Ailish, Community Coordinator
Grow your own potatoes!
Another (rogue) rec from me! As a girl with an Irish Mammy, may I suggest growing your own potatoes? It's surprisingly simple and you don't even need a garden. All you need is a potato growing bag, and Seed Potatoes (I recommend Kipflers.) Fill the bag halfway with potting mix, plant the Seed Potatoes, pop them in the sun, water them and watch them grow! You'll have your very own home-grown potatoes in time for the Holiday period. Yum!
Ailish, Community Coordinator
Paint by numbers!
I Found some really cool paint by numbers canvas kits from Typo (hot tip: they also have some in Kmart). I actually suck at painting/drawing so you do not have to be a pro artist. It's easy and fun to do while watching Netflix or listening to a podcast. Highly recommend!
Falisha, Community Coordinator