Why You Should Apply Skin Care To Your Neck and Chest
Less than 3 minutes / January 05, 2022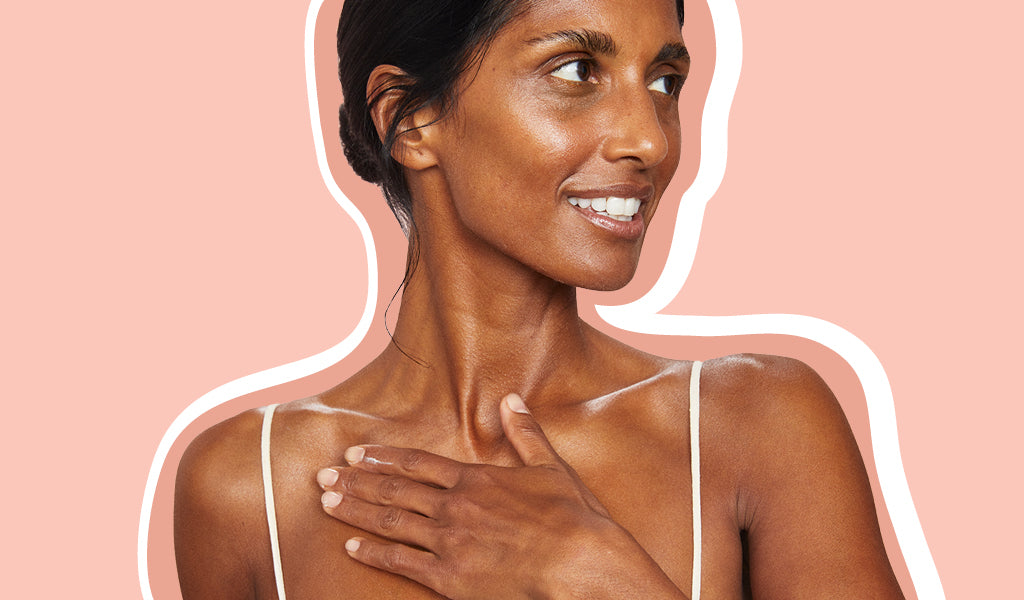 "Your face stops at your boobs" is a phrase we live by at Go-To. The neck-n-dec are just as fragile as the face, and yet, it's often overlooked when it comes to skin care.
No more!
We're only a few days into 2022 which means it's the perfect time to commit to caring for your non-face areas (ahem, if you haven't been already).
Why You Should Be Using Skin Care On Your Neck and Chest
You spend a lot of time and effort looking after that adorable face of yours. Keeping it happy, healthy, and radiant. So, why wouldn't you do the exact same for your neck and chest? The skin there is extraordinarily delicate, and just as prone to sun damage, fine lines, and other skin concerns as your face. (Actually, necks usually age even faster than your face.)
Your neck-n-dec also has less sebaceous glands than your face. Sebaceous glands are responsible for producing oil so having less of them means the area is more likely to be dry and as a result, would seriously benefit from a little extra boost in the hydration department.
What Products Should I Be Applying To My Neck and Chest?
To keep it nice and easy, you can take all of your face products right down to your boobs, unless you have any specific treatment products for concerns the two areas don't share (e.g. serums or treatments designed to target breakouts might be great for your chin but unnecessary for your chest.)
These are the essential steps to include for your daily neck-n-dec routine:
A trusty, gentle cleanser will help get rid of any grime or dirt and keep the area fresh and congestion-free.

Face oils and moisturisers will ensure your neck and chest - an area prone to dehydration because it has less sebaceous glands than your face - stays soft, smooth, and plump.

SPF, as with your facial (and everywhere else on your body) skin care, is completely essential to keep your skin lovely and protected from UV damage.
However, as with all things on planet skin care, your routine will be personal to you and your skin, so take note of what your own skin care goals are and adjust accordingly.
If you have some skin care products in your stash that haven't worked out for your face, try using them up on your neck-n-dec instead.
Is There Anything Else I Can Do To Protect My Neck and Chest?
On top of a solid skin care routine to replenish and restore the area, protecting it from sun damage is the best thing you can do.
This means, reapplying SPF regularly, of course. But also: All of the other protect-y things that we often forget about when it comes to sun protection. Things like, keeping it out of the sun by staying in the shade or reaching for clothes that keep it protected. (Top tip: Lots of brands are making chic protective swimwear for Long Summer Days like
this one
by Matteau.)