The Best Body Exfoliator For Your Skin
Less than 3 minutes / November 13, 2020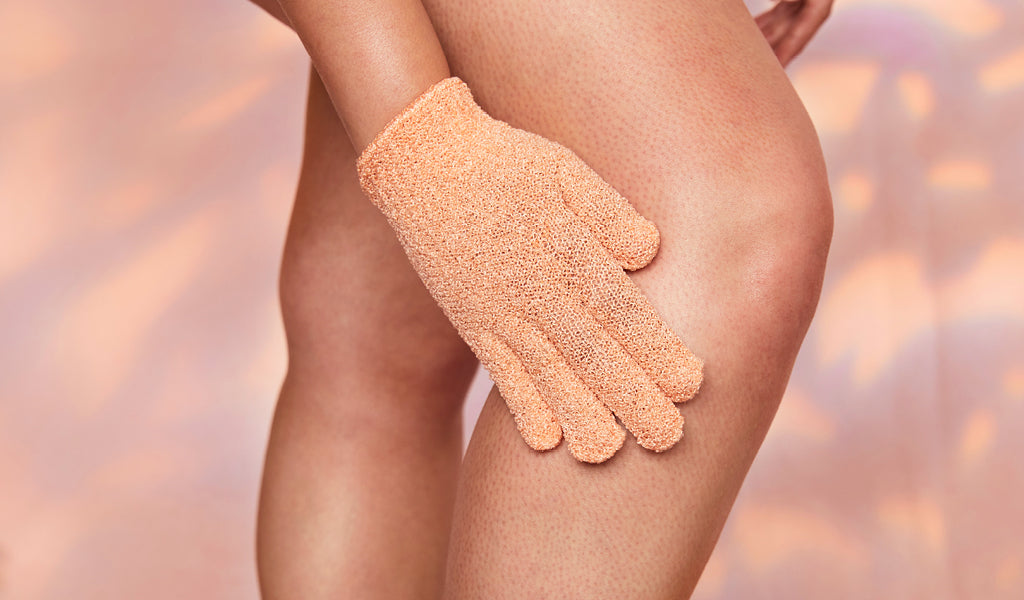 Oh sure, you exfoliate your face regularly, but when was the last time you exfoliated your body?
That's what I thought.
Consistent body exfoliation (once a week or so) is crucial for getting rid of flakiness, dead skin cells, and making sure all of your lush body lotions can sink in properly and do their job. And there are plenty of ways to do it. These are all the different kinds of body exfoliants that you can play with. Do your body a solid and have a squiz to find what will suit your skin best.
The Chemical Ones
Chemical exfoliants aren't just for your (cute) face anymore. You can now find your AHA and BHA mates (glycolic, lactic, salicylic, etc) hanging around in fancy body exfoliants, just waiting to gently slough away rank old skin cells. Because they don't physically scrub your skin, these are ideal for anyone with breakout-y or more sensitive skin. Important! As with any other chemical exfoliants, you absolutely must wear SPF after using these guys.
Chemical body exfoliants we reckon you might like:
Mecca Athletica Skin Perfecting Body Wash
Mario Badescu AHA Botanical Body Wash
The Physical Ones
Proooobably the ones you're most familiar with. Unlike their chemical-y counterparts, physical body exfoliants rely on gritty little granules (typically salt, sugar, or coffee) to manually scrub away your dead skin cells. While we've long been on Team Chemical when it comes to exfoliating your face, the skin on your body is thicker and can handle the scrubbing it will get from physical exfoliants, which is why we reckon they're best saved for your bod.
Bonus! If an exfoliation emergency pops up, you can DIY a physical body exfoliant. Here is a delightfully quick and simple recipe that you could try if you need softer skin, stat: One part honey, two parts brown sugar and coconut oil. Mix altogether. Apply all over, wash off, and follow with a hydrating body lotion for uber soft (like softer than a kitten's ear, soft) skin.
Physical body exfoliants we reckon you might like:
Soap & Glory Sugar Crush Body Scrub
Frank Body Express-o Scrub
The Exfoliate-y Tools
We're talking exfoliating mitts, dry brushing, and the like. Exfoliating mitts are best be used in the shower alongside your Body Wash Of Choice to give your skin a real deep clean while you wash away the day. (These guys can also be wonderfully useful for scrubbing away old fake tan that's desperately clinging onto your skin for as long as possible.) While dry brushing is done out of the shower on, you guessed it, dry skin. It gets the blood and lymph flowing, exfoliates, and encourages new cell growth. In short: It's boring but worth it.
Exfoliating tools we reckon you might like:
The Body Shop Dry Brush
(Pssst. We're giving away a free pair of peach exfoliating mitts with all orders of Skin Party while mega limited stocks last.)