The Ultimate Festive Gift Guide
Less than 3 minutes / November 06, 2019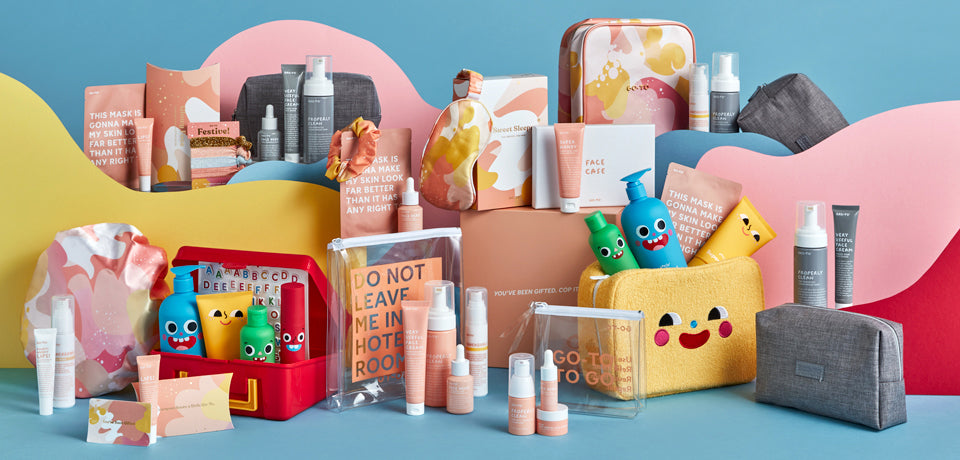 "Buying gifts for people is hard."
Correction: Buying gifts for people was hard.
This week we released a limited edition festive sets that take all of the stress (and the shoes) out of festive season gift shopping. And now, in a move that can only be described as "outrageously generous" and also "pretty obviously biased", we've also created a handy gift guide to help you figure out who gets what.
Hold on to your santa hats…
FOR THE MUM WHO DESERVES TO BE SPOILED
Mums only want one thing: Sleep. And also: a thoughtful pressie. Luckily LUCKILY, you can nail both with Sweet Sleeps. Crammed with a luxe silk pillowcase, a dreamy (and free) silk eye mask, and a lush, replenishing hand cream. It's equal parts thoughtful and useful.
FOR YOUR VERY BEST MATE
It's party season! So, give your party-partner in crime the gift of glowing skin. And by that we obviously mean, Party Prep. She'll get a nourishing face oil, an instantly radiance-boosting sheet mask, plus a festive peachy scrunchie. And you'll get all the credit for the glorious glowy skin. (And probably all the blame for her hangover.) (We can't help with that.)
FOR THE BOYFRIEND WHO THINKS SOAP CUTS IT AS CLEANSER
Let's just say you find it tough to pick presents for the guys in your life ("you're human"). All Day is the perfectly-cleansing, deeply-hydrating answer. It's got a foolproof mousse cleanser, a moisturiser with SPF to keep skin soft and young-looking, and a grey travel bag to give his bathroom the illusion of tidiness. Bro-ustanding.
FOR THE LITTLE SISTER WHO STEALS YOUR SHOES
In honour of her ability to make you laugh, cry, and scream all that once, your sister deserves something equally as multitasking. Enter: Up And Glow. A hydrating, glow-boosting daily moisturiser with physical sun protection, replenishing lip balm with a universally flattering tint and SPF 15. There's also an adorable shower cap that you can steal. It's only fair.
FOR THE PERSON WHO SAYS THEY DON'T WANT ANYTHING
Sure, they're huge liars. But that's okay. And it's also okay if you have no idea what to get them because you can't read minds/you're not as intuitive as Co-Star. Just get them a physical gift card and call it a win. Which it will be because gift cards are gold-standard; it's a present they'll choose AND use. And it comes with a free lip balm. It doesn't get better. (New Telsas aside.)
FOR THE FRIEND WHO'S ALWAYS ON HOLIDAYS
Um.. Nothing?? Her life's a friggen holiday. JK JK. Holiday pigs need presents, too. And they're actually very easy to buy for. Nab her a tiny, adorable travel set like Go-To, To Go. It's gonna save space and it's going to look after her face. Oh, and did we mention it's completely reusable? The gift that keeps on giving (and giving) (and giving).
FOR WHATS-HER-NAME FROM ACCOUNTING
So. You need a present so universal you could give it to anyone. That's where Glowy Face comes in. With a hydrating, skin-saving sheet mask and a deeply nourishing lip balm, this is how you maintain your five-star gifting record. It also comes with sparkly, festive hair ties, and zero obligation for you to give those away. (#Treatmas)
FOR THE KID WITH TOO MANY TRUCKS
Two excellent Gro-To products combined for one magnificent set. Nighty Night comes with Skin Wizard (a magical, soothing body oil) and Bad Dream Buster (a calming room spray for deep sleep). In short: It ticks all the most adorable boxes, without a single superhero or unicorn on it.
FOR YOU
Never has there been a more worthy gift recipient. And for you, we've saved the Daily Essentials. Our core fore products for hydrated, happy skin daily, and a delightfully useful, practical, and free zippy bag. It's the present we're sure you deserve.