A Skin Care Obsessive On Using Vitamin C With Acne-Prone Skin
Sakura Aoki-Danielson
5 minutes / September 24, 2021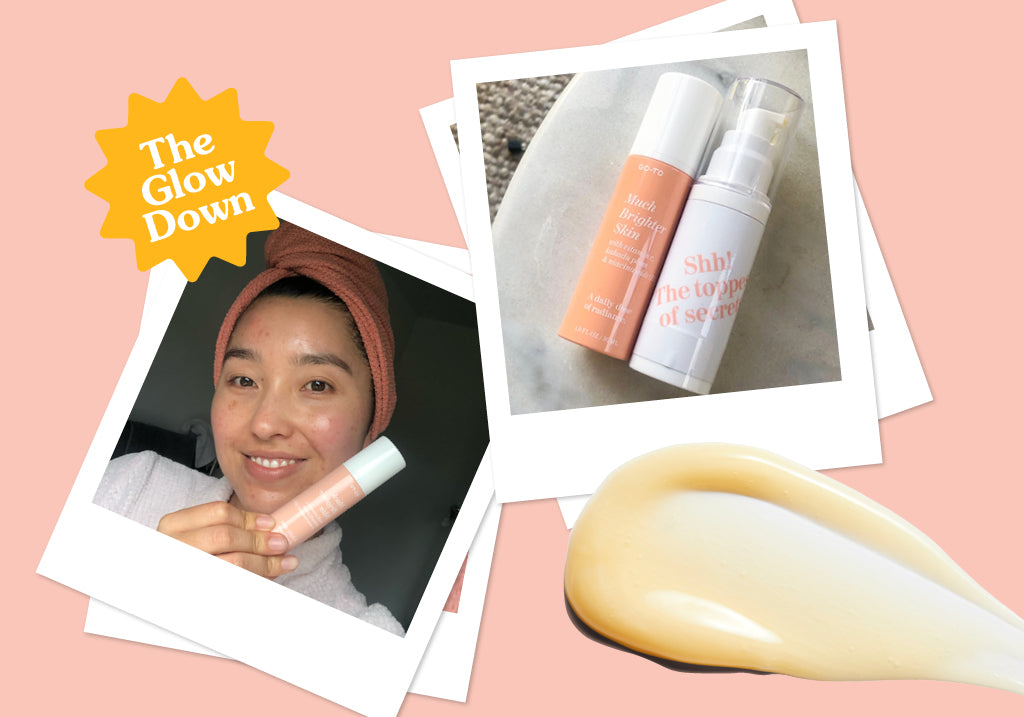 This article was created as part of a paid partnership between Go-To (Hey! That's us!) and Sakura Aoki-Danielson. All answers and opinions shared are her own. (Even the one about pancakes being better than waffles*.)
A few weeks back we welcomed Much Brighter Skin to the Go-To Family. Although Much Brighter Skin has only been out in the world for a few short weeks, she's not new to everyone.
Before launch, we gave some top secret samples out to some very lucky peanuts and asked them to give it a go. One of those testers was Skinfluencer and Content Extraordinaire, Sakura Aoki-Danielson. After a few weeks, we couldn't help ourselves and asked Sakura to tell us her Real Opinion and spill how it went with her acne-prone skin.
Introduce yourself!
My name is Sakura, I am 27 years old, I was born and raised in Auckland, New Zealand. I am part Kiwi, Japanese, Samoan and Maori and I'm a full-time corporate drone and skin care obsessive.
At its core, shitskinchat, is an ode to my multi-cultural upbringing. It genuinely brings me so much joy and hope to bridge the gap between my two cultures. I grew up deeply immersed and connected to my Japanese roots. I have been partaking in self-care and skin care rituals performed by my Japanese ancestors my whole life. Double cleansings originated in Japan and was the method Geishas used to remove their white oil-based makeup from their face using Camellia oil followed by a second cleanse. Yeah, sure, my teenage self screwed my nose up at my mum's advice and opted for makeup wipes instead…I pity the sweet innocent fool I was.
Self care and skin care is in my DNA, many of my fondest childhood memories and favourite past-times are stemmed from family trips to the onsen and hot stone spas. For me, it's more than just skin care, it's self care, and I would love nothing more than to share these rituals and tips to my friends in the Western world.
What is your skin type and main skin concerns?
My skin type is dry/normal and it's prone to hormonal adult-acne. My main skin concern is managing my hormonal-adult acne and post-pill acne, including how to minimise skin texture, maintain a healthy skin barrier and promote fast healing of my acne which includes both reducing inflammation on active acne and fading post-inflammatory hyperpigmentation.
Where does Much Brighter Skin fit into your daily routine?
I've incorporated it into my daily morning routine. After a gentle non-stripping cleanser, a hydrating toner, an essence and before a lightweight moisturiser and sunscreen. I love an antioxidant rich serum to use in my AM routine to fight the pesky free radicals and protect my skin from environmental stressors.

I have been using prescription vitamin A since December 2020 and recently started using Tretinoin 0.05% in early August to help manage my hormonal and post-pill acne. I was extremely nervous at first to incorporate Vitamin C into this routine given how sensitised my skin currently is and the state of my acne. Since using this serum I have continued to use Tretinoin every second night, and found my skin could handle it. However, I have kept my other active ingredients to a minimum and incorporate chemical exfoliation through cleansers (short contact therapy) versus leave on treatments to reduce potential irritation. I also always patch test new skin care under my chin before going full noise and incorporating it into my routine, better to be safe than sorry.
Given the formula of Much Brighter Skin, particularly the use of Sodium Ascorbyl Phosphate as the Vitamin C versus L-Ascorbic Acid it didn't encourage new breakouts, nor did it ever burn my face, or make me want to itch my face off.
Are you a regular Vitamin C wearer?
Due to my sensitivities with Vitamin V I find it near impossible to find ones that don't break me out and I actually like using. When I started using prescription Vitamin A in my routine for my acne, I kind of gave up on the idea of having a Vitamin C in my routine. But since receiving this product nearly two months ago, I have worn it every single day in my morning routine and I will be continuing to do so for many moons to come.
How did you find Much Brighter Skin with your hormonal acne?
It leaves my skin looking like a glowy cherub fresh from the fountain of youth. I was absolutely terrified to incorporate Much Brighter Skin into my routine. As I mentioned before my skin typically hates most Vitamin C products I have tried and that's because I've had a terrible run with L-ascorbic acid in the past. 9/10 of the times it has made me break out, it's made my skin burn, it's made my skin barrier scream for ceramides, it's just never liked me. But Much Brighter Skin has not only helped speed up the healing process of post-inflammatory hyperpigmentation left behind by my acne, but it has also dialled down the inflammation, the redness, the angryness. Heck, she ended up being a bloody good friend to my acne.
And might I even add, could push Face Hero to second place? Eek. There I said it. Much Brighter Skin is my new favourite Go-To product. I will not be taking questions.
How does it compare to other Vitamin Cs you've used?
It doesn't break me out or congest my skin, it doesn't burn and it doesn't make my skin itch. Basically my skin barrier isn't screaming and it stays intact. It's been such a relief. Another thing I love about Much Brighter Skin serum is that it doesn't oxidise the second it comes out of the bottle, and it doesn't smell like Christmas ham.
What's your favourite thing about Much Brighter Skin?
Not only did I not have to deal with my usual Vitamin C sensitivities/tantrums, but being an acne-prone gal the last thing I want is a product that is going to make my skin more congested and prone to breakouts. Vitamin C isn't typically an ingredient used for treating acne, so when Much Brighter Skin also helped calm and reduce the inflammation around my active acne and made it look far less red, big and angry, stoked is an understatement. Despite my usual sensitivities and being on Tretinoin and all, I could comfortably jump on the Vitamin C train and revel in all the benefits this powerhouse ingredient provides. Bravo Go-To and ZFB. *chef's kiss*.
*Joke but maybe true.