Why I Made A Rich Face Cream
Zoë Foster Blake
Less than 3 minutes / April 26, 2023
Because, like you, I wanted one from my favourite brand.
When I started Go-To, I was a peach fresh out of her twenties, and Very Useful Face Cream was the exact facial moisturiser I needed: hydrating and calming with antioxidants, and a terrific skin feel. 
But as I saunter through my early forties, I want more. More replenishment, (I've always veered towards reptilian when it comes to skin type), more barrier repair, more firmness. I have my serums and actives for brightening, hydrating and resurfacing, and Face Hero does a superb job of reviving my skin and boosting glow (plus essential fatty acids, antioxidants and vitamins), but when it came to that final layer, that glorious top coat, I hankered for something richer… 
And now I have it: Very Luxe Face Cream. Made for people with dry, thirsty skin, people in their forties and beyond who demand more (nourishment, science, elegance) from their face cream, or just anyone who loves the velvety feel of a deeply replenishing and sumptuous moisturiser. 
Our formulation is not kidding around. We used three types of ceramides to support skin barrier function and fight signs of dehydration, vegan collagen made from renewable plant sources help minimise the appearance of fine lines and wrinkles, pink algae extract to reduce redness, roughness and pigmentation, and kangaroo paw flower extract to smooth and even skin tone. It sinks in fast; the skin feels supple, soft and smooth. It's sorcery.
But don't take our word for it: In a 12-week clinical study of 30 participants, Very Luxe Face Cream was proven to increase skin firmness by 39%, increase skin elasticity by 39%, increase skin smoothness by 15%, and strengthen skin barrier function by 45%. 100% of participants said their skin looked more youthful after just six weeks of consistent use morning and night…. That's the MAXIMUM AMOUNT.
Fun fact: I tested it in a place I always get unhappy and excessively dry skin: Queenstown, New Zealand. Love the place; hate that mountain air on my skin. I get chapped, painful lips, itchy flaky skin, breakouts, and around 500 new lines on my face. I happened to be there three times during the testing period, and because of VLFC, I maintained incredibly bouncy, soft and plump skin. That was the only change I made to my skincare, and the only time I have enjoyed happy skin there in over a decade of visits. That was how I knew it worked.
Despite all this chat of dry, thirsty skin, and mature skin, Very Luxe Face Cream is a suitable moisturiser for all skin types. Sensitive included. (And whoa, is it incredible under makeup.) 
We now proudly offer Very Lightweight Moisturiser (for oily, blemish-prone skin), Very Useful Face Cream (all-round moisturising and antioxidants), and Very Luxe Face Cream to intensely hydrate, plump up, firm, smooth and nourish. 
It has transformed my skin. (And bathroom - how's that rose gold? Posh as!) 
I can't wait for you to experience it.
Zo x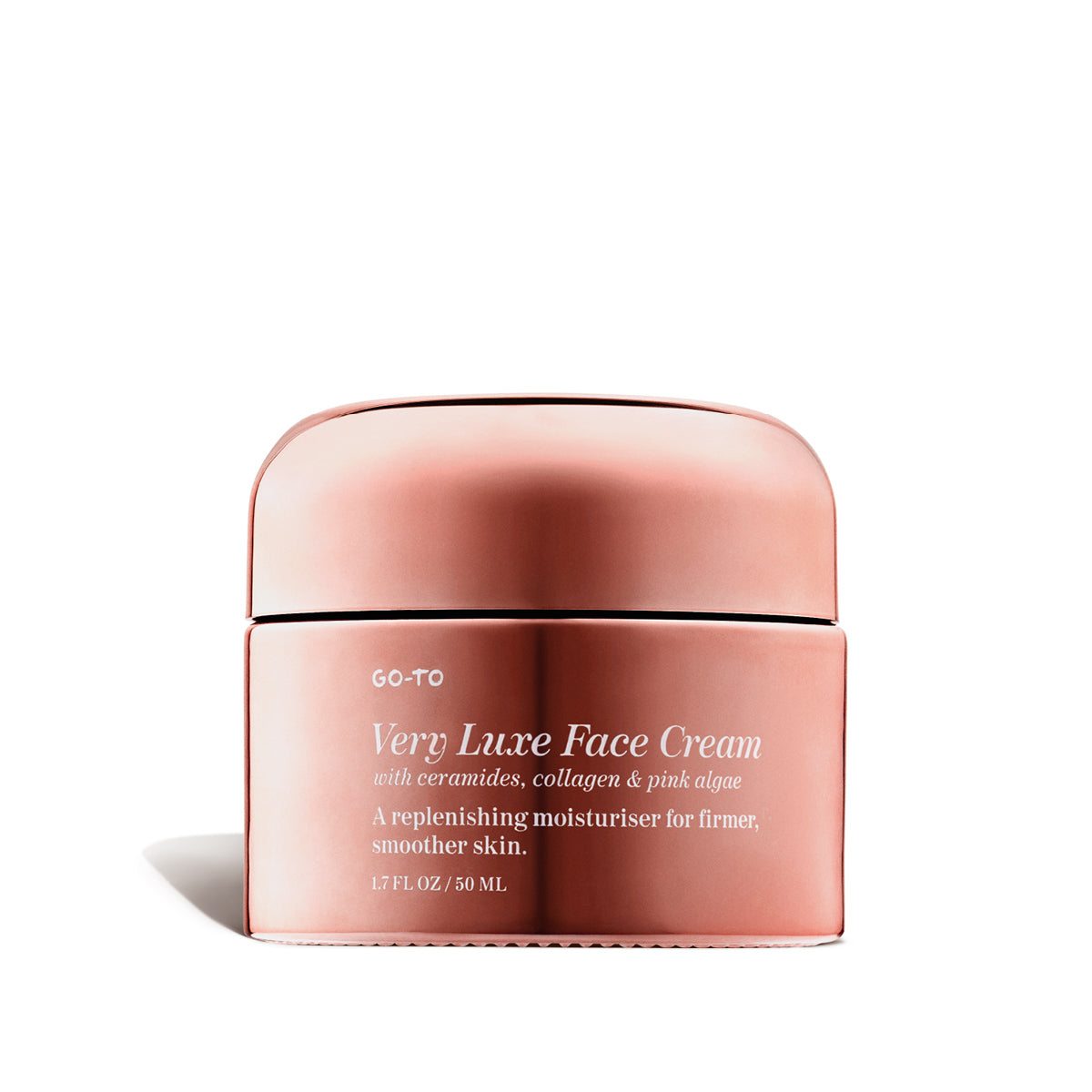 50 ML / 1.7 FL OZ
Deeply Replenishing Moisturiser
A deeply replenishing moisturiser designed to make your skin feel firmer, smoother, plumper. Formulated with ceramides and humectants to support skin barrier function and fight signs of dehydration, and vegan collagen to help minimise the appearance of fine lines and wrinkles, and improve skin elasticity.