Zoë Foster Blake's Best Beauty Buys For 2023
Less than 3 minutes / November 29, 2023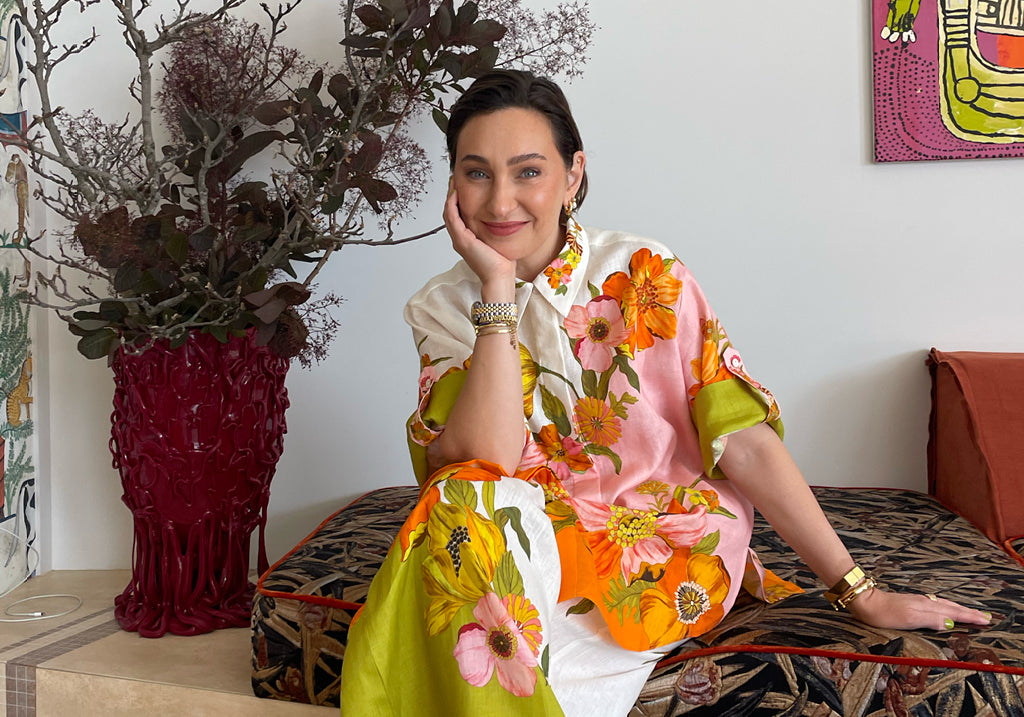 There's a bucketload of new beauty products to unearth each week/month/year thanks to timeless formulas given a touch up, trending ingredients, and high tech tools. Deciding what's worth your time and money is often the hardest part. But a glowing first-person review might get you over the line. 
Across skincare, makeup, haircare, we pestered our founder, Zoë Foster Blake, to share her best beauty buys for 2023. The products worth knowing and buying. 
Hourglass Unlocked Instant Extensions Mascara | $24
"Finally, a tubular mascara [unlike traditional mascara which can quickly clump short or fine lashes with coat after coat, each tube grabs the individual lash and lifts so there are no clumps or product transfer onto the skin] with genuine volume. This is a lifer."
RMS Eyelights Cream Eyeshadow | $45 
"Cream eyeshadows are the cheat's way to looking like you can blend and position shadow perfectly."  A favourite amongst beginners and pros alike for its innate ability to elevate any neutral makeup look with added texture and dewiness. 
Nude By Nature Hydra Serum Tinted Skin Perfector | $34.95
"Bought this after leaving my makeup bag at home on a trip, and it's my new favourite base. So much glow." Skin tints have truly entered the spotlight this year because of their moisturiser-meets-lightweight-coverage capabilities. Find your fav, stat.  
Robe Clean And Finish | $59.99
"A shampoo and conditioner that also texturises. Great if you hate clean, slippery hair. (Me.)" A new, all-in-one way to nourish your hair, cleanse the scalp, and streamline your shower routine. 
Colour Wow Dream Coat Supernatural Spray | $64
"Always up for embracing my curls, the frizz not so much. This gives curls without the halo." The Aussie heat works hard but this anti-humidity treatment works harder. 
Kosas Air Brow Fluff & Hold Treatment Gel | $38
"My I-have-no-time brow product. Tint, shape and hold." For an extra boost, start by brushing backwards from the tail end of your brows to the inner corner (really fluff them up), then brush upwards as you would normally. 
MAC Locked Kiss Ink in Teaser | $54
"The very long lasting matte base for all my latte, nude, 90s lips." A weightless and waterproof wear that is destined to withstand every summer soiree. It's the blend of passionfruit oil, coconut oil, and shea butter that provide a next-to-naked feel. 
Jet Set Sun Spray Self Tanner | $38.35
"Bought this travelling when my spray tan had worn off and it's a pretty flawless self tanner in colour, application, and wear. Why self tan? Because: NO sun baking for me, ever." None for you, either. 
Go-To Very Luxe Face Cream | $79
"This has changed my skin (and many others') - it's exactly what my barrier wants (support! Strength!) and has eradicated my 'dry' skin complaints, completely. Game. Changer." Perfect for thirsty faces and a breathtaking choice for makeup prep too.