Zoë Foster Blake: Seven Silly Season Tips
4 minutes / December 01, 2019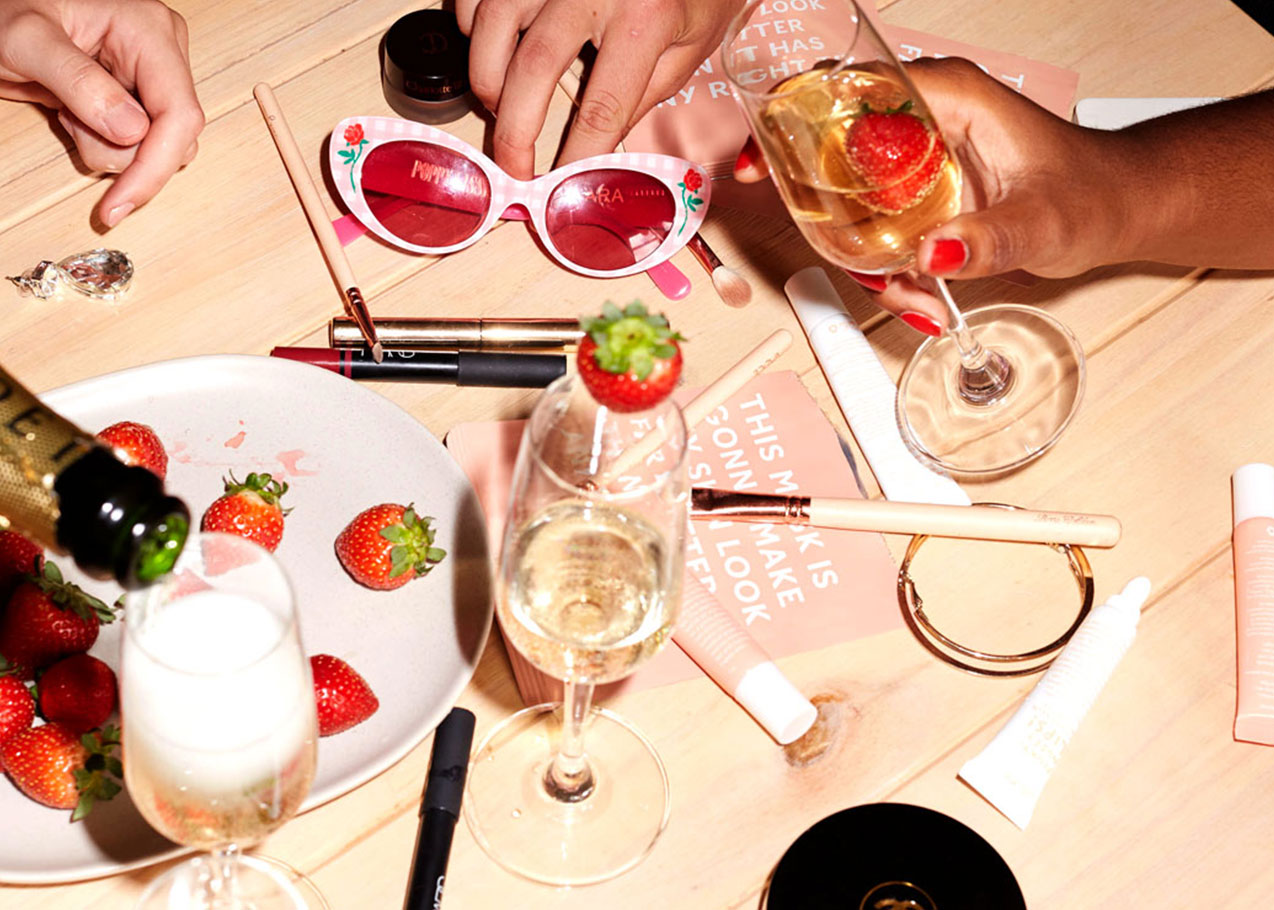 There will likely be things you will be required to attend in the coming weeks. Some will be terrific fun, some will have you ordering an Uber after an hour, and some will be dominated by Aunty Sherrine's vulgar cruise ship stories. No matter the vibe, the guests, the event, I'm guessing you're keen to look fresh and festive. Even if you go to your event straight from work and have to get changed in the wizzer and you forgot your strapless bra. Don't you worry! We can do this! We can do this.
1. Consider long-term hacks.
Could be a lash lift, or lash extensions, or some keratin in your hair to keep it smooth, or a simple white or black dress you can wear three different ways to three different parties with a sassy change up of accessories. A professional facial is a good way to ensure plump, bright skin if you have a succession of parties in a few days. (I like a Laser Genesis/peel combo.)
2. Good skin prep means good makeup, for longer.
A juiced-up face (hi, sheet mask), makeup primer and makeup setting spray are an excellent three-step for makeup that sits well, and stays put for many hours. Hydrated skin (an exfoliation + sheet mask combo is ideal) will ensure your makeup goes on well, because the canvas is plump and even. Primer acts as a wall between your skin and makeup, giving your foundation something to hold on to, rather than your skin. And setting spray misted over your finished look locks the whole dang thing in place.
3. Spray tan with caution.
The work Christmas party is probably not the time to trial a new spray tanner. Use one you know, and the product you are familiar with. And if in doubt, ask for a light spray. Always better to be disappointed in a too-light tan, then embarrassed by limbs of deep terracotta. I always book my spray two days before my event, just in case it's too dark. Apply a scented body butter or oil to hydrate the tan and mask any odours. If you're more a DIY tanner, (and being lazy and badly organised, I am) I can recommend Spray Aus's dark tanning mousse for a spray tan finish, or Le Tan's mousse for a non-sticky, easy to apply and believable tan.
4. Stock up on sheet masks.
That sounds like I am just trying to get your money. But honestly, there is no better time for sheet mask usage than the silly season. They give you post-facial skin, quickly, which is what you need before a party and makeup application, and definitely the day after, when you feel and look (sorry) like hell, and need to fake that you're a functioning human. For those yet to try them, sheet masks are one-use facial masks you pop on your face for 10 minutes (after cleansing, and before skin care. DO NOT RINSE THE SERUM OFF!) For this you are instantly rewarded with juicy, bright skin, due to the high-concentration of brighteners, antioxidants, hydration boosters and skin plumpers. They're excellent if you want your makeup (or just your skin, if you're not really a makeup person) to look sensational, or if you're pretty sure you're going to run into your ex and you need to look breathtaking.
5. Just do lipstick.
It looks festive, and means you can tone down all the tricky eye makeup stuff. Apply it right after your foundation to instantly energise your face and help you assess how much cheek and eye makeup you really need.
In my overrated opinion a punchy lipstick is best worn in a matte or creamy long-last formula with:
– Foundation where needed, including on the eyelids to cover veins and create a flawless look
– Concealer to even out dark circles and cover blemishes and redness
– Mascara (lots)
– Blush and bronzer
– Groomed, filled-in brows
– A knowing smile.
6. Event hair

must

be Second Day Hair.
Hair that's too clean and freshly-washed is too slippery and stupid and won't behave or hold. I promise you – Second Day is the Way. (I always wash at night, dry off, then style the next morning.) SDH has texture; it has found its groove. You should be able to simply mist in some heat protectant/sea salt spray, and tong/styler or blow dry some shape in. Finish with some dry shampoo to add volume. Nice!
7. Enjoy yourself!
Don't get mad if your partner won't dance, or you lose an earring, or you're running 100 years late. Will it matter in an hour? A day? A week? Probably not. The energy you bring with you counts; don't waste a once-in-a-year party cos you're annoyed about something. And if you're not feeling it? Enjoy yourself somewhere else. But please: Do enjoy yourself.