3 Delicious Dishes You Should Be Serving At Friendsgiving
5 minutes / November 22, 2022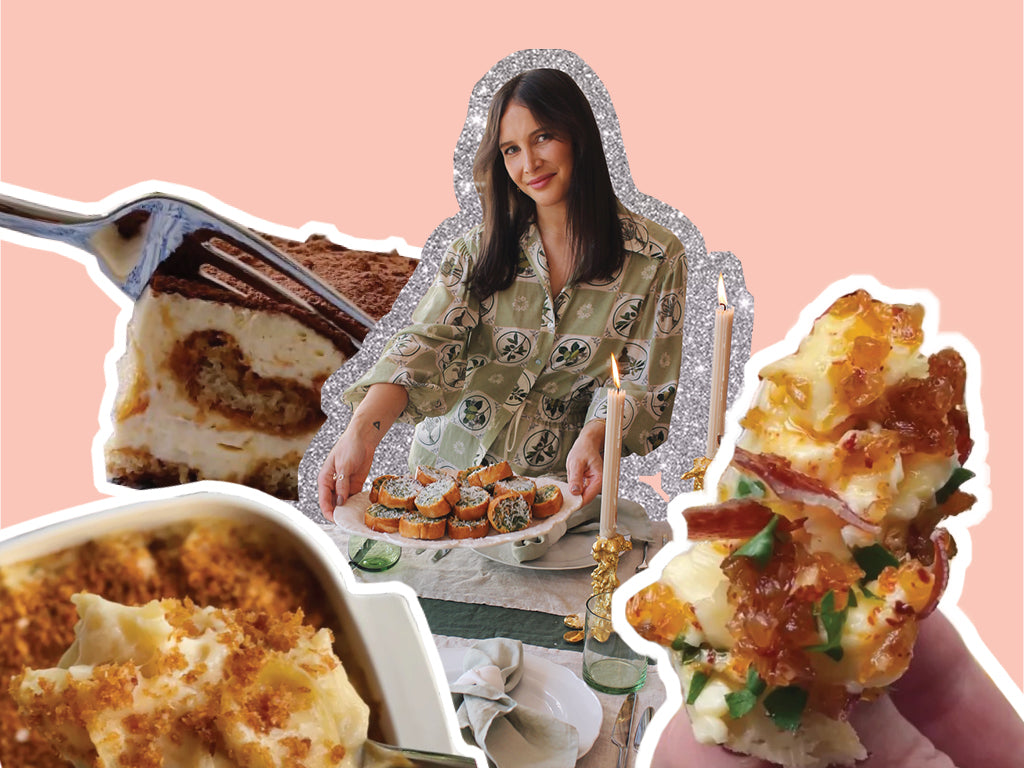 So what is Friendsgiving? It's like Thanksgiving with a solid dash of Australiana, but really, an excuse to invite your best pals round for a fancy-ish dinner during the holiday period. 
We'll take some of the traditions (share what you're grateful for, take a nap) and scrap a fair few of the others (watch the Macy's parade, followed by an American football game), but at the crux of it all is a reeeeally gluttonous and over-the-top spread. Yes, please. 
Whether it's lunch, dinner, you've opted for picnic vibes, dressed the dining table to the nines, or have requested all attendees bring a plate, no one is opposed to a bit of inspiration on what to cook when there's many mouths to feed. Cue the crowd pleasers! 
We spoke to the fashion guru meets tablescape-specialist-meets-rosé-pasta-extraordinaire (if you know, you know) Tori Falzon behind @intothesauce, and asked her to share a drool-worthy entree, main, and dessert that feels like Friendsgiving on a plate. 
Butter Board
The 2022 charcuterie trend we truly did not deserve. 
Ingredients: 
150g salted butter, at room temperature

50g extra virgin olive oil

1 tsp chilli flakes 

2 shallots, finely diced

1 lemon 

Salt flakes 

50g jamon or prosciutto

1 tsp chopped parsley 

Fresh bread, to serve
Method: 
In olive oil, slowly cook chilli flakes and shallots with a big pinch of salt, until they go caramelised and jammy. 

Fry or roast your cured meat, allow it to cool and then crush into small pieces. 

Spread butter on a board or plate of your choice.  

Spoon over caramelised shallot mix. 

Zest a lemon over the top. 

Sprinkle over salt flakes. 

Top with crushed prosciutto and parsley. 
"The butter board; a fun trend. This butter board, to me; transcendent. Soft butter, drizzled in caramelised chilli and shallot jammy heaven, showered in the acidic zest of a lemon, some chopped parsley (and not finished there!) with fried, crushed pieces of salty prosciutto. I could absolutely eat this every day and can guarantee it as a dinner party hit."
Mac And Cheese
How. Good. Is. Comfort. Food. (Don't forget a salad to cut through the richness.) (Or do.)
Ingredients:
300 g short pasta such as macaroni, shells, fusilli
For the breadcrumbs
50g butter

1 cup panko breadcrumbs

30g parmesan, finely grated
For the sauce: 
80g butter

4 shallots, finely diced

2 cloves of garlic, finely chopped or grated 

5 sprigs of fresh thyme, leaves picked

50g plain or 00 flour 

500ml full cream milk

150g Comté, finely grated 

170g Parmigiano Reggiano, finely grated

Pinch of finely grated nutmeg 
Method:
Preheat oven to 180°C

Cook pasta in plenty of salted, boiling water until very al denté (it will cook further in the oven), reserve some pasta water, strain and set aside. 

For the breadcrumbs, melt 50g of butter in a fry pan over medium heat and toss through Panko, stirring often, until golden brown. Transfer to a bowl and stir through 30g Parmesan, season with salt flakes and set aside. 

In a saucepan, melt 30g butter over medium.

Sauté shallots, garlic, thyme until tender, then remove to a bowl (use a spatula to make sure the pan is empty). 

In the same pan, melt 50g butter for the béchamel. 

Whisk in the flour and cook, stirring constantly, until beginning to go golden (like Caramilk golden). It will smell biscuity and give our mac and cheese a toasted, nutty flavour. 

Bit by bit, whisk in the milk over medium heat. Continue to whisk until sauce is smooth and noticeably thickened (10 mins). 

Turn off the heat and stir in Comté, Parmesan, nutmeg and your sautéed garlic, shallots and thyme. Loosen with about ½ cup pasta water. 

Stir the sauce through pasta and season to taste. 

Spoon the mix into a baking dish, top with your toasted panko and bake for 15 minutes until sauce is bubbling and golden at the edges. 
"I genuinely believe mac and cheese can heal the soul. I count this recipe in my top 10, which is subjective, but as you can probably tell this subject has strong feelings on the dish. It's just as good when I'm recovering from weekend antics as it is when hosting special occasions with friends and family. This one is versatile too, you can change up the cheeses by adding in Red Leicester instead of the Comté for a sharp, orange hit, which is fun for Friendsgiving. I always pair a simple salad as a side for my mac - some acidity balances out the richness perfectly."
Tiramisu 
A delicious way to say thanks for puddin' up with me. 
Ingredients: 
100mL marsala (Pellegrino if your bottle- sells it, otherwise Boronia is fine)

4 egg yolks

130g caster sugar 

250mL mascarpone

250mL thickened cream

300mL espresso, cooled

One packet / 400g Savoiardi biscuits

Dutch cocoa, to serve
Method: 
Bring a pot of water to a simmer. 

Make a sabayon by whisking half of marsala (50mL), egg yolks, and 30g of sugar continuously in a stainless steel/heatproof bowl the simmering water. Make sure the bottom of the bowl isn't touching the top of the water. 

Whisk until the mixture thickens and holds a ribbon (5-8 minutes). 

In a stand mixer with whisk attachment or in a bowl, whisk cream and remaining sugar and whisk until medium peaks form. 

In another large bowl, add mascarpone and whisk until smooth. 

To mascarpone, gently whisk in sabayon until incorporated, followed by whipped cream. 

Whisk until soft peaks form. 

Pour espresso and remaining marsala in a small bowl to dip biscuits. 

Dip biscuits very briefly in liquid (too long and they will fall apart), then place in a baking dish (around 24cm). 

Layer with half cream mixture, and repeat for the second and final layer. 

Cover and place in the fridge to set for around 2 hours, until firm. 

To serve, dust with a touch of cocoa using a sieve and spoon into bowls. 
"Is there a better dessert than a tiramisu done really well? A proper zabaglioni (egg yolks, sugar and marsala whisked over heat until frothy ribbons form) and  good quality espresso are the key ingredients here. I'll often make my tiramisu with decaf coffee out of respect for those who (like me) will be up til 5am if they consume caffeine after 3pm. And we obviously love that this is great made in advance, and gets better in the fridge over time."
A combination of Tori's professional experience of working in some of the country's top restaurants, founding a successful catering business and her background in social media management has defined her natural affinity for design and style. Tori's brand Into The Sauce has quickly become a go-to destination for recipes, culinary inspiration and dining done right. (Avoid at all costs when feeling hangry, emotions will only be heightened.)