Why Did Go-To Make A Face Mist?
Less than 3 minutes / July 25, 2022
This year has been a bloody MONSTER for new Go-To launches. They are all very exciting and special in their own way, but this one makes all of the others even better.
Introducing Prep Step; a hydrating, soothing, feel-nicey face mist that makes all your other skincare more effective. It's like a supercharger for your skin care.
I was late to the party with face mists. For a long time I believed them to be wanky and redundant. Nice-to-have, sure, but not necessary. Then I learned (and saw first hand) how mists amplify the application and efficacy of the rest of your routine. Now I mist every time I do my skincare.
Different mists do different things
Some mists are great for setting makeup. Some tone the skin. Our mist is a bonafide skincare product: full of humectants (glycerin, low molecular weight hylauronic acid) to boost hydration, natural moisturisers (betaine and sodium PCA) to protect the skin from water loss (TEWL), and anti-inflammatory Tasmanian pepper berry and leaf extract to calm and soothe. Naturally-derived propanediol holds moisture in the skin and helps all the active ingredients you've forked out for to penetrate. But it also supports all your other skincare.
Why are we asking you to mist?
For one, it feels and smells really, really nice. But mostly because you'll get more from your products. Using a face mist before your skincare helps product penetration, effectiveness, and spread. It primes the skin for optimal absorption and allows whatever you follow with - be that face masks, serums, moisturisers, face oils, or exfoliants - to better sink in, which allows them to work as hard as possible. They 10x the rest of your skincare, and as a brand that prides itself on creating useful, effective products that work, adding a product that was able to maximise results to our range felt natural.
When do we mist?
As the name clearly and deliberately suggests, Prep Step is an in-betweener. This is a mid-skincare product you pop into your routine before serums (**unless they're formulated with retinol or other very strong actives, which are best applied to dry skin to prevent irritation), before exfoliators, before masks, before moisturisers, (and even before foundation). 
This is not a keep-on-your-desk, mist!
When you use Prep Step, be sure to always "put on a lid." Which means always follow on with a product after you mist to lock in the hydration. This is a before-something-else, mist. Misting without a follow-on product can have the REVERSE effect, leaving the skin dry, tight or uncomfortable, so please-please-please always lock that moisture in.
I've so loved incorporating this hydrating, soothing powerhouse into my AM and PM routine. I can't imagine life pre-mist. I'm a bloody mist maniac! Prep Step has improved my moisture levels, added bounce and radiance, leveled-up my facials, and ensures I'm getting the absolute most out of my skincare. 
 Give misting a go. You'll wonder how you did without it.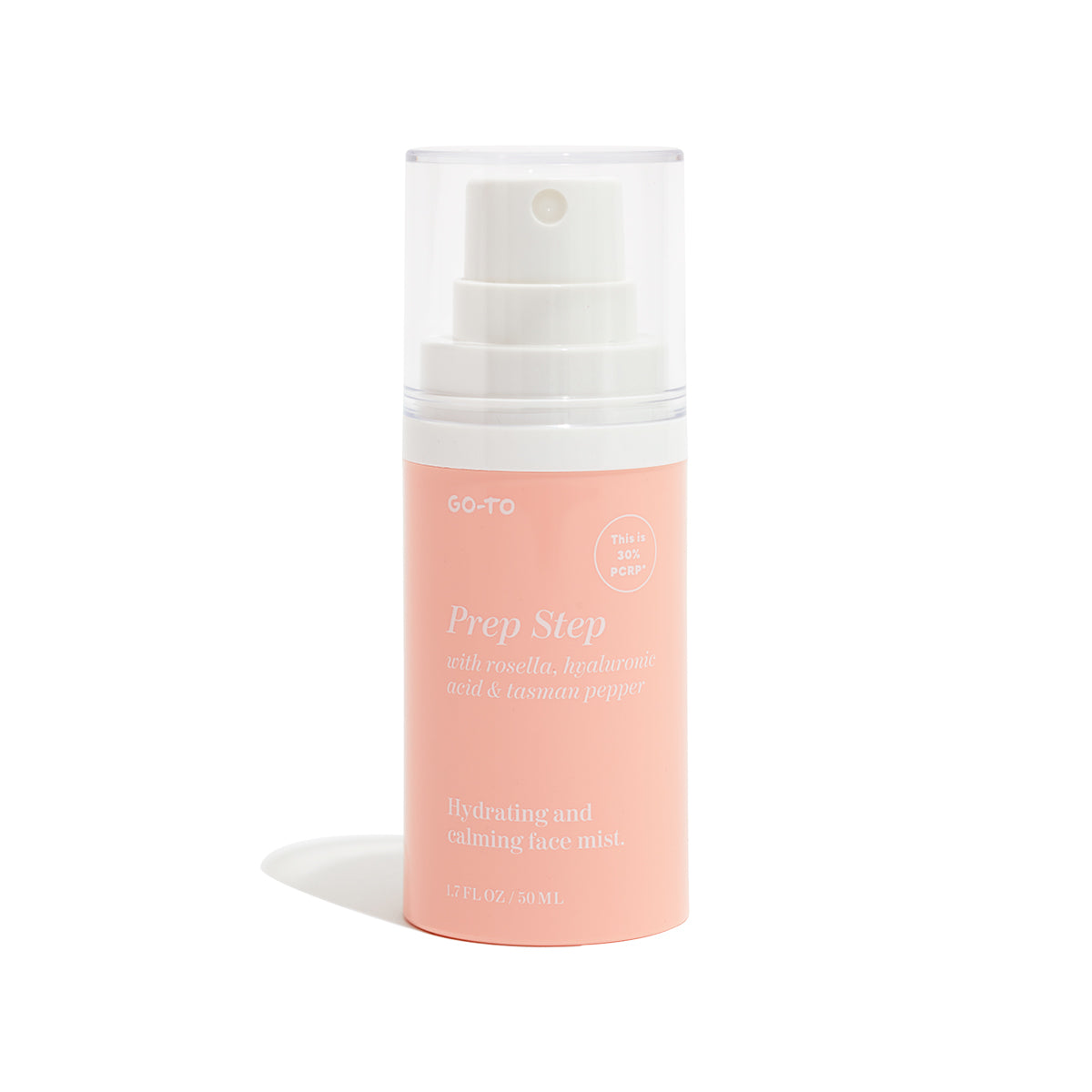 50ML / 1.7 FL OZ
A hydrating face mist that perfectly preps your skin.Formulated for optimal product absorption, this gentle face mist maximises the penetration and performance of your skincare, and offers a boost of hydration and calming.