Chemical Vs. Physical SPF Filters, What's The Difference?
Less than 3 minutes / August 23, 2022
So you want to be a sunscreen connoisseur but can't quite get your head around the differences between chemical and physical (mineral) filters?
That's what we're here for, in fact, we wrote this whole article to help you decipher (with the help of our magical formulations team) just what the differences are, and what that means for our first chemical sunscreen, Nifty Fifty. 
The difference between chemical and physical sunscreen filters
"Physical and chemical UV filters have been found to work a lot more similarly than previously thought," says Mercedes, one of the formulation chemists responsible for Nifty Fifty. "Both types of filters work by absorbing UV, while physical ones also reflect a small percent of the UV."
She continues: "Their differences lie mostly in their chemical structure and how they are made. Chemical or organic UV filters contain carbon in their structure, while physical or inorganic UV filters do not contain carbon in their structure. Another difference is that chemical UV filters are completely synthetically made, whereas physical UV filters are minerals found in nature that are then altered to be able to be used in a sunscreen." 
Why does Nifty Fifty use chemical filters?
Long-time Go-To-ers will remember Zincredible (our first SPF launched in waaaay back in October 2018), which was a physical SPF we retired in January 2022 in "deference to the significant advances in UV filters and sensory you'll find in Nifty Fifty", says Go-To founder and emphatic sunscreen advocate, Zoë Foster Blake.
In other words, chemical filters have come a long way in four-ish years and that's a great thing for both you and your skin. But sadly, a not-so-great-thing for Zincredible which relied physical filters. 
"We had previously used zinc oxide in Zincredible sunscreen formulations, and when we tried to develop a high strength sunscreen it became significantly more challenging to formulate with minimal white-cast and an amazing sensory," says Mercedes, adding, "Making the switch to chemical filters for Nifty Fifty wasn't an easy decision, however, our key aim was to develop a sunscreen that people would want to wear, not have to wear. This required a switch to chemical filters so that we could have a product that delivered on the high strength protection we wanted, while minimising white-cast and providing a skin feel that you actually want to use."
The result is a Therapeutic Goods Administration-listed sunscreen that's lightweight, magnificent under makeup, non-comedogenic, non-greasy, and suitable for all skin types. So, a total dreamboat that makes wearing sunscreen a joy, not a chore. 
Zoë talks more about the choice to make the switch from physical to chemical here, and what it took for her to switch from camp mineral to camp chemical. Enjoy!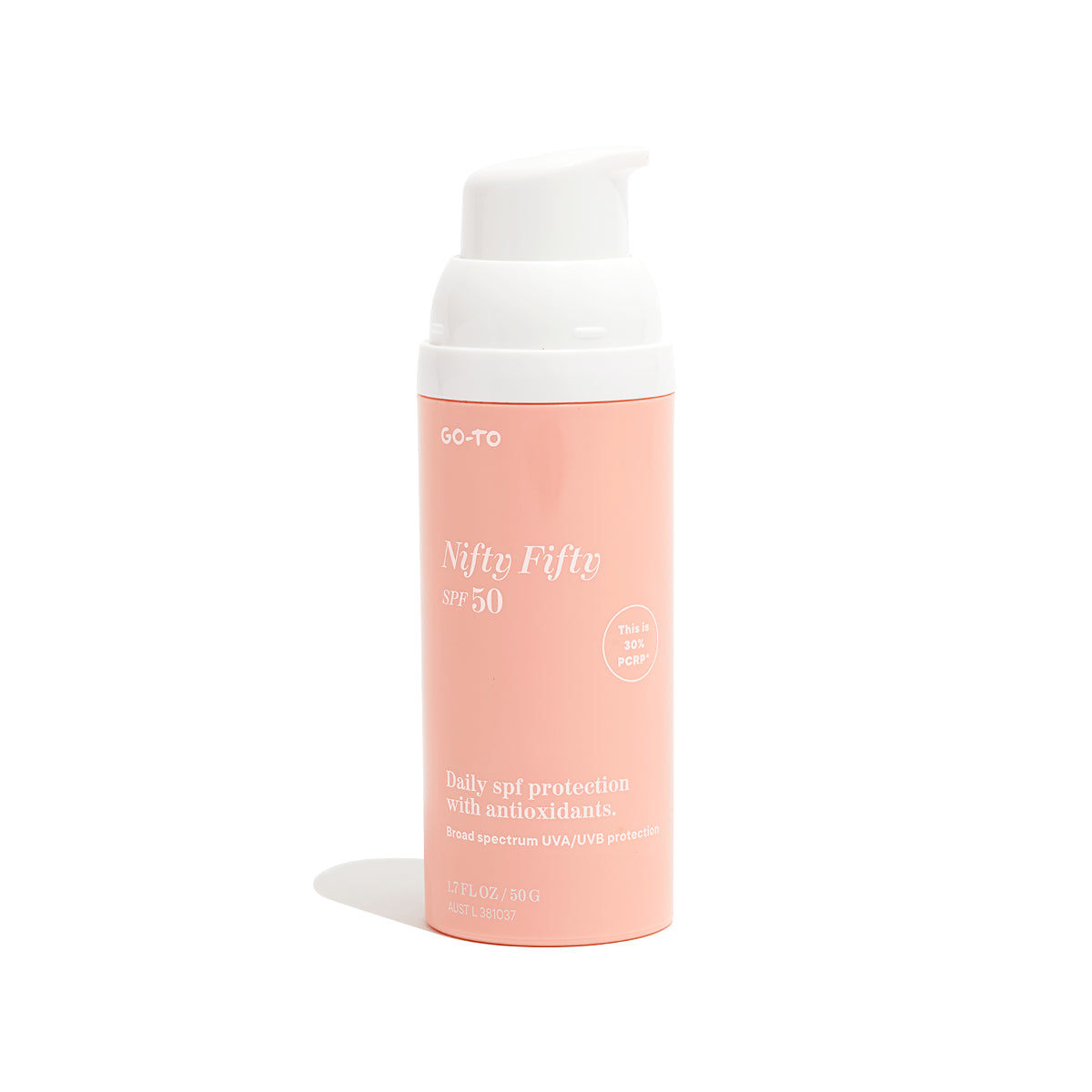 50ML / 1.7 FL OZ
A hydrating daily SPF 50 broad spectrum sunscreen for UVA/UVB protection. Loaded with antioxidants and latest generation SPF filters for new generation protection, Nifty Fifty will protect your skin from damaging UVA and UVB rays, while keeping it hydrated and supple.
Avoid prolonged sun exposure, and make sure you re-apply frequently in accordance with directions. Remember, sunscreen is only one component of sun protection so always wear a hat, protective clothing and eyewear when you're in the sun.