Two Mums On How Much Plumper Skin Helps Their Skin
Less than 3 minutes / May 12, 2022
Pregnancy and postpartum skin is one of the most common areas we get asked about here at Go-To HQ. It makes sense! It's a time of enormous change. For your life, for your body, and by extension (thanks to an adorable change in hormones), for your skin.
So, when we dropped a new serum last week (Much Plumper Skin, maybe you've heard of her/seen the billboard we put on your front lawn bragging about it?) we thought it might be helpful for all the (soon-to-be or current!) parents to hear about how it works for someone else dealing with the same unpredictable skin concerns as you.
Over to our triallers!
Emma, 36
Skin Type: Fairly normal, depending on the weather
Skin Concerns: I'm 36 and recently found out we're expecting twins so aging, tired, and dull looking skin is a big concern.

How did Much Plumper Skin feel on the first application?
I was initially worried how it would layer with other products with scent but no dramas here: it felt dreamy to apply, a little goes a long way, and I instantly noticed how super smooth my skin felt. I was in a little disbelief because I didn't immediately look any different but just SO smooth. I couldn't stop touching it.

After application how did your skin look and feel?
SMOOTH. Baby smooth. After a few uses I found my skin hydration and texture so much more consistent. Much Plumper Skin definitely intensifies the glow you get from Face Hero and other Go-To products.

Did Much Plumper Skin help your skin concerns? If so, how?
Yes, my skin does not look as tired as my entire pregnant body and brain feels, and it's even helped reduce the bags under my eyes even though I haven't applied it there (the dark circles are hereditary, thanks dad). It's also reduced some of the fine lines I can get across my forehead and around my eyes, which I didn't even know were there before, I definitely wasn't in denial.

Comments? Thoughts? Existential musings?
Can we make this in a body sized product? For my whole body? Or for bathing in? It's firmly in my top 3 fave products (all Go-To naturally).
Seyi, 29
Skin Type: Oily/combination
Skin Concerns: Blemishes, hyperpigmentation, blackheads.
How did Much Plumper Skin feel on the first application?
Upon first application, the serum felt like a big drink of water for my skin! Although I generally have oily skin, I didn't realise how dehydrated my skin was. I love how this serum gave me instant results with my skin feeling fresher, bouncier, and glowing.
Did Much Plumper Skin help your skin concerns? If so, how?
In addition to having acne/blemish-prone skin, my skin has been looking quite dull due to having very little sleep since becoming a first-time mum. In only a week, adding Much Plumper Skin has fooled people into thinking I've had a full night's sleep! My skin looks brighter, softer, hydrated, and feels fresher.
How has Much Plumper Skin fit into your skin care routine?
I apply Much Plumper Skin in the PM daily. My night-time routine generally consists of using an oil-based cleanser; I double cleanse using Properly Clean in the evening, especially if I have worn makeup, SPF. [Then I follow with] three drops of Much Plumper Skin applied to clean skin, a face oil, then moisturiser.
My morning routine differs in that I use the Much Brighter Skin after cleansing and before applying a light moisturiser and my SPF.
And once a week I enjoy using The Removalist to draw out any toxins and congestion from the week and twice weekly I have also been loving The Repair Shop mask to strengthen my skin barrier (especially when I see a new pesky pimple emerge).
Comments? Thoughts? Existential musings?
This serum is by far my new hero product in my routine to give this tired mumma much needed hydration and, glowing, and plumper skin.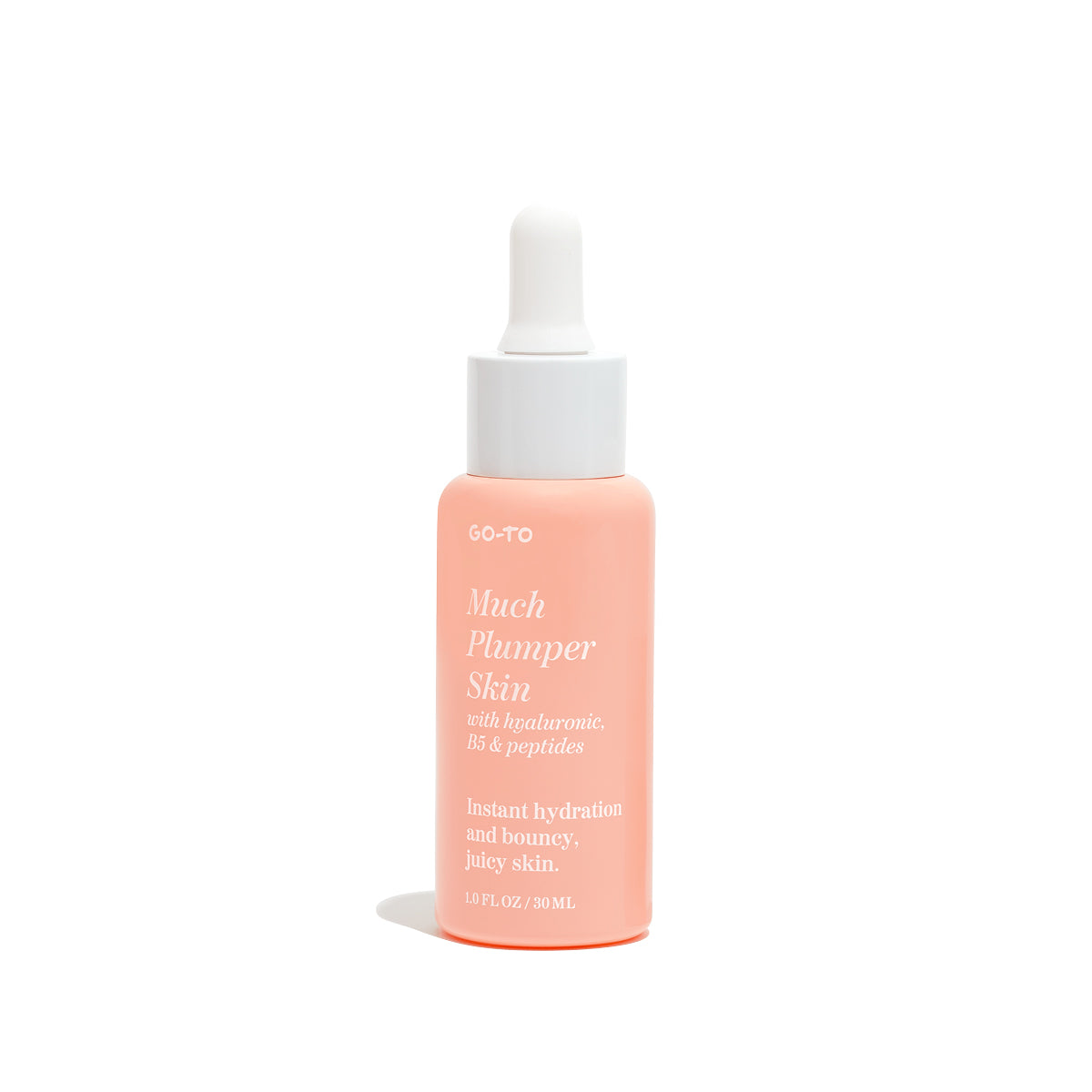 30ML / 1 FL OZ
What is it? A hydrating serum packed with peptides, provitamin B5 and four types of hyaluronic acid to expertly quench and plump your skin. Designed to deeply replenish even extremely dry or dehydrated skin, Much Plumper Skin boosts and seals in moisture levels, giving bouncy, radiant skin.