Upgrade Your Nightly Skin Care Routine
Less than 3 minutes / June 16, 2021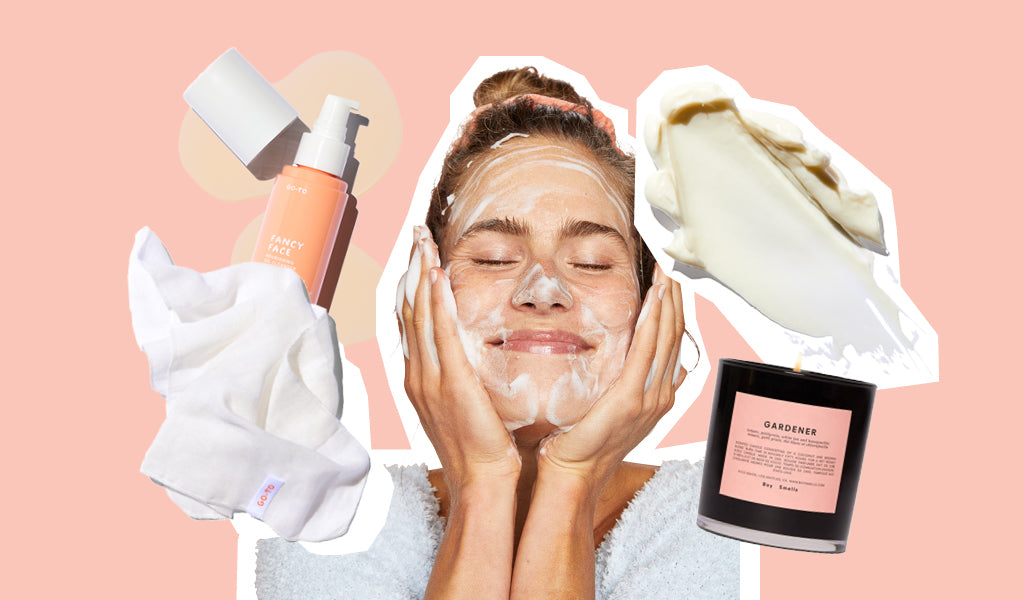 There are a trillion ways to practice self care (no, really, we wrote about a heap of them right here). But one thing that I've always found especially helpful when I need some Time Out is spending a little extra time on my nightly skin care routine.
Taking good care of my skin is obviously a win itself, but more than anything, I've been trying to make an effort to snatch any opportunity to switch the hell off. (The Screen Time app on my phone would disagree with this, but I'm 78% sure it's broken or lying.)
If you are too, then here is what we suggest for your very own nightly skin care ritual.
A Nighttime Skin Care Routine For Hydrated, Glowing Skin
Light a candle and turn off your notifications. Set the scene, tune out all distractions (or as many as possible) (I'm not a parent but I hear children are particularly hard to tune out) and force yourself to really switch off.


Pop on a relaxing playlist or a podcast. (This step is essential to keep me distracted and stop me from trying to rush through everything or pick up my phone.)


Thoroughly wash your hands with soap before touching that adorable face of yours. Bonus points if it smells all botanical and spa-like.



Apply

oil cleanser

to

dry face and massage it for at least 30 seconds to get rid of any makeup, grime, or SPF. (Yes! SPF! UVA rays are tricky pests that can penetrate through windows, so SPF is still very necessary even if you're indoors all day or it's the middle of winter.)



Take a warm, damp

face cloth

and push it on to face for ten seconds or so, to compress the oils into the skin. Enjoy this bit. Repeat a few times and wipe away all of the oil and residue with your warm cloth.



Follow with a gentle and water-based cleanser like

Properly Clean

if you feel like you need it. (If you've been at home all day and wearing no makeup, you're fine to skip ahead to the next step.)



Exfoliate with something clever and foolproof like

Exfoliating Swipeys

2-3 times a week. If you're new to chemical exfoliants rinse the solution off after 60 seconds. If you're a seasoned chemical exfoliant user leave this on, to give your skin a little extra boost.


Once a week, pop on a clay face mask. Leave this on for around 10 minutes (unless your Mask Of Choice instructs you otherwise, of course) before removing with your warm, damp face cloth. This is a clever way to treat your skin to a Mini Facial all in the comfort of your slippers.


If you're really feeling fancy follow your clay mask with a hydrating mask. Leave on for another 10 minutes and remove with a warm, damp face cloth.



Pop on your actives, serums, and then

Face Hero

for nourishment (which leaves skin looking like a radiant glazed donut) and antioxidants (which protect your skin from free radical damage and premature ageing).



Follow with

Very Useful Face Cream

to lock in all that glow and goodness and for another boost of moisture. Important because after you remove all the impurities (with your clay mask and exfoliants) you want to replace them with good stuff.


Give your lips a good scrub with a lip exfoliant and follow with a hardworking lip balm. Ideally, look for something that has both hydration (think hydrating oils or antioxidants) and a barrier (like lanolin) to replenish your lips and seal all of that moisture in.



Goodnight kiss to yourself in the mirror. (Essential.)