How Three Women Are Dealing With Pregnancy Skin
6 minutes / December 23, 2021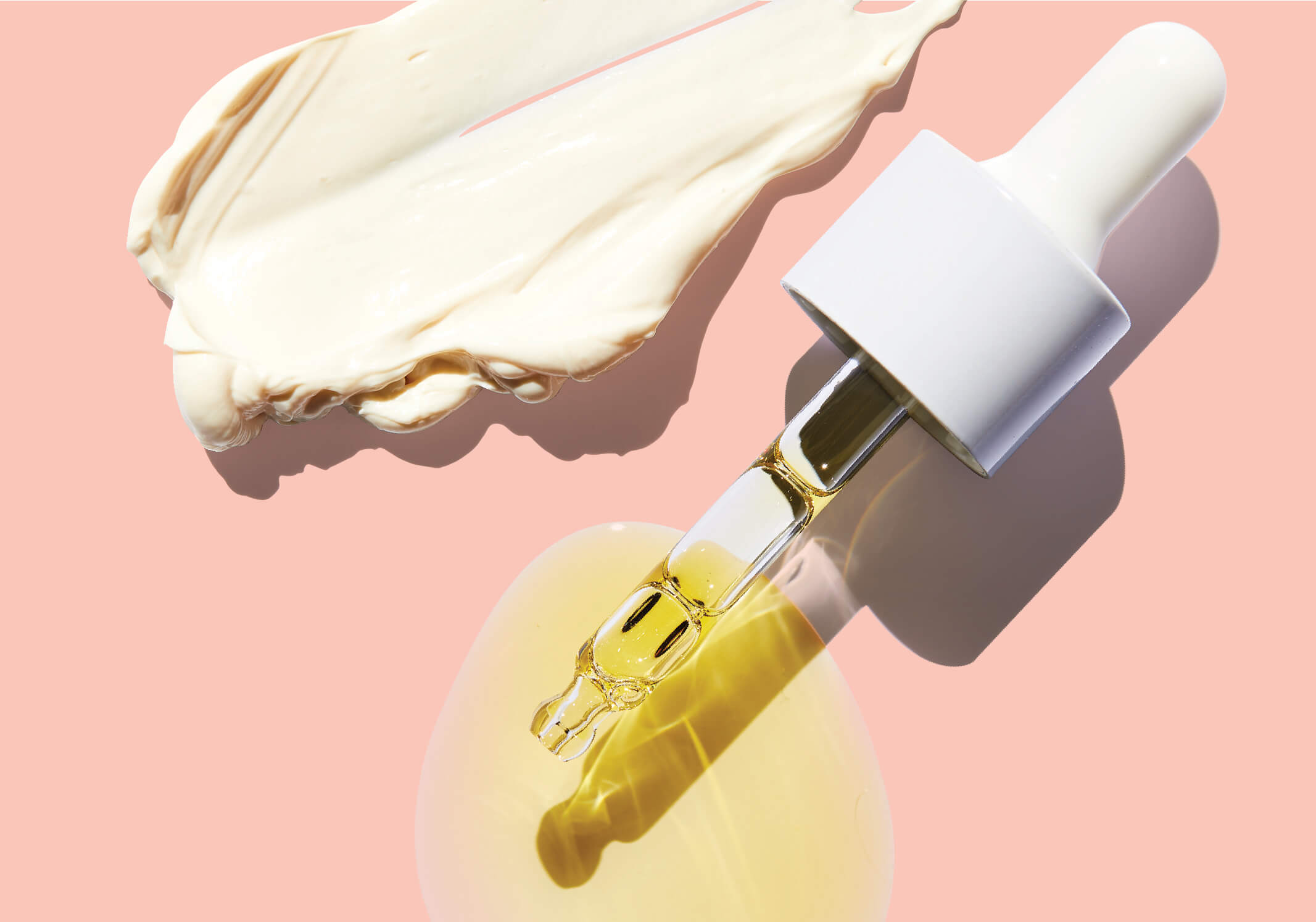 This year, Go-To HQ got some deeply exciting news: Three (!!!) members of our team are pregnant. We celebrated with sugar (lots), custom mocktails (seriously), and then by bribing them to share all their very best pregnancy skin advice with us. What's changed! What hasn't! What works! What doesn't! The whole lot.
Why? Because pregnancy skin is notoriously tricky. It's consistently one of the most-asked questions our community team are asked about. And, there's no-one better to talk about pregnancy skin than three women who are going through it right now. Over to them!
Chiara's Pregnancy Routine For Dry Skin
"Hi, I'm Chiara. I'm the PR & Partnerships Specialist at Go-To. I'm currently 31 weeks pregnant (gulp!), due at the beginning of February.
My skin type pre-pregnancy was dry, yet prone to congestion, and I suffered from the occasional hormonal breakout. I don't think pregnancy has changed my skin too much, if anything it's just made my existing issues more persistent. I haven't been getting the monthly breakouts which has been bliss.
My skin was at its worst during my first trimester. I did NOT have the 'pregnancy glow' everyone talks about. It was super dull, prone to congestion, and I just looked - and felt - haggard. From 15 weeks my skin started settling and became much more consistent.
I've tried to keep my skin care routine super simple and really pared it back since finding out I'm pregnant.
Morning: I don't cleanse. I use my Much Brighter Skin Serum plus the Votary Hyaluronic Serum and never forget to put on some SPF (my fave: Ultra Violette Supreme Screen). I'll also mist throughout the day if my skin feels a bit dry.
Evenings: I'll cleanse with my Sulwhasoo Cleanser (double cleanse if I'm wearing makeup), apply my Votary Hydrating Serum, Sulwhasoo Eye Creme, and finish off with Very Useful Face Cream.
I had to stop using all my active products, so my retinols and anything that had a high concentration of AHAs etc are currently on the bench. I'm also obsessed with skincare so I was constantly trying new products and trialling new things with my skin. I've had to park this habit (for now) and stick to the same routine and products.
[My best advice is] don't get too down about your skin changing, especially in your first trimester. Your entire body is changing so it's only natural for your skin to also change. Simplifying my skincare routine really helped calm my skin and keep it at bay.
Invest in a body cream you love from the get-go. Apply that all over from the beginning, boobs, tummy, everywhere. If you have any face creams you don't really love for your face, apply them to your tummy over the course of your pregnancy. It's cost-effective and face creams are always packed full of the good stuff."
Alice's Pregnancy Routine For Breakout-Prone Skin
"I'm Alice, the Brand Manager for Gro-To! And I'm 23 weeks pregnant – a hair past halfway. It's my first baby so it's equal parts fun/exciting/daunting/no idea what's happening to my body.
My skin forecast is usually: pretty clear with the chance of a pimple. But ever since I've gone off the contraceptive pill, it's been more sensitive to oil, and I've had consistent breakouts on my chin and hairline that just won't quit.
I fell pregnant at the height of covid, so who could say if it was all the incessant mask-wearing, but the acne on my chin did get worse. I also found that I was dealing with really big, really sore blind pimples and, all of a sudden, pimples ON MY LEGS. I told my midwife about these and she wasn't concerned, but my vanity most certainly was.
I know Go-To is pregnancy safe, so as soon as I found out I was expecting, I went back to basics. In the morning, I wash my face with Properly Clean, then apply Much Brighter Skin , Face Hero and Ultra Violette Queen Screen. I also traded my thick creamy body lotion for a lighter slather of Skin Party, and so far that's helped keep the oils in my skin under control. Which means fewer random leg pimples! And of course, I apply Exceptionoil on my bump and boobs – maybe to help the stretch marks, but mostly because it smells nice and feels lovely.
At night, I always double cleanse. I use Clinique Take the Day Off Cleansing Balm, then it's over to old mate Properly Clean again! To my fresh face, I apply Paula's Choice 2% BHA Liquid Exfoliant (excellent for keeping breakouts to a minimum) and Estée Lauder Advanced Night Repair serum (excellent for making me look like pregnancy hasn't robbed any of my sleep). I finish with a pea-size squeeze of Very Useful Face Cream.
I had just started to use retinol before I fell pregnant and we had to break up well before I was ready. Early on, I added Much Brighter Skin to my routine to replace the more intense vitamin c that I was using, because I noticed that my slightly-more-sensitive pregnancy skin just seems to prefer gentler formulations.
I have had an annoyingly easy pregnancy so far. (We're only halfway and there's definitely still time for things to go haywire!) But in the second trimester, I found that my skin started to clear a bit and just generally calmed down. Was it the new routine? Or the much-fabled second trimester glow? Or just listening to Taylor Swift on repeat that did it? Who knows! For now, I'm going with it.
You quickly realise when you become pregnant that nothing is normal anymore. Your body is doing weird and wonderful things, your skin is playing a whole new game, and you have to pee 9,000 times a day. This vessel is on its own trip and you're really just along for the ride. I've tried to embrace being gentle with my skin in the same way that I've embraced being gentle with myself. I want to care for it, but I don't want to stress about it. For now, I've found products that work to keep my skin clean and soft and nourished, and I'll worry about other pesky concerns (like brightening and fine lines) later. For now, I'm super grateful to be growing a human life. And if I have a weird knee pimple or three, so be it."
Yvonne's Pregnancy Routine For Dull Skin
"Hi! I'm Yvonne, and I am the Social Media Manager here at Go-To. I am currently 24 weeks pregnant with my second bubba due in April!
Typically, I have dry and sensitive skin, so hydration is always really important for me. During this pregnancy my skin has been dull and tired, which is quite different from my first pregnancy.
In the morning, I cleanse using Kate Somerville's Goat Milk Moisturizing Cleanser, followed by Glow Recipe Hyaluronic Serum, Go-To Face Hero and Kiehl's Ultra Face Cream. Then I finish SPF, then some makeup.
In the evenings, I remove makeup using Go-To's Fancy Face and Properly Clean, and exfoliate with Exfoliating Swipeys. When I have the time, I turn to The Removalist to help me replenish and detoxify and Patchology's Get Dewy With It Sheet Mask.
I've stopped using retinol and in general I've just been more careful with trying new skin care products, making sure I reach out to check if they're suitable for pregnancy skin.
My best advice is to always consult your doctor if you notice something amiss - especially when it comes to pregnancy-induced eczema. I would also advise to keep your routine simple and whatever helps you feel relaxed and pampered: do it."
Dealing with pregnancy skin? Always reach out to a doctor, dermatologist, or skin care professional as they can provide you with personalised advice for your skin.