All Your Vitamin C Questions Answered
Less than 3 minutes / September 15, 2021
Are you Vitamin C-urious? You're not alone in your skinquisitiveness when it comes to this multitasking antioxidant that just so happens to be the hero ingredient in our brightening serum, Much Brighter Skin.
How do I use vitamin c with my other products? Before oils or after? What's it smell like and can it help me build my Ikea furniture?
Fear not, help is here. (BYO Allen key.)
We're about to answer your most common vitamin c and Much Brighter Skin questions to help you learn all about your should-be skin BFF.
Q: What does vitamin c actually do?
A: Vitamin c is a potent antioxidant and multitasker that protects against free radical pests, improves radiance, helps fade hyperpigmentation and promotes collagen production. Also, waaaay more that just didn't fit here.
Q: Can I use Much Brighter Skin if I have sensitive skin?
A: Yes! Much Brighter Skin is formulated with a super gentle form of vitamin c (Sodium Ascorbyl Phosphate!) and it's been dermatologically tested to be suitable for sensitive skin. Want more info? You got it!
Q: Are higher percentages of vitamin c better?
A: Nope! A lot of factors influence the efficacy of a vitamin c product; pH levels, formulation, the type of vitamin c, its absorbability and stability. Still unsure? Get your answers.
Q: Where does vitamin c fit in my daily routine?
A: Much Brighter Skin does its best work when applied in the morning (after your cleansers and toners and before your oils, SPF and makeup.) Just ask Zoë.
Q: Can I use vitamin c at night?
A: As a vitamin c serum, Much Brighter Skin will do its best work during the day to avenge free radicals and work alongside your SPF to fiercely defend your skin. This isn't to say you can't also use it at night as well; if you'd like to, you certainly can (just slot it in the exact same spot: after cleansers/face mists, before face oils/creams).
Q: How do I use vitamin c with my other actives?
A: Vitamin c pairs well with some actives (think: Niacinamide! Vitamin e! Hyaluronic acid!) but should be kept far away from others (Benzoyl Peroxide! Retinoids!) Let us guide you through it step-by-step.
Q: Do I apply Much Brighter Skin to damp or dry skin?
A: Damp skin! This helps Much Brighter Skin penetrate the skin more effectively as your sweet face is like a sponge which soaks up more (better/faster/expertly) when wet. Mist between layers to get your face nice and damp, or use H20.
If you're prone to sensitivity, start by applying to dry skin and see how you go. If you're comfortable then you can switch to damp skin.
Q: Do vitamin c and SPF work well together?
A: Yes! When used together, vitamin c and SPF are a dream team, protecting your skin as you go about your day.
Q: Can I use Much Brighter Skin during pregnancy and breastfeeding?
A: Absolutely! Much Brighter Skin has an effective but gentle formula that is 100% safe for use during pregnancy and breastfeeding.
Q: What's the shelf life of Much Brighter Skin?
A: Much Brighter Skin contains a super stable form of vitamin c, but we still recommend using it within six months of opening. With consistent, daily use, this should be no trouble!
Q: How do I know if my vitamin c has oxidised?
A: You'll know your serum has oxidised when it turns a light brown colour. This happens when it's exposed to air and light. Which is why Much Brighter Skin is made with a very stable form of vitamin c and is packaged in a fancy airless pump to protect the efficacy and stability of the formula.
Q: Does Much Brighter Skin smell like hotdog water like other vitamin c's?
A: Much Brighter Skin smells like geranium, bergamot and mandarin. Think: Floral! Fresh! Pretty! The complete opposite of hotdog water! What's the hotdog water about? This is a mystery even to our formulation wizards.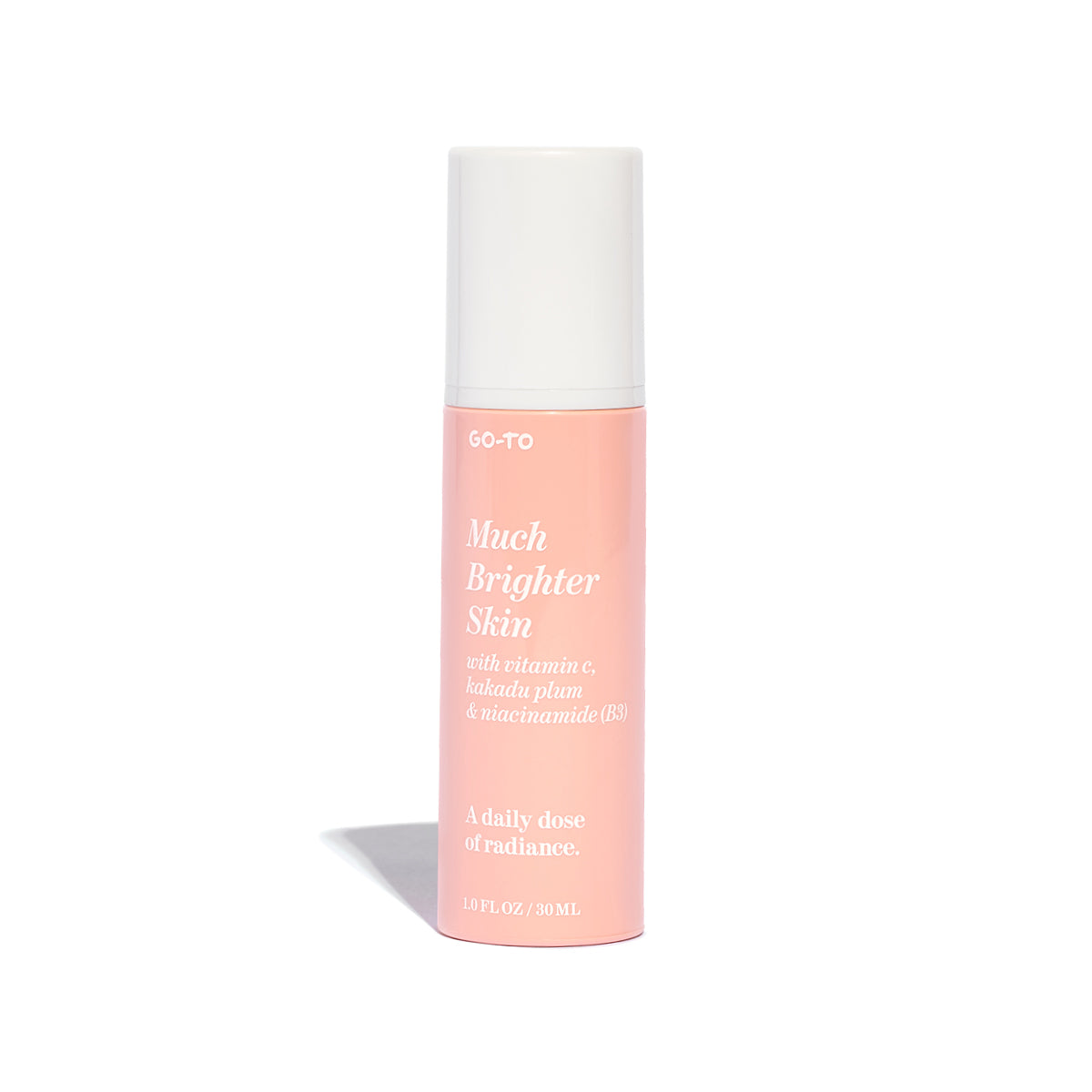 30ML / 1 FL OZ
Brightening Vitamin C Serum
A brightening serum for hydration, antioxidants, and your daily dose of radiance. No tackiness, no weird smell, just a very effective, very stable serum loaded with Vitamin C, niacinamide, and hyaluronic acid for bright, bouncy, skin.