Two Ways That Vitamin C Can Help With Your Skin Goals
Less than 3 minutes / April 01, 2022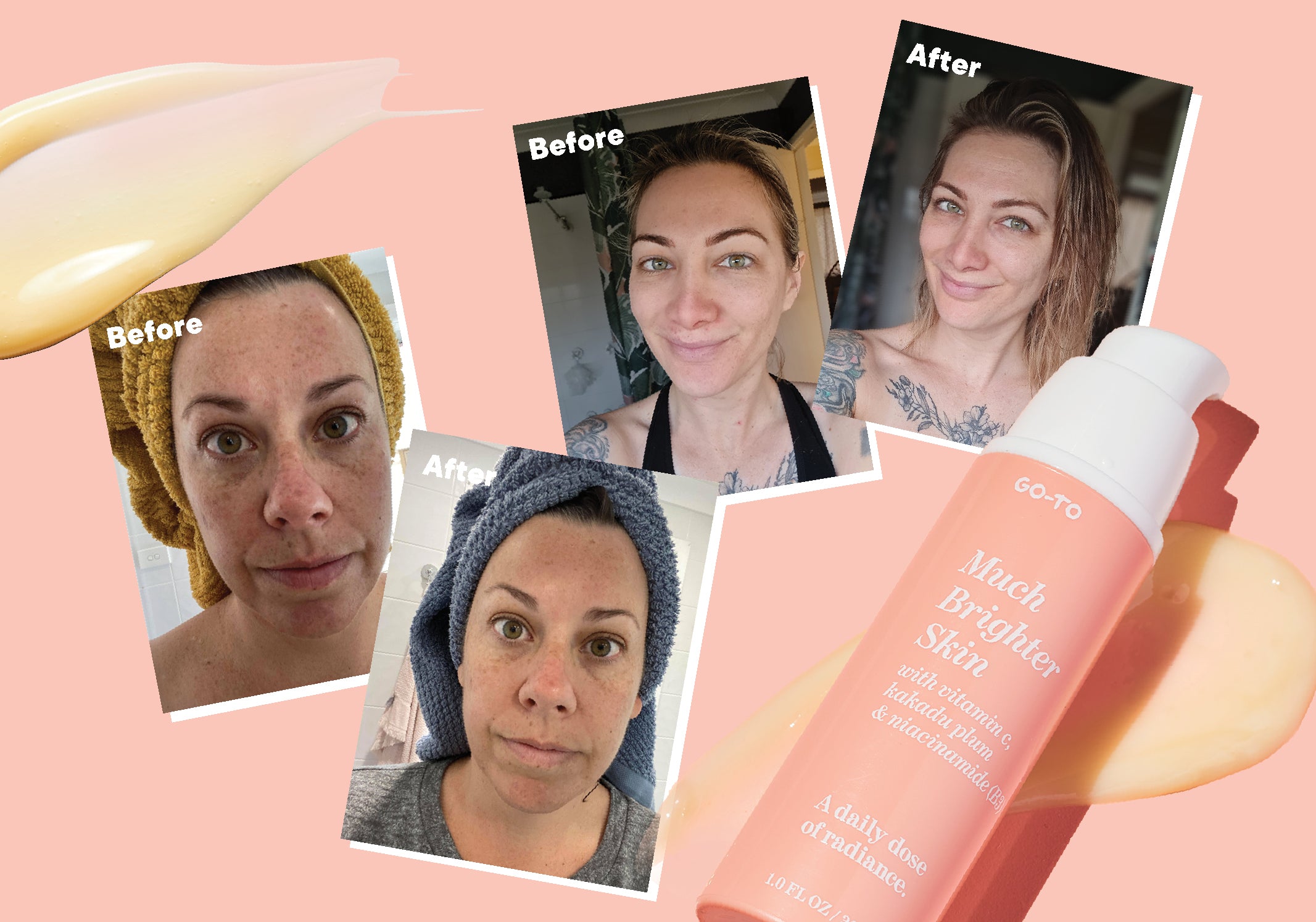 Last year, we launched our very first serum. Much Brighter Skin! A brightening, hydrating, all-in-one serum designed to be used every morning. We told you it was a serious serum that would help target pigmentation, even skin tone, and leave skin healthy, plump, and radiant.
Now that it's been out in the world for a few solid months, we want to show you exactly what we mean. With the help of a couple of Real Life Go-To Customers who have been using (and - spoiler - loving) it, of course.
Meet Beeny!
On her skin type and major skin concerns..
"My skin is mostly dry and sensitive," explains Beeny, noting that her main concerns are dryness and redness."Especially around the areas where I had very bad acne in my teens and early adult years."
On where Much Brighter Skin has fit into her skin care routine..
Beeny's squeezed Much Brighter Skin into her everyday AM routine. "I just splash my face with water and then spritz with a facial mist. Followed by Much Brighter Skin, then Face Hero, then an SPF."
And as for how long she's been using it? "13 weeks now, and SUCH a difference!"
And if you're feeling nose-y and would like to know about Beeny's PM routine (dw, same), she tells us "I cleanse with Properly Clean, [apply some] facial mist, then Face Hero, and Very Useful Face Cream. Every second night I'll use the Exfoliating Swipeys, and once a week, every Friday I use The Removalist. (Plus I use it as a spot treatment on any nasties that pop up!)"
On how her skin has changed..
Since welcoming Much Brighter Skin into her daily face party Beeny notes she's seen improvements in the short and the long term. "I notice that my Face Hero seems to absorb much nicer after popping on Much Brighter Skin," says Beeny.
"I have noticed a dramatic reduction in redness, and also my skin seems to be much more hydrated and happy. It's glowing instead of looking dull. I love the simplicity of the Go-To routine, and my sensitive skin loves all of the products with no irritation."
On how Much Brighter Skin compares to other Vitamin C products she's used..
"Much, much nicer to apply. It doesn't feel 'sticky' like a lot of them do, and it even has a really nice smell. Others I've used have felt a bit 'heavy' on my skin, but MBS almost feels like a really pleasant moisturiser."
Meet Suze!
On her skin type and major skin concerns..
"[My skin type is] mostly dry skin these days, with pigmentation and dryness being my concerns."
On where Much Brighter Skin has fit into her routine..
Suze tells us she's been using Much Brighter Skin since it launched. Which works out to be juuuuust about five months ago, just in case you don't have its birthday marked down in your calendar (..yet) (it's September 6th).
"I use [Much Brighter Skin] every morning, and sometimes at night also. I generally will cleanse, use Much Brighter Skin, then face oil and a moisturiser."
On how her skin has changed..
Upon application, Suze notes her skin feels "makes me feel hydrated and refreshed."
Overall, she goes on to say "just have to say wow, wow, WOW," says Suze. "I had pigmentation/dull skin, and after only just a few weeks of use my skin is remarkably different after using your new brightening serum! Magic in a bottle."
On how Much Brighter Skin compares to other Vitamin C products she's used..
Much Brighter Skin was Suze's first foray into the big, bright world of Vitamin C. "I haven't used a Vitamin C in the past, however, anything that I have used that says it targets pigmentation previously pales in comparison to this."