Summer Reading Reccos From Zoë Foster Blake and Go-To HQ
Ailish Ryan
6 minutes / December 20, 2022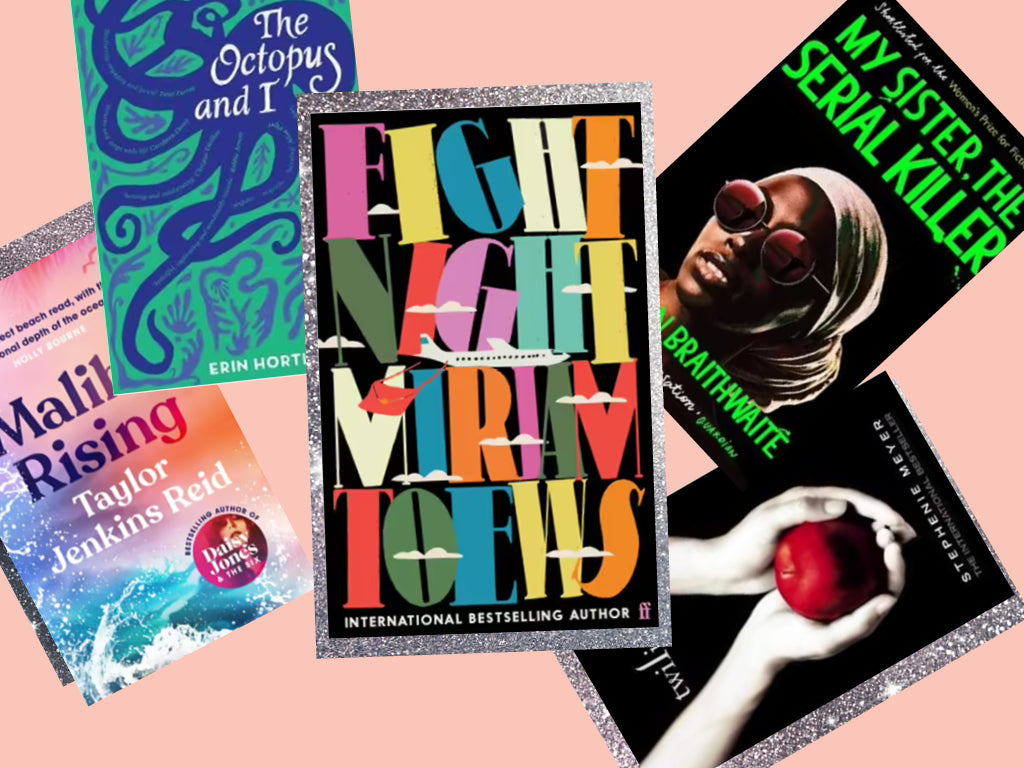 Everyone say it with us "There will be no La Niña this Summer." We're all manifesting a bright and sunny Summer here at Go-To HQ, and to make our manifestation concrete we've compiled a bunch of delightful reads that are excellent to consume park/beach/pool-side. 
Add a few books to your wishlist this year and get ready to relax, unwind and be thoroughly entertained throughout the post-christmas-pre-new-year-limbo. 
"My most cherished and recommended book of 2022 is Fight Night, by Miriam Toews. I began giggling on page one and never stopped. It is a story told through the eyes and pen of nine-year-old Swiv, and it is a masterclass in pace, wit, narrative, and heart. It's a perfect book in my eyes. I also recommend Shrines of Gaiety, Kate Atkinson's new book because it's gloriously fun, (the roaring 20s, nightclubs, dancing girls, and numerous crimes) but also because she is my #1 favourite author so she gets supreme and automatic recommendation privileges."
- Zoë Foster Blake, Founder
"Planning on laying on the beach (slathered in sunscreen) this Summer? Pick up Malibu Rising by Taylor Jenkins Reid. Following a famous surfing family and their huge annual party, while flashing back to their parents and early childhood, it's full of drama while also not being afraid to dive head-first into the complex emotions of familial relationships. In classic Jenkins Reid style, Malibu Rising is set in the same universe as her other books, with the father of the family being one of Evelyn Hugo's famous husbands (Seven Husbands Of Evelyn Hugo)". 
- Ailish, Marketing Assistant
"Summer is time for easy, light reading in my book (pun 129% intended). That being said, I do love a cosy murder to sink into, which is why I recommend My Sister, the Serial Killer by Oyinkan Braithwaite to everyone; it's funny, easy-going, short and sweet(ish). Otherwise, Convenience Store Woman by Sayaka Murata is a fresh and sharp story whose heroine finds peace and serenity inside a Tokyo-based convenience store."  
- Lilith, Digital Content Manager
"I burn through books in summer, usually read soaking up as much sun as possible whilst making my way around Sydney's beaches. I recently discovered Australian author Diana Reid and fell in love with her writing style, and how the stories are set right here in Sydney. I've just finished Seeing Other People and now moved onto Love & Virtue. Reid's writing style provides on point reflections of the raw and fumbling nature of friendships, relationships and family that are so easily relatable."
- Nicole, PR & Partnerships Manager 
"A bloody good book is my must-have accessory for summer (ok, not quite, but you get the gist) and it has to have that page-turner quality to keep me occupied between ocean dips and servings of hot chips. I very recently devoured Cleopatra and Frankenstein by Coco Mellors labelled "the hottest new book" for a reason. It follows the very dark but passionate relationship between Cleo and Frank, who with a 20-year age gap slowly learn they can't quite maintain the level and shape of romance they're both seeking. Throw in a few parallel plots with each of their quirky sidekicks too. You'll be hooked!"
- Maddie, Brand Content Executive
"Our Missing Hearts by Celeste Ng and The Paper Palace by Miranda Cowley Heller - two books perfect for passing the time between Christmas and New Year when you're not exactly sure what day it is and everything feels the right amount of slow."
- Alex, eCommerce Manager
"Turns out Gary Janetti not only has the Best Instagram of 2022 (Sassy Prince George, always) but the best book too. Which is no surprise, considering he's an Emmy Award winner writer for his work on Will & Grace. Funny, thoughtful, with razor sharp observations on the refund policy for destination weddings. I laughed out loud a lot. Like a lot." 
- Jess, Group Marketing Manager 
"The book I'm recommending to friends this summer is Conversations on Love by Natasha Lunn. Think Dolly Alderton's Everything I Know About Love x 1000 more insights from a variety of authors and 'experts' on different forms of love. It made me think more deeply about what it (love) was and how it exists within pretty much every aspect of my life, not just in a romantic sense! Perfect read to get you into a hot girl summer mood."
- Cynthia, Digital Marketing Executive
"As someone who usually partakes exclusively in reading crime thrillers, I recently stepped out of my comfort zone and into a world with slightly less anxiety-inducing intrigue for my beach read. I was gifted The Octopus and I, a debut novel for Tasmanian based author Erin Hortle, due to my affinity for octopi and boy was I in for a treat. Set along the Tasmanian coast, a young woman rediscovers her relationship with her body and her partner after fighting breast cancer. It's a slower read, but you'll find yourself swept into the beauty of the Tasmanian ecosystem and even (perhaps) find yourself reading from the perspective of the animals themselves."
- Chiara, Content Creator
"This summer, I'll be prancing down memory lane and stopping off at the bright purple bookshelf of my tweenage bedroom. (One Direction posters included.) I'm talking: The Hunger Games, Divergent, The Maze Runner, and probably a little something about vampires who dramatically fall in love. After a big few years in our world, I'm looking forward to the comfort and familiarity of the characters I grew up with, the words that made me write, and just some Really Damn Good Stories. Care to join me?"
- Hannah, Community Coordinator
"This summer I am recommending that everyone reads Emma Carey's very first book The Girl Who Fell From The Sky. Em Carey beat all the absolute odds of surviving a skydiving accident where she fell 14,000 feet directly into the ground and survived to tell us all the tales she's learnt since that very day. I have followed Em for many years on Instagram and she has always written the most beautiful and poetic captions and is a literal ray of sunshine. I just knew this book would be so incredibly well written, and it is! Like me, you might find yourself underlining and taking photos of some of the most beautiful paragraphs, just so you can come back and re-read those over and over. Because If you can, you must! (Iykyk)"
- Christine, Executive Assistant 
"One for all the lovers of self-care. Atomic Habits by James Clear is a must-read this Summer. Uncover how to successfully kiss goodbye bad habits and adopt good ones - a perfect New Years resolution for a better you."
- Tahneika, Influencer and PR Coordinator 
"Holiday reading is the best reading. I love the deep dive needed to curate the perfect book stack whether the search is online or (my favourite), browsing the local book shop. Once you have that precious stack, there is part challenge, part spoilt for choice and a lot of joy.   Speaking of joy, Still Life, by Sarah Winman is one from an earlier holiday stack that I will be reading again, once is not enough. Most of the book is set in Italy and it has inspired me to take my summer holiday holiday in the Italian winter exploring the food and art of Florence and beyond." 
- Leonie, Chief Marketing Officer