AHAs • BHAs • PHAs • OMGs • AHAs • BHAs • PHAs • OMGs •

AHAs • BHAs • PHAs • OMGs • AHAs • BHAs • PHAs • OMGs •

AHAs • BHAs • PHAs • OMGs • AHAs • BHAs • PHAs • OMGs •

AHAs • BHAs • PHAs • OMGs • AHAs • BHAs • PHAs • OMGs •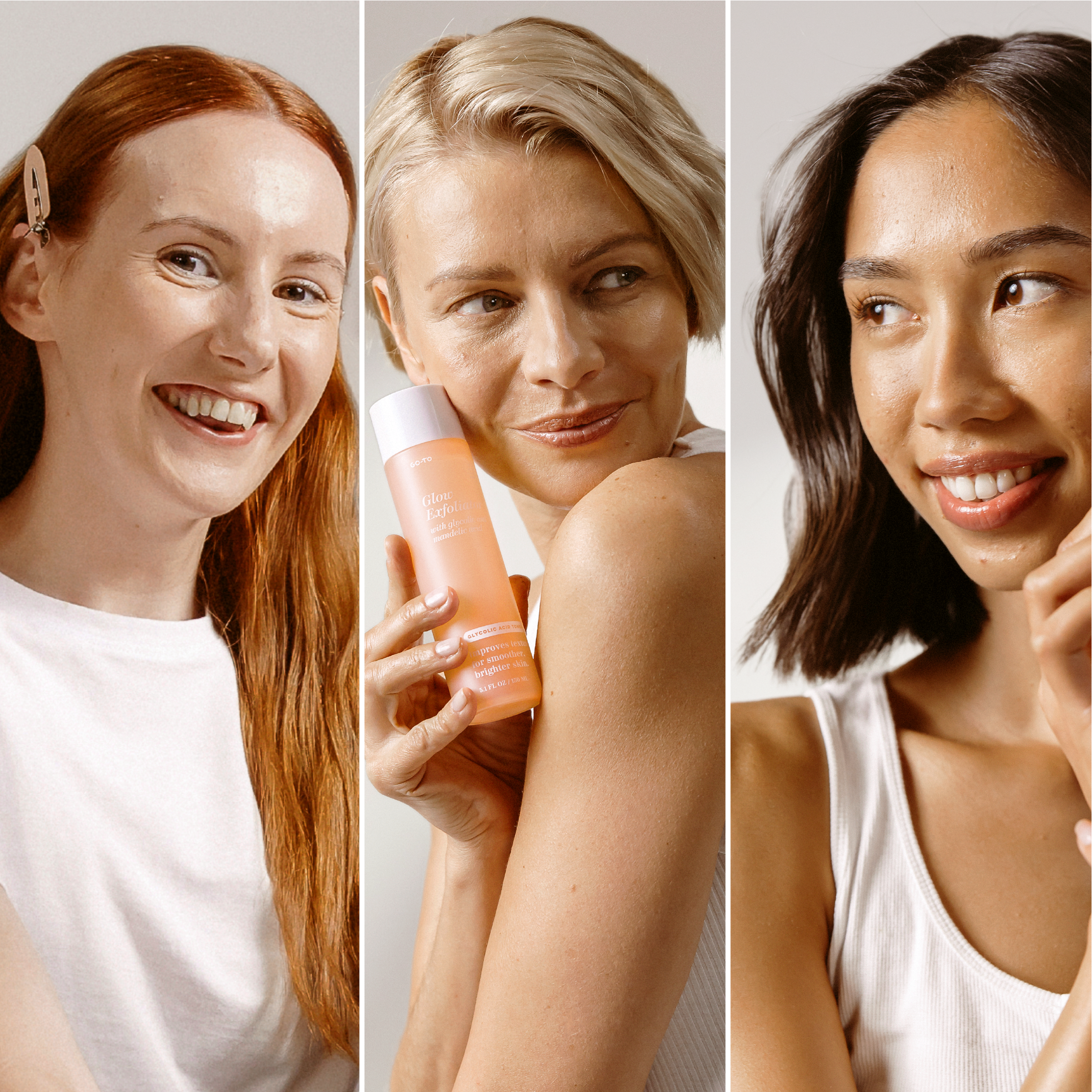 3 new products. 
3 targeted approaches.
Gentle. Clarifying. Glow.
Our new trio of exfoliating toners formulated to hydrate, treat and soothe different skin types.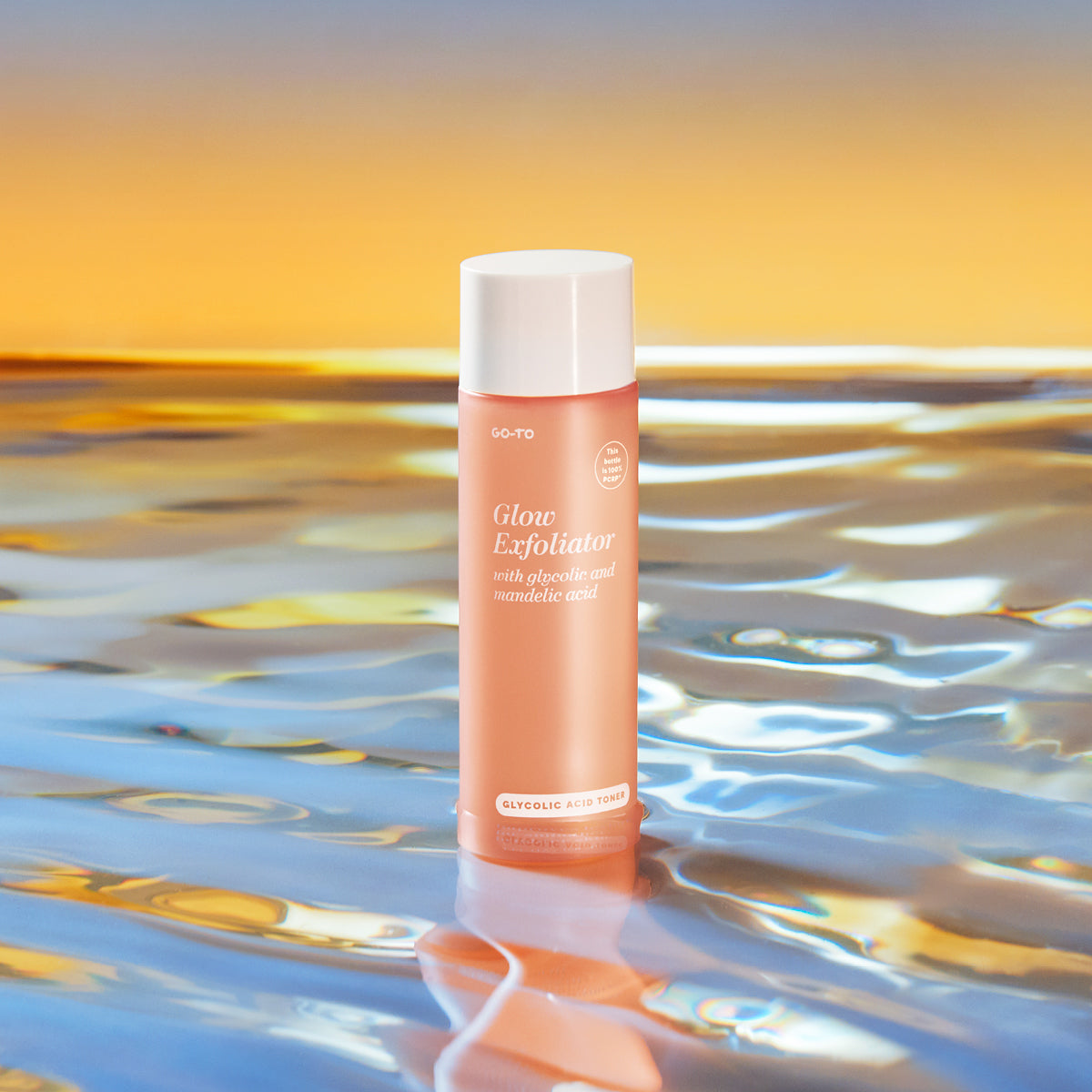 We do quiz and tell.
Different skin types and stages require different acids and levels thereof. Exfoliating isn't a one size fits all approach.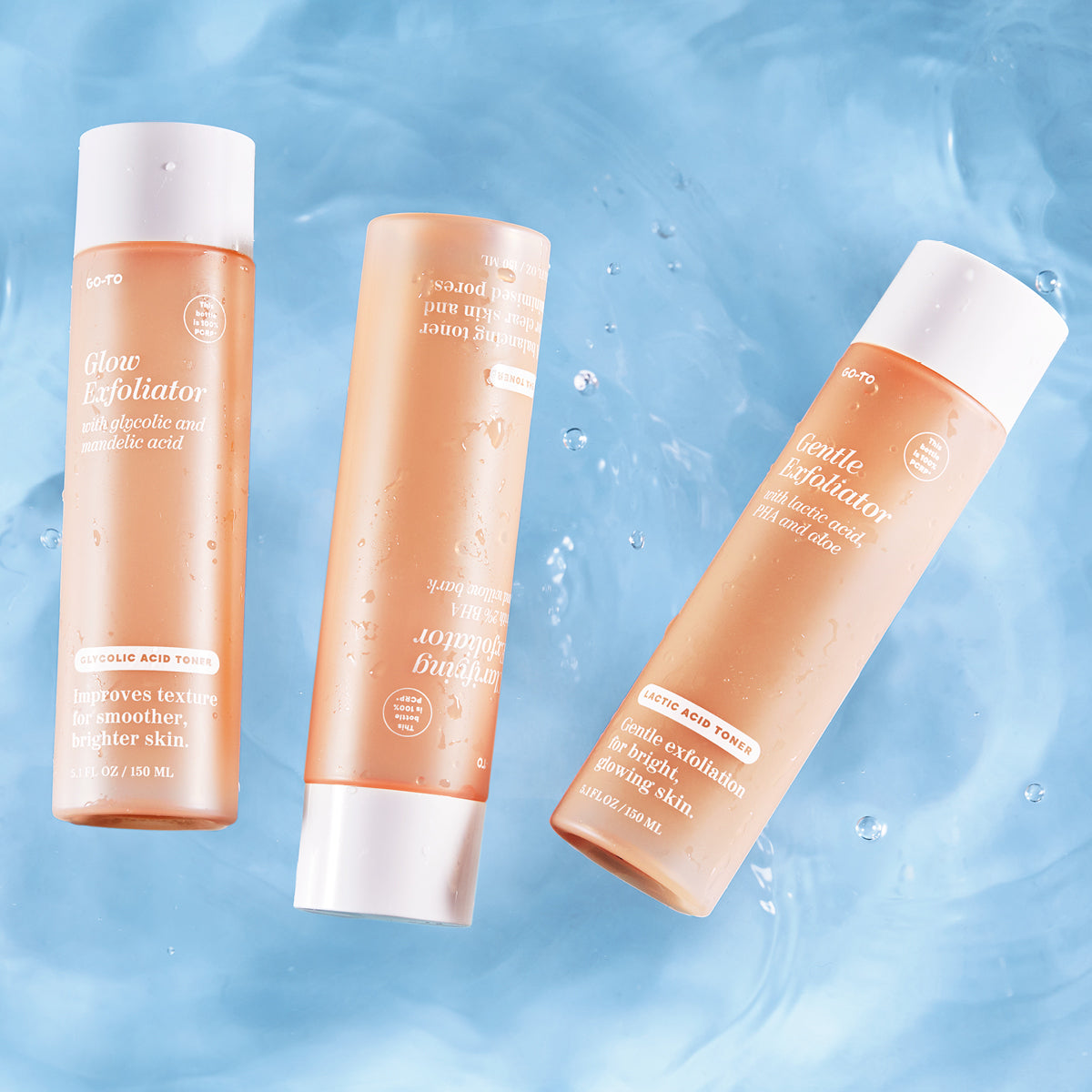 Meet The Team:
Gentle Exfoliator 
This is perfect for: Sensitive skin
It will: Gently and effectively remove build up and impurities
Clarifying Exfoliator
This is perfect for: Congested skin
It will: Help clear breakouts and minimise pores
Glow Exfoliator 
This is perfect for: Mature skin
It will: Improve skin texture, tone, and minimise fine lines
Acid Explainer.
Chemical acids help break down the 'glue' that holds dead skin cells together; forcing old, dull, cloggy skin cells to bugger off, and allowing shiny new skin cells to come through.
The hero ingredient in Go-To's new Gentle Exfoliator

The gentlest form of an alpha-hydroxy acid (AHA) that will complement the skin's natural regenerative cycle. Exfoliates the surface of the skin.

The hero ingredient in Go-To's new Clarifying Exfoliator

An oil-soluble beta-hydroxy acid (BHA) that's able to deeply purify the pores and clear congestion.  

The hero ingredient in Go-To's new Glow Exfoliator

A stronger alpha hydroxy acid (AHA) that effectively accelerates the shedding of dead skin cells to improve tone and texture. Exfoliates the surface of the skin.
A Helpful How-To.
Your exfoliating toner is going to be the second step in your skincare routine, directly after cleansing. 
It's best to let your exfoliating toner settle into the skin for a few minutes (brush your teeth! Boil your eggs!) before following with the remainder of your skincare routine. If you promptly apply another product with a higher or lower pH this might neutralise the acids and dilute their efficacy. 
Exfoliating toners are a very personal experience: Your skin might thrive off usage twice a day, or just in the evening, or one day on versus one day off. 
If you're new to these acids and this type of product, we highly recommend introducing it slowly (2-3 times per week) to gradually build up that tolerance.
Frequently Asked Questions
Yep! Use me instead of Exfoliating Swipeys. Never in conjunction with. Ouch. These exfoliating toners use more advanced formulas - we're growing up, just like you - that have stronger actives but also incorporate more soothing agents so your skin remains calm. Hence why you can work towards using them a little more frequently. 
We are constantly evolving to ensure we are using the most sustainable form of packaging too. And in this instance, exfoliating toners truly trump (single use) Exfoliating Swipeys. But they're not going anywhere just yet…we wouldn't spring that on you without warning!
Because all three of these formulas combine those stronger acids (AHAs, BHAs) with soothing agents to minimise any discomfort or irritation with use. Just the way we like it. 
By incorporating the likes of Tasmanian Pepper leaf extract, aloe vera, arginine, biosaccharide gum, our formulators/experts in natural science have found a way to simultaneously exfoliate and soothe and hydrate the skin. So you aren't left with any tightness or dryness after use.
Completely up to you! And totally depends on your skin sensitivity! You might like to sweep one exfoliating toner across your t-zone, and another across your cheeks. 
Our Clarifying Exfoliator can also be used as an effective spot treatment when surprise breakouts appear. How 'bout that!
The Gentle Exfoliator and Glow Exfoliator are safe to use throughout pregnancy and breastfeeding. 
However, we recommend seeking advice from your trusted GP before using the Clarifying Exfoliator throughout pregnancy and breastfeeding, due to its BHA content.
All exfoliating toners are fragrance free, but not unscented. (Yep, there's a difference!)
We haven't added fragrance to Gentle, Clarifying or Glow Exfoliator, but because of the ingredients and extracts used within each formula, they do have a subtle scent to them. 
The orange flower used in Gentle Exfoliator, for its calming properties, gives the product a slight citrus smell. And the mandelic acid in Glow Exfoliator naturally gives off an almond-y/earthy scent. Clarifying Exfoliator has no distinct fragrance.