How to detangle unruly, disobedient hair with no tears.
Less than 3 minutes / July 18, 2023
Whether they've got fine hair, thick hair, waves or curls, what most kids share is a deep revulsion for hair brushing (especially when knots are involved). And yet it's essential for kids who swim, or wear hats, or have wild bedhead, or get more dirt/food in their hair than seems logical. If you're struggling to tame your child's wild tornado of tresses, there are a few things you can consider…
Of course, the unique type and texture of your child's hair will ultimately rule which of these tips work for you. But our hope is this: a faster, calmer hair brush, without yelling or tears or any matted birds nests being chopped out. Ready? Comb right this way!
Choose the right kind of brush.
Before you go into your next brushing battle, arm yourself with the right tools. The kind of brush or comb that you choose will depend on a few factors:
Your kid's age. For really little kids, look for a brush that is especially made for babies or young children, with smaller, softer bristles that won't irritate or hurt their scalp.
Your kid's hair type. While straight, fine hair might benefit from the gentle softness of a boar bristle brush, curly hair will often prefer a wide-tooth comb or a bristle brush with widely spaced pins. Consider your child's hair needs (smoothing, detangling, taming frizz) and choose your hairbrush accordingly.
If you're brushing wet or dry. A soft bristle brush might be terrific for smoothing dry hair, while a comb is more effective to run through wet locks. A detangling brush with flexible bristles is an option that works both on dry and wet hair to untangle without tearing or tugging.
Be mindful of how you style.
Could you benefit from a brush up on your brushing technique? It's most effective to start with the tips of the hair, slowly moving up towards the roots as the knots get untangled. If your child has a long, unruly mane, consider styling it in a way that limits its movement, and makes the hair less likely to tangle. Plait or braid, if you have the skills and they'll stay still long enough! Just be sure to avoid pulling on the hair too tightly – you don't want to tear or damage their delicate strands – and always use smooth, kid-friendly, tangle-free elastics or scrunchies.
At bedtime, it can help to braid or plait your child's hair or tie it up in a loose high pony, using a soft scrunchie. Also, consider a silk or satin pillowcase/sheet to minimize friction as they rowdily roll their heads around overnight.
Keep their hair trimmed and healthy.
Kids are generally very fond of parks, and dinosaurs, and Cheerios. They are not quite so fond of sitting still for fifteen minutes in a barber seat while they get their hair chopped. But, regular trims can be very effective when it comes to keeping toddler hair soft and easy to comb. Should you grab the kitchen scissors and give your kid a bowl cut? Probably not! But if their hair goes too long between trims, you might notice that the ends start splitting and their mane becomes increasingly tangly. (And no-one's fond of that.)
Use a conditioning cleanser.
Like, ahem, Two-in-Fun! We're a teeny bit biased, but we reckon our detangling shampoo is brilliant at giving a fast, effective, one-and-done hair wash, without the need for additional products or detangling sprays. Unlike lots of traditional two-in-one hair products (which can be drying and sulphate-heavy), Two-in-Fun works as a conditioning cleanser, to clean the hair and scalp without stripping natural oils or moisture from the lengths and ends. So it's soft and shiny and tangle free. It's also tears-free. (We're not idiots.)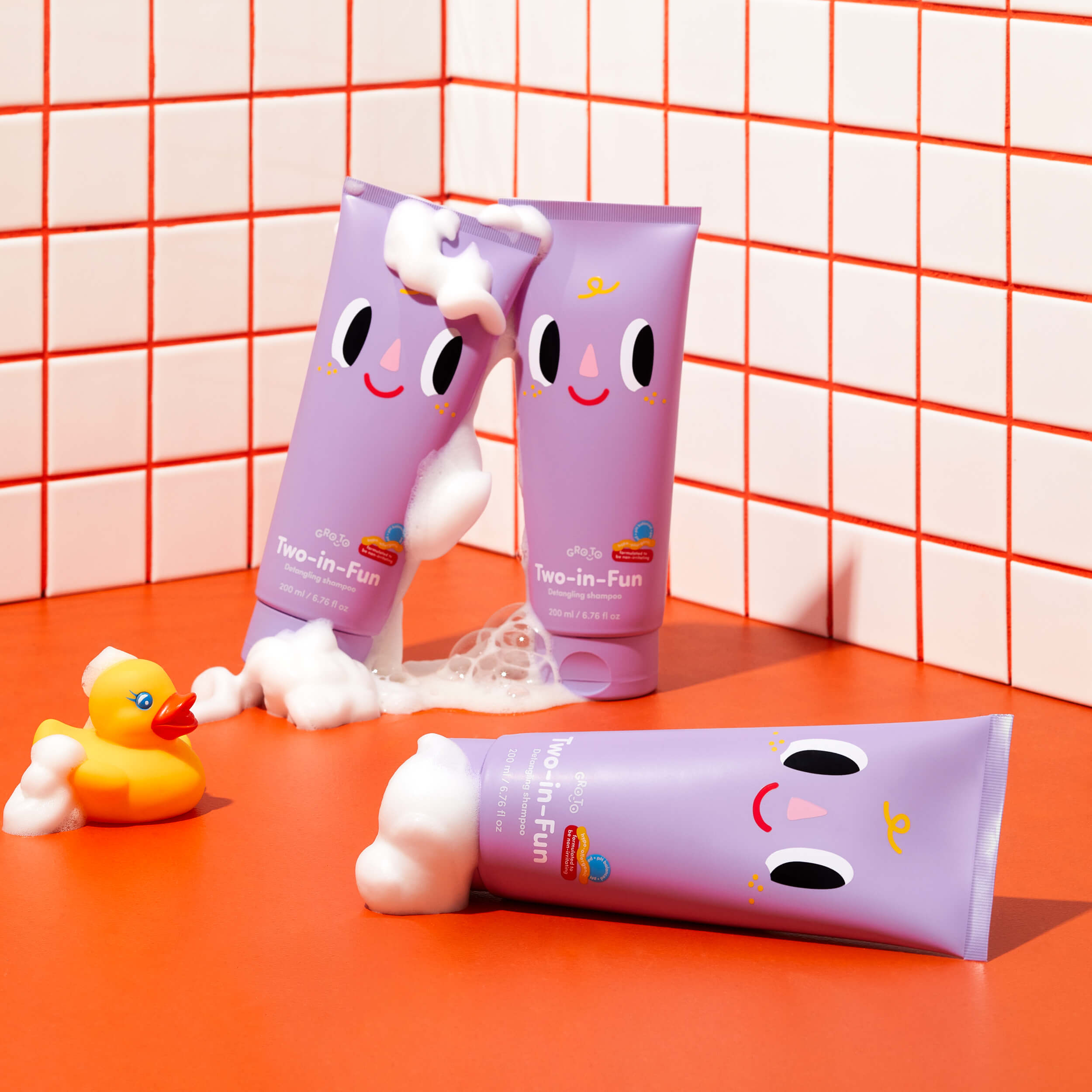 200 ML / 6.7 OZ
A super speedy detangling shampoo that conditions while it cleanses. With wheat proteins to strengthen the strands, and vitamin e and aloe vera to care for the scalp, Two-in-Fun leaves unruly mini mops silky, soft and easy to comb. Massage into the scalp, mid-lengths and ends, then rinse out thoroughly.
Untangle before bathtime.
If you usually leave all your untangling for after bath, try instead: brushing to get the knots out before the kids' hair wash. If your child finds brushing with dry hair to be less painful (and less complain-y), try getting a jump on the tangles before they hit the tub. Then, you can work on tackling the really stubborn knots, by combing through their hair before you rinse out the conditioning shampoo. Then cross your fingers for a smooth comb-through.