How A Skincare Obsessive Keeps Excess Shine Away
Megan Kelly
Less than 3 minutes / June 16, 2022
This article was created as part of a paid partnership between Go-To (Hey! That's us!) and the brilliant Liliya from Harper's Glow. All answers and opinions shared are her own. (Even the one about being Team Peanut Butter over Nutella*.)
Another product has been warmly welcomed into the Go-To Family, and as per usual, we've tapped some of our most trusted squids to give it a really go and report back with their findings.
One of those squids was Skincare Obsessive and Tempremental Skin Haver, Liliya. After a few weeks, we begged, ahem, asked Liliya to politely to tell us her Real Opinion and spill some of her Expert Advice about keeping shine away with us while she's at it. Over to Liliya! 
Introduce yourself!
Hello! I'm Liliya, a skincare obsessive with a penchant for all things glowy. I'm a content creator, product photographer and love educating about all thing's skincare over on @harpersglow. On top of that I'm also a full time Radiography student in my final year of uni. During the day you'll find me x-raying patients and, in the evenings, I'm usually curled up on my couch with my two cats knitting and watching Netflix.

What is your skin type and key skin concerns? How do these inform how you build your skin care routine? 
My skin is super temperamental and gets dehydrated really easily, particularly in the colder months. It's also sensitive because I have rosacea and prone to congestion so it's always a bit of a balancing act for me. I tend to look for products that are really hydrating with hyaluronic acid, vitamin B5, and if there are ceramides in the product that's an added bonus. I try to keep my routine simple (even though I'm definitely a skincare maximalist), and always use some sort of hydrating serum, a treatment/antioxidant like a vitamin c or niacinamide and then lock it all in with moisturiser and an SPF. 
Does your usual skin routine change during the year? 
It sure does! Throughout the colder months I try to pack in more moisture and hydration because the cold winter air along with air con can really drain my skin. I have rosacea so this can flare up throughout winter and I try to add lots of barrier supporting ingredients. 
Take us through your current morning beauty routine. 
This will change depending on if I'm on uni placement, working, or have a day off, however the basis of my skincare routine always stays the same. 
1. Cleanse with gentle cream cleanser.
2. Use a hydrating serum (currently obsessed with Much Plumper Skin). 
3. Depending on what I have on hand I either use my Skinceuticals Phloretin CF, or The Daily Co Vitamin B serum.
4. Lock everything in with a moisturiser that's lightweight so it won't congest my skin, but still deeply hydrating: Very Lightweight Moisturiser has been working a treat lately.
5. I top everything off with plenty of SPF, because sun safety is a big priority for me, the anti-ageing benefits are massive bonus too.
6. If it's a clinic day, I'll pop a little brow gel on and concealer because we're still in N95 masks all day. If I get the day off or I'm working I love a super glowy base and lots of blush. Some favs are the Charlotte Tilbury Flawless Filter and Light Wonder foundation, and Westman Atelier Baby Cheeks Blush Sticks.
How long have you been using Very Lightweight Moisturiser?
I've had the Very Lightweight Moisturiser in my routine for a few weeks now and I love reaching for it in the mornings. The ceramides help my skin hold on to moisture better and the squalene in it keeps my moisture barrier in check. The provitamin B5 and aloe vera juice keeps my rosacea at bay too.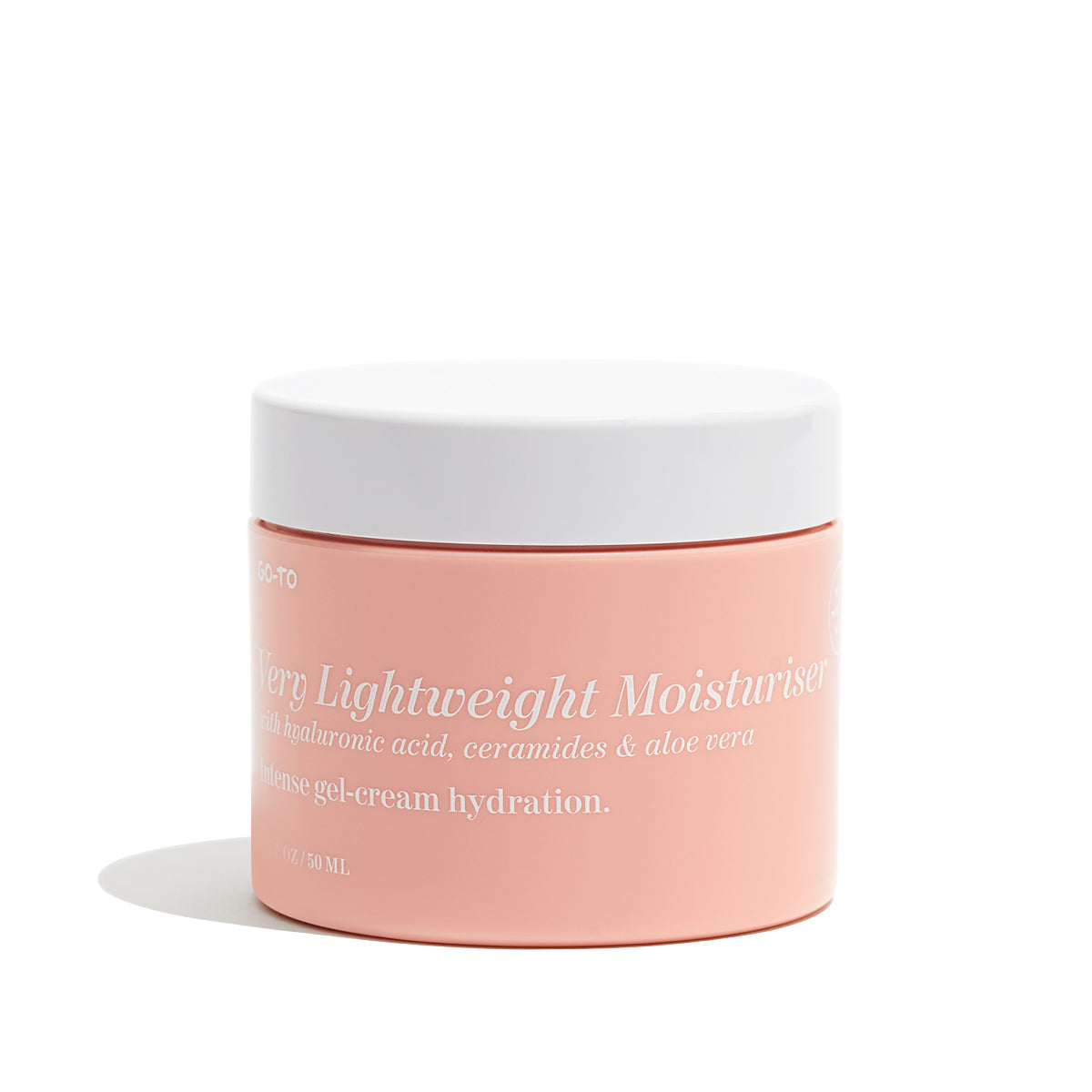 50ML / 1.7 FL OZ
A bouncy gel-cream for shine-free skin. Offering intense hydration, with a soft, matte finish and zero residue, this oil-free dreamboat is moisturser for people who hate wearing moisturiser. Perfect for oily, combination, breakout-prone, and teen skin, this fast-absorbing and airy gel-cream is no lightweight (sorry) when it comes to ingredients.
What has your experience been? 
It gives the perfect amount of dewy hydration without making my skin feel oily, or congesting my skin. Often with more lightweight gel moisturisers my cheeks can start to feel dry towards the end of the day, but thicker creams leave me with congestion. The Very Lightweight Moisturiser really nails this balance and slipped into my routine effortlessly. Plus, the peachy pink (and refillable) packaging looks lovely on my skincare shelf. 
Do you have any tips or tricks for keeping excess shine at bay? 
My skin gets extra shiny when it's dehydrated, so I always try to have some hyaluronic acid in my routine. I also make sure I distribute my moisturiser strategically, my cheeks get the most product because they need it, and I'll only dab a little on my forehead because that area tends to need less.