6 Ways To Create A Relaxing Bath Routine
Less than 3 minutes / June 14, 2021
Bathing boasts a number of benefits for mind and body, and with a few simple adjustments your submersion can be equal parts luxurious and useful, especially if you're winding down for an evening. Apart from the obvious benefits (relaxation, muscle relief, etc.), some studies suggest that bathing in the evening, ideally one to two hours before bed, is the perfect time schedule in a bath to help you sleep soundly. So even if you can't climb into a bath every day to rinse away your tensions, the days that you can take advantage of a dip, you should.
Adding skin- and muscle-soothing elements (essential oils, magnesium-rich bath salts) to your steep is also a smart way to embrace relaxation while doubling down on your beauty to-do list.
Otherwise, when a shower just doesn't cut it, here's how to make your bath better:
Drop in Exceptionoil
Add a dollop of Exceptionoil into the running water to turn your soak into a sweet-smelling, skin-nourishing one. Exceptionoil is bursting with delicious oils and butters including, monoi de tahiti (a blend of coconut oil, gardenia tahitensis flower extract, and vitamin e), jojoba oil and cocoa butter. Together this trio protects, soothes and replenishes skin while adding an aromatic and indulgent note to your bath.
Set the scene
Ambiance is everything; so be sure to turn the lights down, light up a candle (Maison Margiela's Bubble Bath Candle is an obvious choice) or, if a candle isn't your thing, spritz a calming room spray like Gro-To's Bad Dream Buster around your space before hopping into the bath. Last but not least, throw on the Go-To Sleep playlist curated by Go-To founder and playlist fiend, Zoë Foster Blake.
Switch off
Under no circumstances should you spend your bathtime wading through Instagram. Make an effort to put your phone (and family) out of reach and try to switch off from screens, even if just for 10 minutes.
Perfect your temperature
There is an ideal temperature for a bath and it sits somewhere between not too hot, not too cold. Experts put that range at somewhere between 36°C to 40°C, 37°C being the optimal temperature. Why? A good bath should reflect your natural body temperature to ensure you're not overheating, as that can do more harm than good to your precious skin.
Multi-mask
Bathtime is the perfect time to multitask and squeeze in a few extra treatments into your day. We suggest piling on a hair mask before slathering on a face mask or two. Trial The Removalist in your T- and U-zones and a hydrating mask like the Origins Drink Up™ Intensive Hydrating Mask everywhere else before you slip into your bath.
Moisturise immediately
Showers and baths can remove healthy oils from the skin, especially if you prefer temperatures that lean towards scolding. Post-bath always be sure to follow up with a replenishing body moisturiser like Skin Party to protect, nourish and restore skin.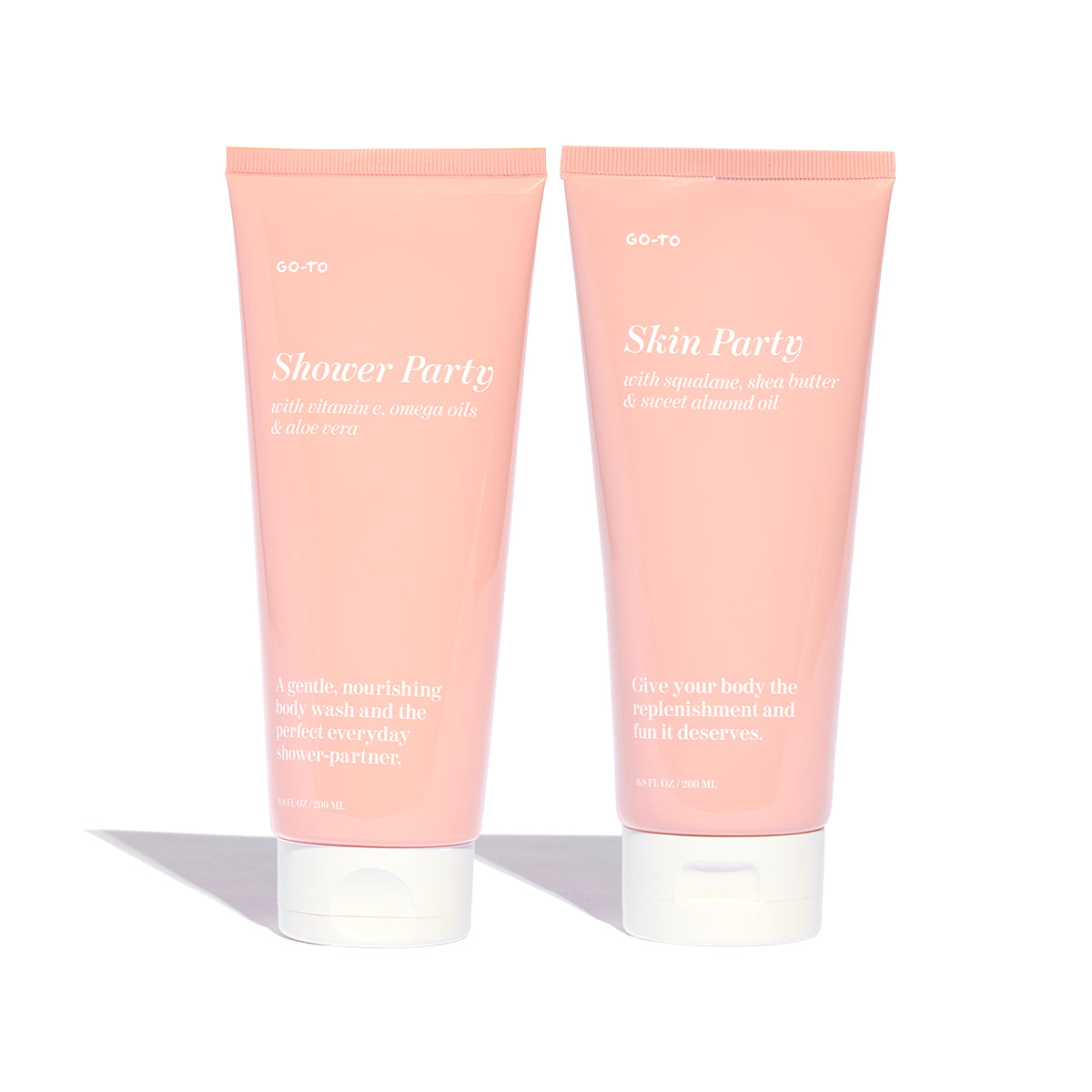 A duo of lush body products for simplified gifting and silky smooth skin. Featuring our lush, lightweight body lotion, Skin Party, our brand new body wash, Shower Party, because after 2021, we could all use a party or twelve. Body Party ALSO comes with a free colourful shower cap to really cap off the festive fun.