7 Reasons To Face Hero, According To 7 Glowy Faces
Ailish Ryan
Less than 3 minutes / September 14, 2022
We know you know just how much we (humbly) love to brag about Face Hero—we can't help it, it's a hero by name and by nature. 
Magnificently lightweight and rapidly absorbing, it's a supercharged oil that nourishes, revitalises and soothes skin for a rudely glowy complexion that begs for compliments. 
But don't take our not-so-humble word for it, take it from these seven radiant faces who swear by the powers of Face Hero (and weren't even bribed with Tim Tams to tell you). 
"This peachy bottle of hydrating perfection is my [not-so] secret to a healthy, dewy glow all day (and night!) for many years!" - Kiara King
"Face Hero is like a hug...for your face. If I'm feeling dry and tight, it's the tall glass of water that my skin craves, and I wake up in the morning plump and glowy." - Lucy Neville
"My wintertime skin was drier than a desert before Face Hero came along. There were legitimate Lawrence of Arabia vibes.Now, I feel all dewy, delicious and my skin has the hydrated appearance of someone who actually drinks their 2L a day." - Jamila Rizvi
"I love how Face Hero absorbs so quickly without the feeling of residue or stickiness on the skin, and a little goes a really long way so the bottle usually lasts me over half a year! I usually use it in the last step of my PM routine to lock everything in or even just as a boost of nourishment when my skin is feeling extra sensitive/flaky or dry. It calms my skin right down and I wake up glowing!" - Lucy Xu
"I love Face Hero for how nourishing it is without feeling heavy on the skin. My favourite time to use it is before bedtime so my skin looks extra hydrated and glowy when I wake up and get ready for the day! " - Maya Borovik
"My skin tends to get a little annoyed when using ultra thick oils, so Face Hero's smooth yet light consistency is a win. Added bonus: The way my skin radiates after using it is something else." - Ruchi Page
"Every evening I massage one to two drops into my skin. It literally drinks this product up and feels so nourishing and hydrating for my skin." - Natalie Ferrari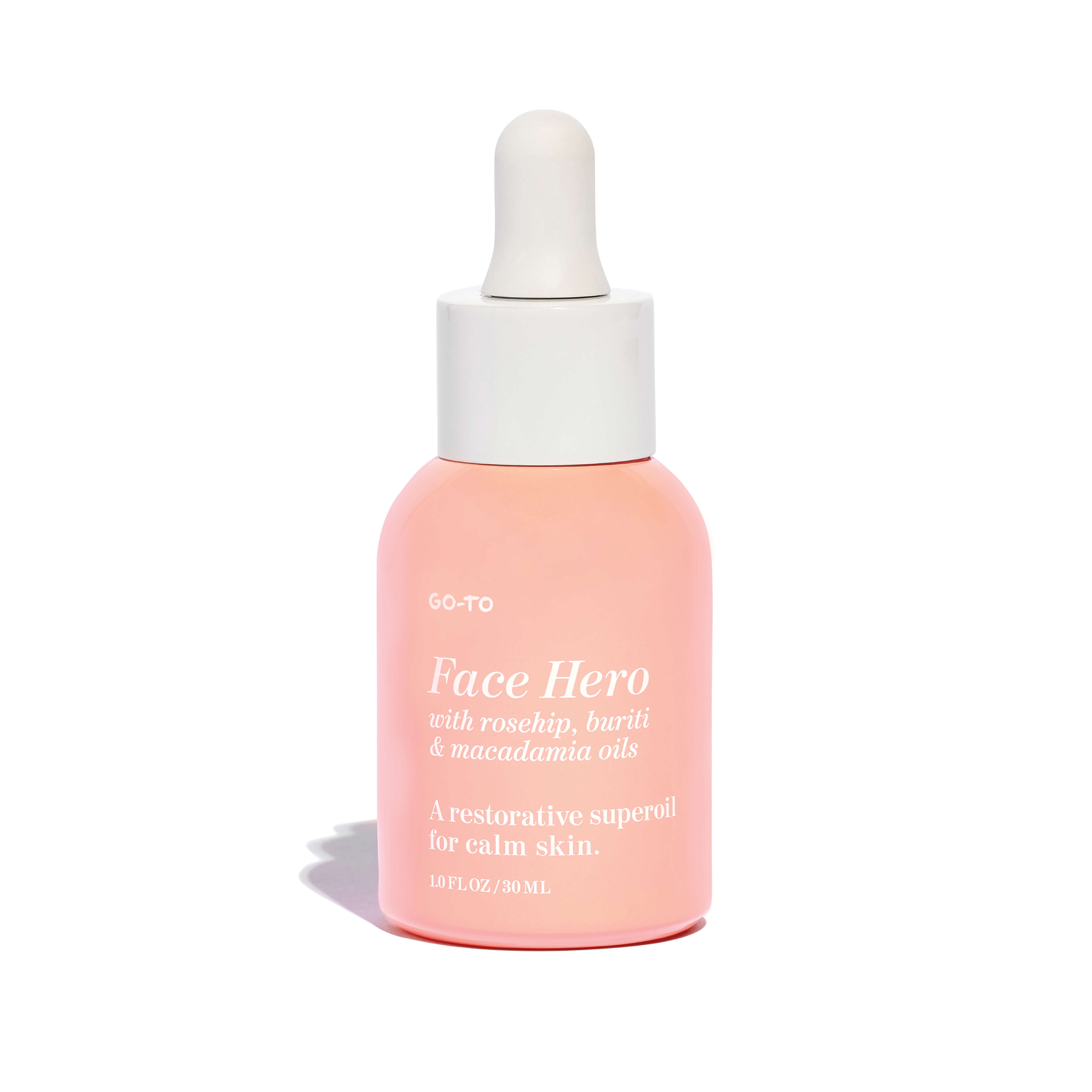 30ML / 1 FL OZ
Face Hero is a terrifically powerful, fantastically lightweight face oil that deeply hydrates, soothes, revitalizes, balances, and protects. (Overachiever.)