A Deep Dive On All Three Go-To Face Masks
Less than 3 minutes / October 17, 2022
As we now have three (!!!) face masks in our radiant ranks, we wanted to take a minute to spell out which goes where, what the differences between them are, and how to get the absolute most out of all three.
First up, Transformazing.
The very first mask to grace the Go-To gang. Transformazing is a serum-drenched sheet mask that was designed to give you magnificent skin in a few stupid, little minutes. (Ten, to be exact.) Crammed with big-time brighteners (Kakadu plum extract, Tasmanian pepper leaf, finger lime extract) and hydrators (niacinamide, hyadasine), Transformazing is designed to leave skin luminous and bouncy.
Who's it for?
All skin types can use Transformazing, but especially dull, tired, or dehydrated skins and frequent makeup-wearers will really enjoy this guy.
Next up, The Removalist.
A multi-use clay mask. The Removalist is a clarifying clay mask that can be used as a gentle spot treatment on persistent pimples or as a weekly all-out clear out to detoxify the skin and leave it happy, healthy, and never stripped. Formulated with soothing minerals (kaolin clay, zinc oxide) and replenishing antioxidants to leave the skin feeling soft, calm, and clear.
Who's it for?
All skin types will benefit from a regular clay clear-out, and it's doubly important for the oily or acne-prone who tend to have more trouble keeping congestion at bay.
Finally, The Repair Shop.
Our latest and most lush mask. The Repair Shop is a rich barrier repair mask made to replenish, nourish, and strengthen the skin. It's full of restorative vitamins, oils, and ceramides, along with hyaluronic acid and panthenol which will support your moisture barrier (Important! A damaged moisture barrier is painful and annoying) or repair your barrier if its in need of some TLC (due to stress, weather changes, overexfoliation, pollution, diet, or lack of sleep).
Who's it for?
Suitable for all skin types, though especially useful for the dry, sensitive, sensitised, or ageing.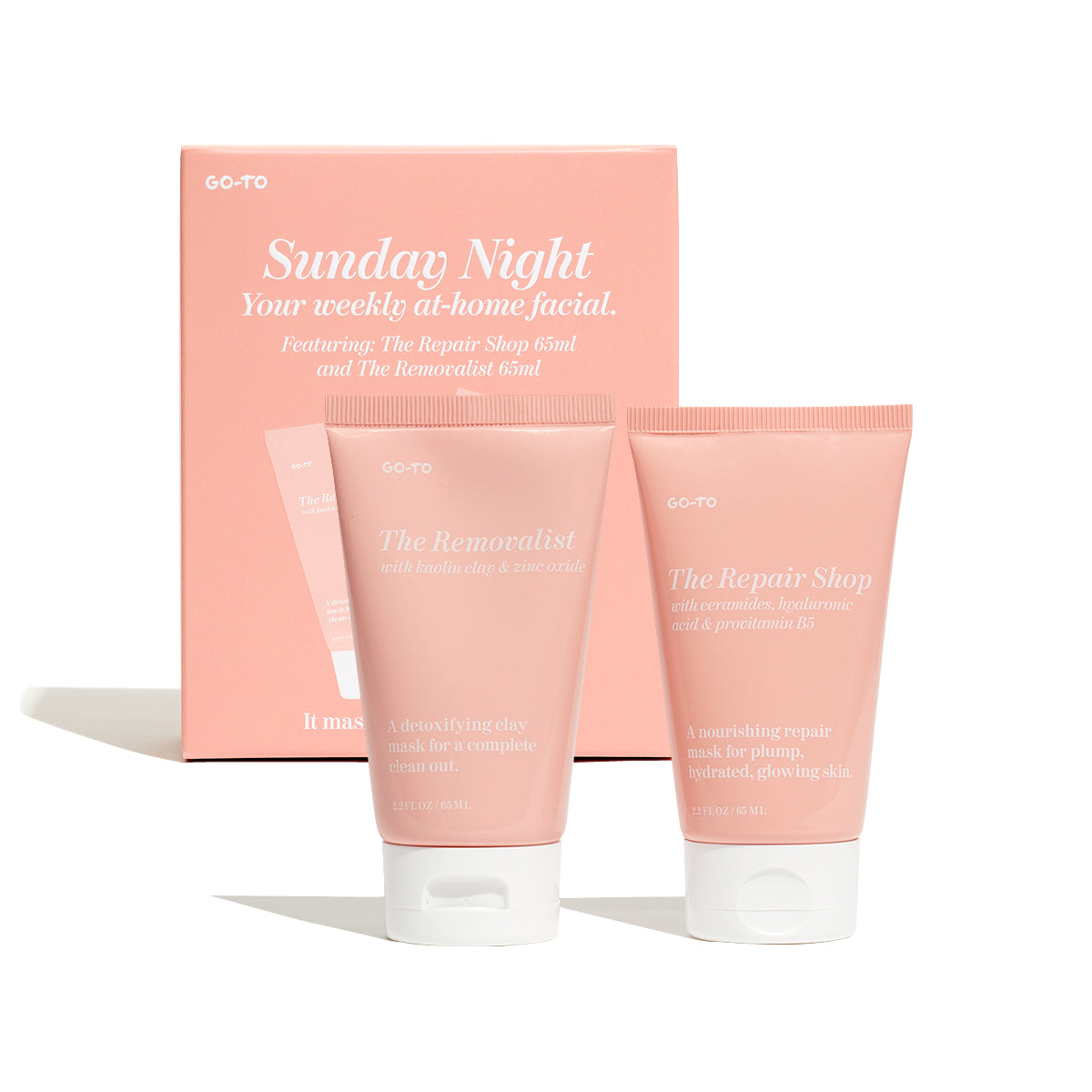 Sunday Night Scaries? Time for some Sunday Night Self-Caries. This face mask duo is a recipe for a relaxing ritual and happy, healthy skin. Starting with The Removalist to detoxify and give your skin a real thorough clear-out. Next up is the all-important chaser, The Repair Shop, to replenish, nourish, and calm that adorable face of yours.
Say I have all three, where do they all go in my routine?
Great question. (And great taste in masks, by the way.) This is where they would all fit within your routine.
Use Transformazing:
Whenever you want instantly glowy skin. We recommend using it before an event (Weddings! Parties! The Grammy's!) or after a flight or long night to really take advantage of the rapid radiance. Cleanse and exfoliate your skin first, follow with face oils, face cream, and if you like, makeup.
Use The Removalist:
At least once a week to give your pores a real thorough clean, and as often as needed to spot treat any congestion that pops up. Cleanse (and optional: exfoliate) your skin first, follow with The Repair Shop, and then gentle serums, face oils and face creams.

Use The Repair Shop:
One-two times a week on clean skin. The Repair Shop makes a brilliant chaser for The Removalist. The latter extracts, clarifies, and helps with congestion and build-up, the former puts good stuff back in, and leaves skin wonderfully plump and soothed. Cleanse (and optional: exfoliate) and clay mask your skin first, follow with gentle serums, face oils and face creams.