All Your Questions About The Repair Shop, Answered
Less than 3 minutes / October 17, 2022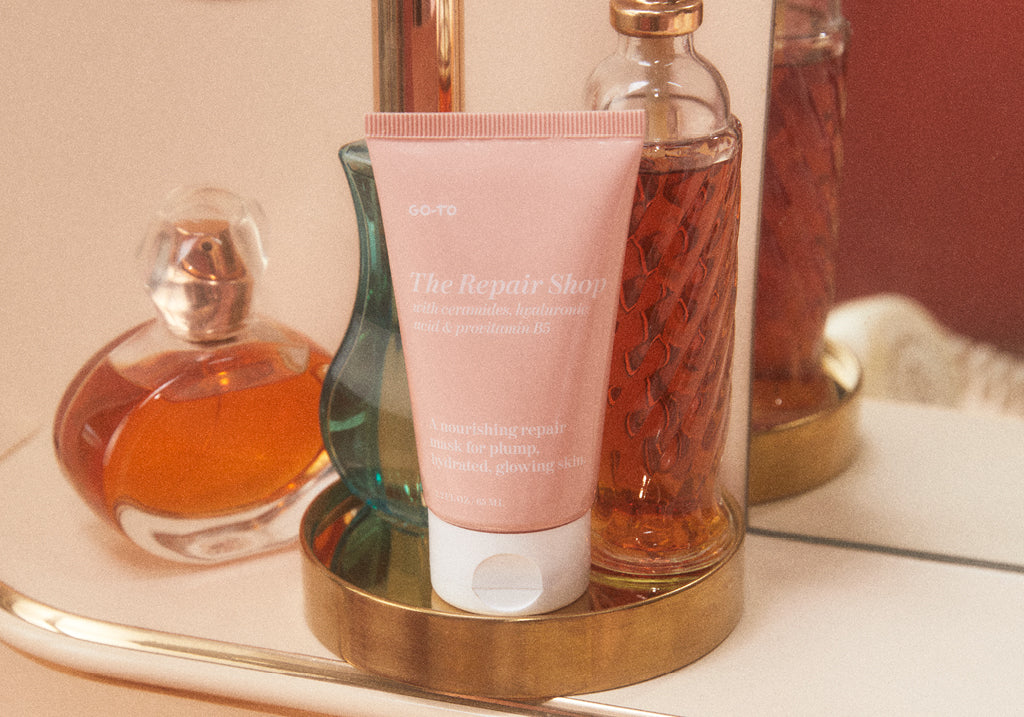 Got a burning skin barrier question? You're not alone! Since launching our ceramide repair mask, The Repair Shop, we've been flooded with questions about the elusive moisture barrier and how to take care of it.
Help is here! Today we're answering all of your most-asked questions about the skin barrier and our shiny new mask, The Repair Shop. Grab a snack and have a squiz below to learn all about your new favourite skin ritual.
Q: What is a damaged skin barrier, and how can I tell if I have one?
A: Our skin is made up of many layers. The moisture barrier is the outermost layer of your skin. It's responsible for regulating moisture levels, keeping water locked in your skin, and protecting you from environmental damage (UV, pollution) and bacteria.
When you overuse exfoliants and go too hard on active ingredients, it's possible to damage your moisture barrier. You'll know when it's damaged because your skin will punish you with dryness, flaking, congestion, sensitivity, and an uncomfortable tight feeling.
Q: Can I use The Repair Shop if my skin isn't damaged? What are the benefits?
A: Absolutely. One of the best things you can do for your long-term skin health is a weekly DIY facial. The Repair Shop will leave skin visibly plumper, soft, soothed, nourished, renewed, and radiant.
Bonus! Using a ceramide mask like The Repair Shop consistently can also assist in strengthening your moisture barrier which will help prevent damaging it in the first place. Clever-er.
Q: How long does it take to repair my skin barrier?
A: Dermal Therapist Yadira Cauchi advises that generally a moisture barrier "can take anywhere between two weeks to an entire month, and sometimes more" to completely repair.
Unfortunately, there's no magic number of uses, as the recovery time will vary from person to person, based on your skin type and how damaged your moisture barrier was to begin with. To find out how you can tell if your moisture barrier is back to normal, head here.
Q: How often should I use a mask like The Repair Shop?
A: Aim for 1-2 times a week!
Q: How much do I need to apply?
A: Apply a generous layer to dry skin. Leave for 10-15 mins and remove. Voila! Soft, replenished skin!
Q: Can I leave The Repair Shop on overnight?
The Repair Shop wasn't designed to be a sleeping mask so we recommend removing any excess with a damp, warm muslin cloth and following with serum (if you wish), face oil, and face cream.
Q: Do I need to exfoliate before using the mask?
A: It's not strictly essential for each use but you certainly can. We would however recommend it if you're looking to do a DIY Facial. (For that, the order would be: double cleanse, exfoliant, The Removalist, The Repair Shop, hydrating serum, face oil, and then face cream.)
Q: Is this mask safe to use during pregnancy and while breastfeeding?
A: Yes!
65ML / 2.2 FL OZ
A nourishing barrier repair mask, made specifically to rescue, soothe, and restore that beautiful face of yours, fast. The Repair Shop delivers soft, plump and radiant skin in just 10 minutes.
Q: What's the difference between this and the other Go-To face masks?
In short?
The Removalist is a clay mask for getting-stuff-out. It's designed to extract and clarify and help with congestion and build-up. A real deep clean out.
The Repair Shop is the putting-back-in one, to restore and nourish and feed and repair the skin. It's full of restorative vitamins and oils and ceramides for skin TLC.
Transformazing is the pre-party or post-big-night one. It's a hydrating sheet mask designed to deliver instantly radiant skin, and create a perfect base for makeup.
In long? Read this blog post.