The Do's and Dont's of Heatless Curls
4 minutes / February 04, 2022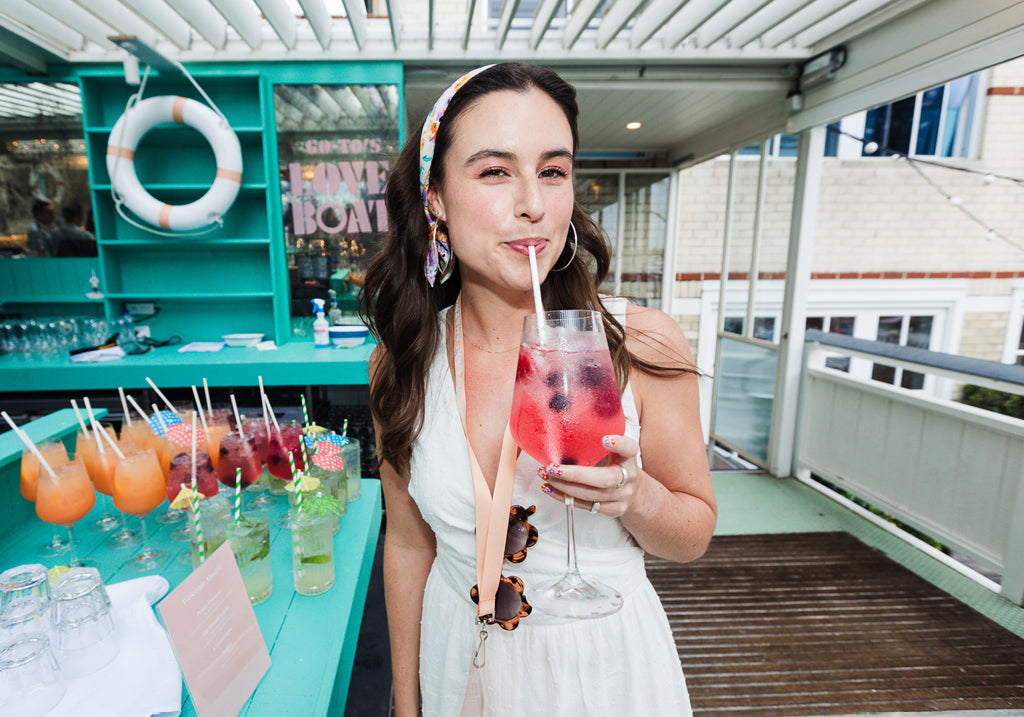 As a person who literally only knows how to style my hair one way, I'm always on the hunt for a good hair hack. So, after hearing two of our Go-To Community Wizards chatting about the Heatless Hair Waves style that I saw everywhere last year, I obviously begged to hear more.
Despite watching the trend take over TikTok and seeing great results everywhere, it always looked a little.. too good to be true to me. I was suspicious about whether you could really get lasting curls without using any heat styling tools. Enter: Alex and Tara. Real Life people I knew who had actually done it and could tell me (and now you) if it was worth it.
Here's what they found..
First up, Alex!
Give a brief description of your hair type.
I have very straight, thin hair but a LOT of it, so it appears thick. It's currently quite long, past my shoulders (and desperately needing a haircut).
Give us a quick run-through of the process for heatless hair curling.
I watched a YouTube video and she made it look so easy, so I went into this with a level of confidence that was quickly shattered.
I will say, I don't often 'do' my hair so I find most hair styles to be tricky; I just don't practice enough. The YouTube video had a process of parting your hair down the middle, clipping the heatless curler to the top of your head, and starting on one side, sort of plaiting the hair around the curler and grabbing more hair as you go.
The plaiting process didn't go well and I ended up just grabbing bits of hair and wrapping it around the curler instead. I did this for each side, and secured it with the scrunchie on each end. I used mousse in my hair before starting, then sprayed with hairspray once all settled in the curler, then more hairspray once I took it all out hours later.
How long would you say the process took?
It took me at least half an hour but with practice I imagine you could do it in 10-15 minutes.
What were the results like?
Honestly, despite me going rogue and just frantically wrapping bits of hair around and around, it turned out ok! Definitely not as 'curled' as I had imagined or how the YouTuber's turned out, but for a novice who had a mid-hair-styling-breakdown, I accepted the end result.
How long did the curls last?
It looked best within the first 1-2 hours, then dropped over the next 2-5 hours. My hair struggles to hold any curl though, so that could just be me!
Is there anything you learned that you would change next time you do it?
Yes. Get someone who knows what they're doing to help you, ha! No, in all seriousness, I would give myself some extra time to get the hang of it, and probably trial some different products to see what works better.
Over to Tara!
Tell us about your hair type!
Straight hair, more on the finer side. Does not usually hold curls very long.
Give us a quick run-through of the process for heatless hair curling.
After washing my hair and letting it air dry until damp, I put plenty of mousse (specifically, Schwarzkopf Curl Flex Mousse, Strong Hold 3) on the ends. Then, I parted my hair down the middle.
I used a heatless curling set from Amazon. I clipped the tube at the top of my head and had each end going down past my ears. Then you start curling! Grab a small section of hair from the front and carefully and tightly wrap it around the tube.
Keep getting small sections and adding it in, curing away from the face. Once one side is all done, you secure it with a scrunchie, and repeat on the other side. I left it in for 5 hours in the day, but you can also sleep in it. Once taken out, comb hair with a wide tooth comb and use plenty of hair spray! (I used Schwarzkopf Power Lacquer, Cashmere Touch, Maximum Hold 5.)
How long would you say the process took?
To do the hair wrapping took 20 minutes, then I left it in for 5 hours to set.
What were the results like?
When you first take it out, it is really great! They did fall out a lot for me, but that was to be expected with my hair type. It was still nice to have some shape. I think sleeping in them overnight will help them stay.
How long did the curls last?
The back of my hair only lasted a few hours, but the shorter parts at the front, held the curl overnight and were still there well into the next day.
Is there anything you learned that you would change next time you do it?
Next time, I will try letting my hair dry a little bit more before starting the process and if possible, leave it in for longer.
What would be your best tip for beginners?
When you make your part at the start, make it neat and how you want to have it when the curls are out. Then when curling the hair around the tube, take care that you are not twisting the tube around too. Otherwise when you let it go, it will spring back and the curls will not be as tight as you wanted them.
Also: Don't be scared of hairspray!