Nifty Fifty's Next-Gen SPF Filters: Everything You Need To Know
Less than 3 minutes / August 24, 2022
Not only are we a curious bunch at Go-To, but we're also really particular about what goes on our faces, especially when it comes to sunscreen. 
Why? Cause we're all wearing sunscreen every day, right? Right!?
And we also want to enjoy applying and wearing that sunscreen considering it's a multiple-times-a-day kinda thing. 
Luckily, that was always the plan with Nifty Fifty; creating a formula that makes wearing SPF 50 every day pleasant and effortless. Naturally, that plan relied on a new generation of (chemical) filters that provide high strength, broad spectrum protection in a daily sunscreen formula that people like like. 
So, what are next-generation chemical filters?
"In the past sunscreen products have felt heavy and oily," says Mercedes Nunez, one of the formulation chemists responsible for Nifty Fifty. "Trying to formulate a high SPF product with older style filters that feels good on the skin is extremely challenging. The filters in Nifty Fifty have been specifically chosen because they provide a high level of UV protection while also ensuring the formulation is able to have high-end sensory appeal."
In other words, the next-gen filters in Nifty Fifty provide that 'ooh, I can't believe it's sunscreen' feeling while ensuring your skin is protected. In Zoë's words: "We used the latest, best-in-class UVA and UVB protection available."
Which chemical filters are in Nifty Fifty?
Tinosorb® A2B
A clever filter that bridges the gap between UVA and UVB protection, and is particularly good at protecting against (tricky and very specific) UVA 2 rays. And it's so new we're the first Australian skincare company to use it!
Tinosorb® S
Offers broad spectrum UVA and UVB protection and photo-stability properties. Ooh!
Uvinul® A Plus
Known to its friends as diethylamino hydroxybenzoyl hexyl benzoate, this filter provides UVA protection. Why is that a big deal? UVA rays can cause skin to age, leading to fine lines, wrinkles, discolouration, and a loss of elasticity. 
Uvinul® T150
Provides—you guessed it—UVB protection, which is so! Important! 'Cos UVB rays (pests) burn the skin, contributing to the risk of skin cancer.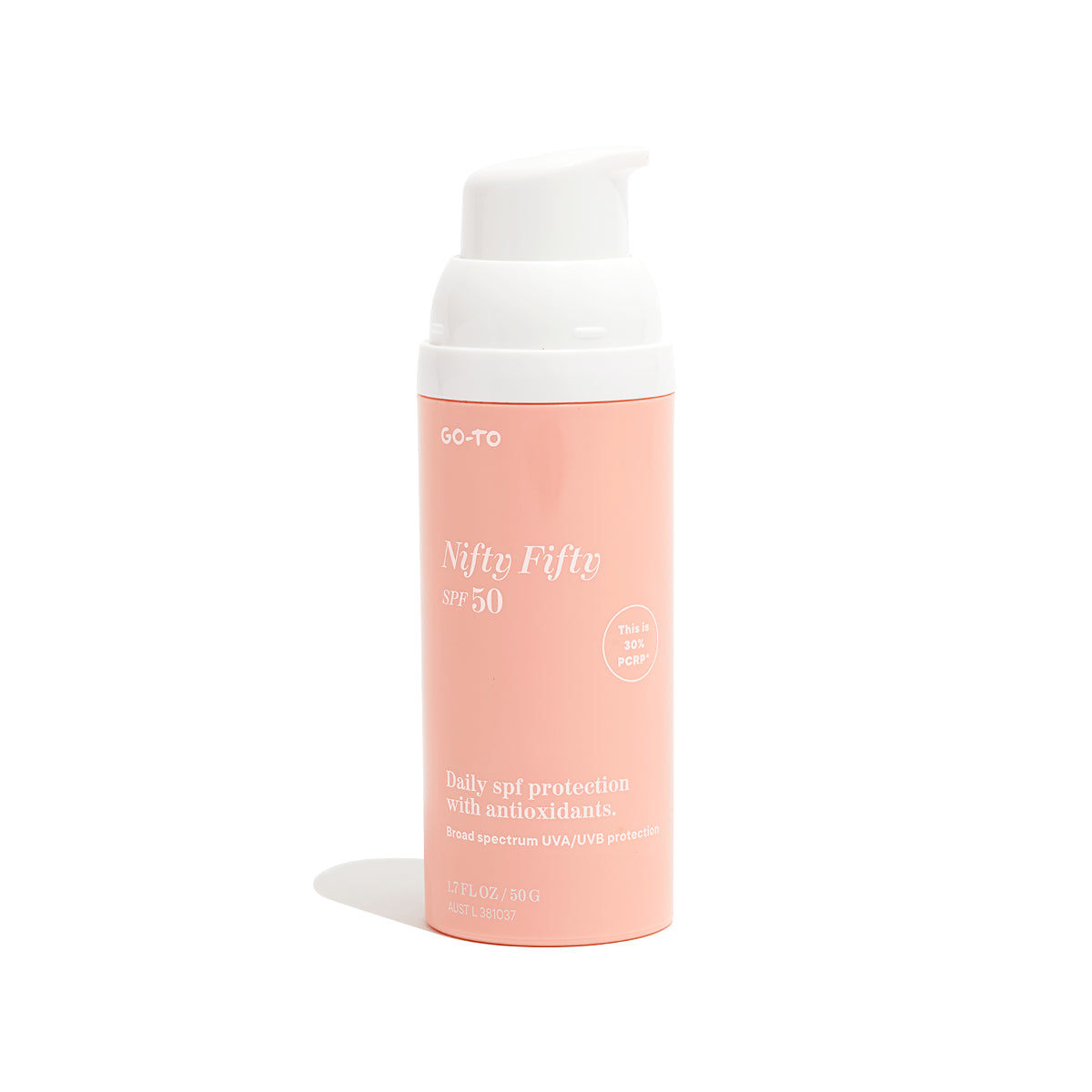 50ML / 1.7 FL OZ
A hydrating daily SPF 50 broad spectrum sunscreen for UVA/UVB protection. Loaded with antioxidants and latest generation SPF filters for new generation protection, Nifty Fifty will protect your skin from damaging UVA and UVB rays, while keeping it hydrated and supple.
Go-To Nifty Fifty SPF 50 Broad Spectrum High Protection Sunscreen. 
ALWAYS READ THE LABEL AND FOLLOW THE DIRECTIONS FOR USE.
Avoid prolonged sun exposure, and make sure you re-apply frequently in accordance with directions. Remember, sunscreen is only one component of sun protection so always wear a hat, protective clothing and eyewear when you're in the sun.