TikTok Skin Trends We're Eating Up This Spring
Less than 3 minutes / September 15, 2023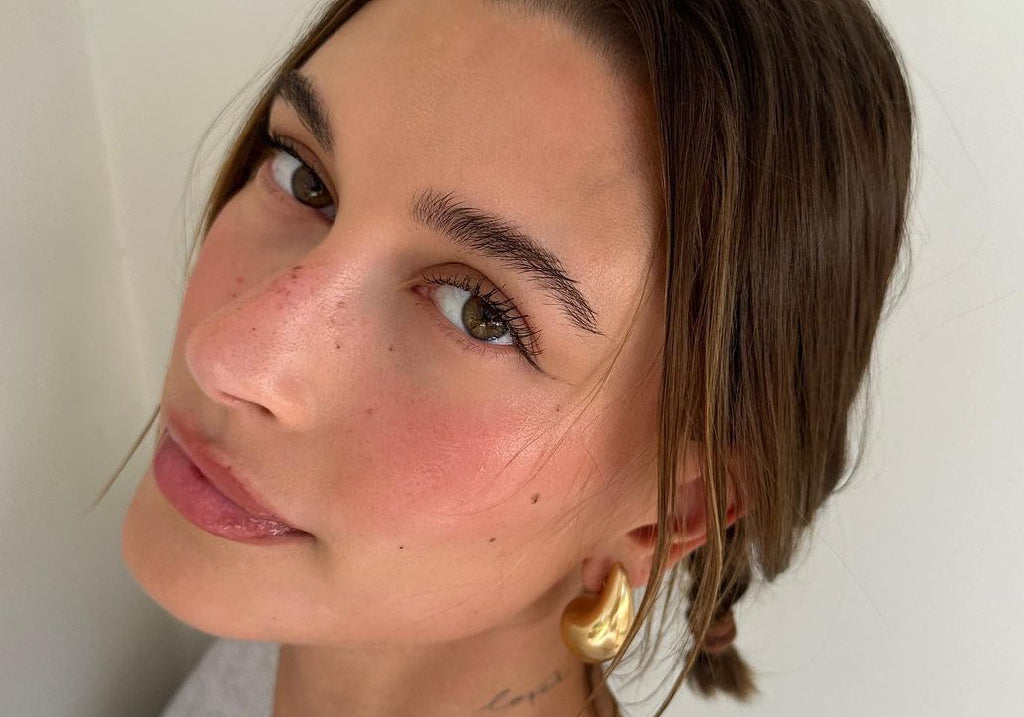 There's a growing collection of deliciously-titled beauty trends swirling around TikTok, inspired by European summer (of course), and the base of them all? A really good skincare regime. 
When it comes to summer skin, less is more. No heavy creams or full coverage makeup. (Otherwise you risk dehydration, sweating and sliding, and a buildup of grime that could lead to congestion.)
Our mates in the northern hemisphere have long embraced this method, often ditching the AM cleanse for a quick spritz of thermal water and a swipe of tinted moisturiser/SPF. The focus is always on lightweight products that hydrate and protect, creating a juicy base for these beauty trends to best come to life. 
Tomato Girl 
Reminiscent of the Mediterranean seaside, the Tomato Girl trend is built on a bright palette of vivacious reds and terracottas. Makeup is kept sheer, with red-toned, cream blush applied generously across the cheeks and nose to give a faux 'sunkissed' look. 
Skin Prep:
Use a gentle gel cleanser for very clean, very soft skin. This helps to remove any impurities, keeping the skin barrier balanced and happy before splashing it in bold colour. Keep the sunkissed vibe strictly an illusion by applying (and re-applying!) a hydrating, broad spectrum SPF50 to protect your skin from damaging UVA/UVB rays while you responsibly soak up some sunshine. 
The Results: 
Vibrant, glossy skin, encapsulating the gleam of a juicy tomato. Complete the aesthetic by pairing your cherry-red cheeks with a retro bandana, linen pants, and an Aperol Spritz in hand.  
Strawberry Girl 
Hailey Bieber declared a "strawberry girl summer 🍓" earlier this year, and people really  listened. Influenced by minimalist French beauty practices, this trend sees products applied just using the fingers, with barely-there concealer, neat brows, and fresh, glowy skin setting the stage. Delicate hues of pink are then swiped across the cheeks and lips. 
Skin Prep:  
After cleansing, plump up your base with a lightweight moisturiser to combat dehydration. Follow with a nourishing face oil to lock in hydration and create a seamless base for makeup. 
Pro-tip: Pat an extra half-drop of face oil across the high parts of your face (cheekbones! Bridge of your nose!) to act as a natural highlighter. 
The Results:
A simple, soft glow, makeup à la strawberry. This trend also incorporates the whimsical elements of balletcore, with many Strawberry Girl's sporting floaty sundresses, soft pink nails and woven totes. So romantic. 
Latte Girl 
Bronzed, shimmering skin is a long-time beauty staple, but Gen Z has affectionately re-imagined this as the summer-inspired, Latte Girl. Creamy coffee-browns feature on the cheeks and eyes, with a skin tint underneath. If you have natural freckles, let them peek through! Or, use a freckle pen to add in your own faux scattering.
Skin Prep:
Kick off your latte-look with a serum-packed sheet mask for peak luminosity and shine (the good kind). Use this for brightening, moisture-retention, and a whole host of other fancy skin hacks. And don't forget body care! Massage a firming body oil from your neck-down to deeply replenish the skin, support collagen production, and glow all over. 
The Results:
Minimal makeup, maximum bronze — perfect for a poolside siesta or fiesta. Top it off with a smudged smoky eye, gold jewellery and buttery brown lips. Oh, and an iced latte! (Duh!)