5 Face Hero Fixes That Prove It's The Ultimate Multitasking Face Oil
Less than 3 minutes / May 13, 2021
Face Hero, our lush balancing face oil, deserves its moniker for the simple reason it really is the hero your face needs, all year long. Through summer and spring into winter and autumn, Face Hero will nourish, replenish and protect your complexion with a mix of 10 formidable plant and nut oils (think: almond, jojoba, macadamia, apricot kernel oil etc.). Whether skin is parched, weather-whipped or irritated as a result of bad habits, fun or a combination of both, Face Hero wants to help fix that. (Seriously, we asked and she said yes.)
The powers of Face Hero are varied and vast, able to turn a lacklustre complexion into a bright, bouncy and makeup-ready canvas in a matter of seconds. Better yet, come winter when wind, heating and head colds want to play havoc with your skin, a drop or three of Face Hero can soothe matters in a flash.
Here we detail how to use Face Hero to fix ailments and boring skin real fast.
1. Dry skin spot treatment
Tap Face Hero on wintery, cold-addled red noses, dry elbows and knees, or any parched and delicate skin that needs a little extra TLC. The soothing and anti-inflammatory properties of this oil coupled with the fact it's brimming with essential fatty acids, vitamins and antioxidants ensures Face Hero is simultaneously safeguarding and fixing pissed off skin.
2. Makeup primer
The lightweight nature of Face Hero and all those dreamy essential fatty acids, vitamins and antioxidants it boasts make it magic for prepping skin for makeup application. Leaving zero residue in its wake, both quickly and deeply penetrating the skin, ensures Face Hero creates the perfect canvas for makeup application. Don't take our word for it though, we've called on the experts to test it and they've agreed again and again, it's the hydrating, reviving and brightening hero they prime with regularly.
3. No makeup makeup highlight
If you're going makeup-free but want an extra drop of dewiness, tap Face Hero onto the highpoints of the cheeks for glow that protects. Ideal for those who want to gleam without the need for glitter, or just prefer to tackle the day fresh-faced but protected.
4. Cuticles
Nail beds and cuticles are on the frontline of your day, working hard at all times. But be honest: how often are you giving back? Next time you're finishing your evening routine or giving yourself a manicure, pop one or two drops of the oil onto the tips of your fingers and massage into cuticles for a boost of nourishment. Easy.
5. Hair
Rather than smear Face Hero leftovers post-application on your towel or pants, run your hands through the ends of your hair post-application to give that cute bob of yours some affection.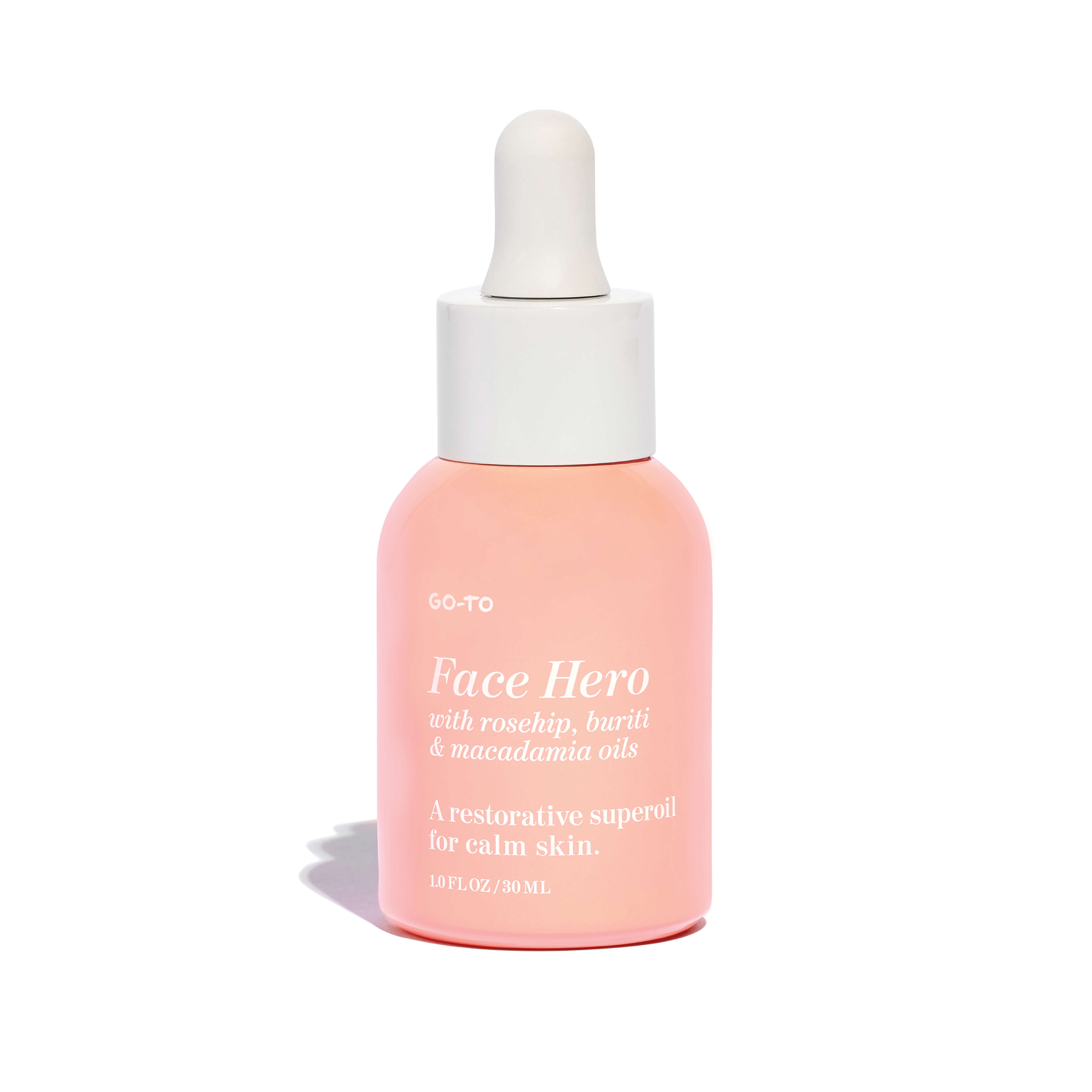 30ML / 1 FL OZ
Face Hero is a terrifically powerful, fantastically lightweight face oil that deeply hydrates, soothes, revitalizes, balances, and protects. (Overachiever.)